Vindu Dara Singh, son of the late wrestler and actor, talks about the overwhelming support he has received from fans, his half-brother, and his failed marriage with Farah.
It was the disarmingly outspoken Mumtaz who let the cat out of the bag when she revealed that her sister Mallika was the late Dara Singh's second wife.
And now Dara Singh's son, Vindu Dara Singh has admitted that he has a half-brother whose well being is now his responsibility.
Says Vindu: "My father has a son from another marriage. His first marriage was when he was barely 14."
(
Photos: Celebs at Dara Singh's funeral
)
My half-brother has always been a part of the family. In fact he was there for all the rituals after my father's death. As my father's eldest born it's my duty to fulfill his responsibilities."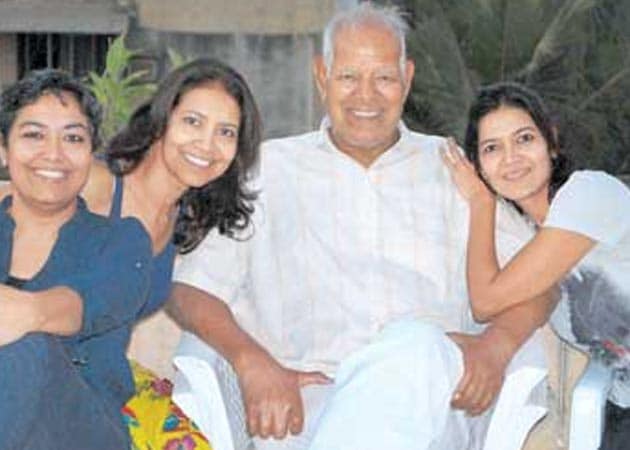 Will the patriarch's death also bring Vindu's son Fateh back to him?
Growing pensive hours after his father's cremation Vindu says, "I don't think so. Fateh will remain with his mother (Farha Naaz)." When asked why the marriage with Farha failed, Vindu sighs and admits, "The fights started because of the way our son was being brought up."
"Farah was turning Fateh into a fanatic. When she decided to leave with our son, I didn't try to stop her. Today we're friends. Farha, Tabu and Aunty (their mom) were here for dad's funeral."
Mention of the funeral makes Vindu sentimental. "Not since Mohd Rafi Saab's funeral have so many people from Bollywood have turned up to say goodbye. My father was a genuinely good human being. He is the only person besides Pran Saab about whom no one has anything bad to say. That's why we aren't mourning. We're all sitting and smiling and even laughing, remembering what a wonderful human being dad was."
For the last four days when Dara Singh hovered between this world and that, Vindu received tremendous support from fans. "There have been two lakh tweets. And after his death I have got over a 1,000 SMSes. I will respond as soon as I get breathing space."
"Dad always encouraged us to do what we wanted. We were all allowed to fail once in our class exams, but we never did," recalls Vindu, "He encouraged me to have my drinks at home, rather than go out and drink in public places. In fact on the night before he passed away we shared a drink together."
My Dad wasn't scared of dying. He was scared my mother would go before him.
Mujhe chhod ke mat jaana
, he told her some months ago. Now he's gone, leaving her behind. We need to look after her even more now."
Vindu reveals he never moved out of the Dara Singh residence because all his siblings did.
"They all got married and moved away. How could I leave my parents alone? If in their autumnal years they had to live alone what was the point of having so many children? I made a pledge to myself I'd stay with my parents, and I did."
Vindu wants to carry his father's legacy forward. He is planning to put together his father's amazing story in a documentary.
"It's important to let future generations know what my father was all about." He always said: "I've made enough money for all you children to live comfortably forever. If you can't build on my legacy don't diminish it either.' I'd like to carry his name forward. Dara Singh is a metaphor for strength and power. I'd like to think I can shoulder that legacy."