SPOILER ALERT AND POTTERHEAD ALERT: ONLY READ IF YOU QUALIFY AS THE LATTER
There's a new little blurb from JK Rowling on her website
Pottermore
. To access it and find the layers (magic ones!) that allow you to read the excerpt is a challenge akin to the TriWizard Tournament. At least at first. Or if we're being honest, at least for Muggles like me. It's supposed to be an origin story about Petunia and Vernon Dursley- inhabitants of the famous No 4 Privet Drive; parents to the distinctly dislikeable Dudley; uncle and aunt to that beloved Boy Who Lived.
What it is, is not a story so much as a background. Not much new in it. They're stuffy, and always were: this we knew. Vernon was always neckless: this we suspected. Petunia and her (then) paramour did not like her sister Lily, nor Lily's (then) boyfriend James Potter. This was never in doubt.
What is new is how they met-at work. What's terrific fun is how Vernon reacts when she tearfully confesses her connection with the world of 'freaks' and magic outside a chip shop-with warmth, support and the promise not to hold it against her. She responds to that with "such violent gratitude that he dropped his battered sausage". No, that's not a euphemism. We hope.
The subsequent meetings between the to-be bothers-in-law were not successful. "James was amused by Vernon, and made the mistake of showing it. Vernon tried to patronise James, asking what car he drove. James described his racing broom". This was not a euphemism either.
It explains how Petunia was essentially sick of being outshone by Lily, so she first refused to have her sister as her bridesmaid, and then refused to attend the Lily-James wedding. The last communication between Potters and Dursleys was the announcement of Harry's birth and "with a contemptuous look, Petunia threw it in a bin."
"Once married, Petunia grew ever more like Vernon. She loved their neat, square little house at Number four, Privet Drive. She was secure ,now, from objects that behaved strangely and teapots that piped tunes as she passed."
It also shares her reasons for taking Harry in when Dumbledore deposited him (guilt) and also for treating him horribly while he was there. ("she was punishing him for her choice in taking him"). Better fun are Rowling's own thoughts-and her reasons for the etymology of their names "Petunia is the name I always gave unpleasant female characters in games of make believe I played with my sister, Di."
It's fun if a bit slight (by JKR Standards). Especially for Potterheads like myself - the embarrassing kind who know the names of practically every spell that has ever been uttered, who claim houses as their own (Gryffindor 4evah, Hufflepuff for President etc), and have even - this is not made up and I SWEAR is not a euphemism either-ridden Harry Potter's actual broom. (It isn't comfortable, I can assure you). I've even (true story) waved his magic wand. (Disclaimer applies here, too) I've even met the Mountain Troll (his head anyway) and I can attest he's a lot more amiable than the ones I've met on Twitter.
(And for the two of you who might be wondering how, where and why -- I was lucky enough to visit the sets. Which meant I got to hang with the cast, chill at the Ministry of Magic, stop by Privet Drive, visit the Hogwarts Courtyard before it was destroyed. In short, it was Christmas come early and better than ever.)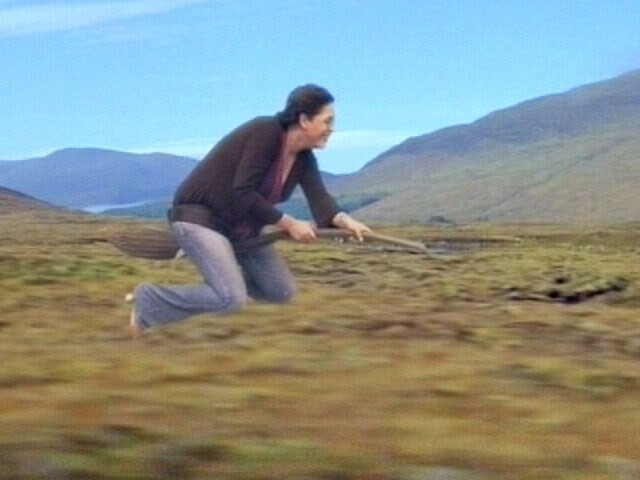 This sort of thing is, you see, our idea of a party, even a short little bonus round. It's an excuse to dive back into a world we love, that we're happy to talk about (endlessly) and will comfortably immerse ourselves in for days on end.
So Jo, if you're reading this-make the next one soon please? And perhaps consider removing those hoops we have to jump through? I'm just a Muggle, after all.
PS - It also occurs to me that we may have to revisit that PG 13? Shall I have my people talk to your people?
Aneesha Baig is NDTV's Lifestyle Editor and Anchor, Will Travel For Food
Disclaimer: The opinions expressed within this article are the personal opinions of the author. The facts and opinions appearing in the article do not reflect the views of NDTV and NDTV does not assume any responsibility or liability for the same.