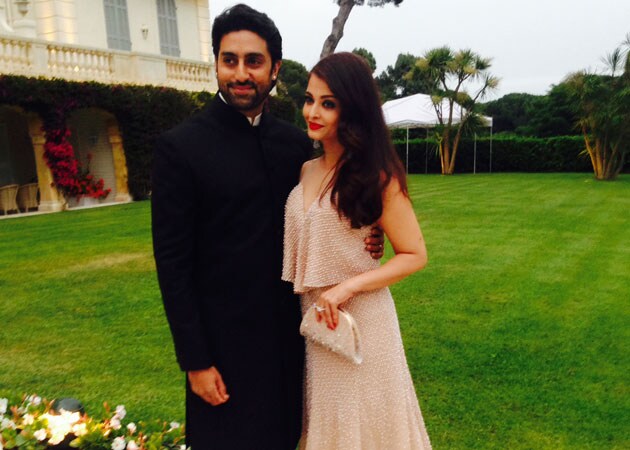 It was a cold, damp day in Cannes but the bright side, I was told, was that I was invited to "the biggest party" on the French Riviera during the Cannes Film Festival. To be honest, I was worried I would get bored because I wasn't shooting interviews. But I couldn't have been more wrong. (Also read:
Aishwarya, Abhishek Bachchan Lead Celebrity Roll Call at amfAR Gala
)
"Cinema Against AIDS" or the amfAR gala has managed to raise about 150 million dollars for AIDS research over the last 21 years. Thursday's auctions fetched 35 million dollars at the annual gala dinner party at the Hotel du Cap-Eden-Roc, which is perched on the tip of the beautiful peninsula called Cap d'Antibes. Built in 1839 as a villa for writers seeking inspiration, the seaside hotel has 22 hectares of pine trees and tropical gardens with a magnificent plunging view over the Mediterranean Sea.
This year, Damien Hirst's latest work,
Gone But Not Forgotten
, a three-metre tall gilded skeleton of a woolly mammoth, was installed against the ocean in the backdrop. Donated to amfAR by the artist, the installation was pieced together on location and put in a glass and gold container. The 10,000-year-old skeleton was bought at an auction by an anonymous bidder who then asked Hirst to transform it.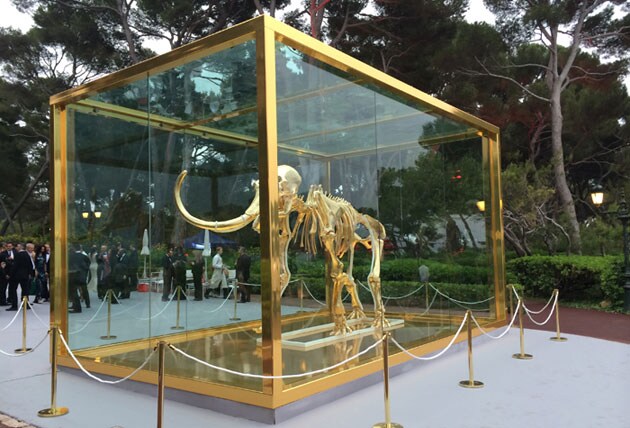 For once, I was on the other side of the barricade from screaming and shuffling journalists squeezed together in tight spaces. Dita Von Teese was walking the red carpet in front of me and Kylie Minogue was right behind. The best thing was that I didn't feel compelled to get them on camera.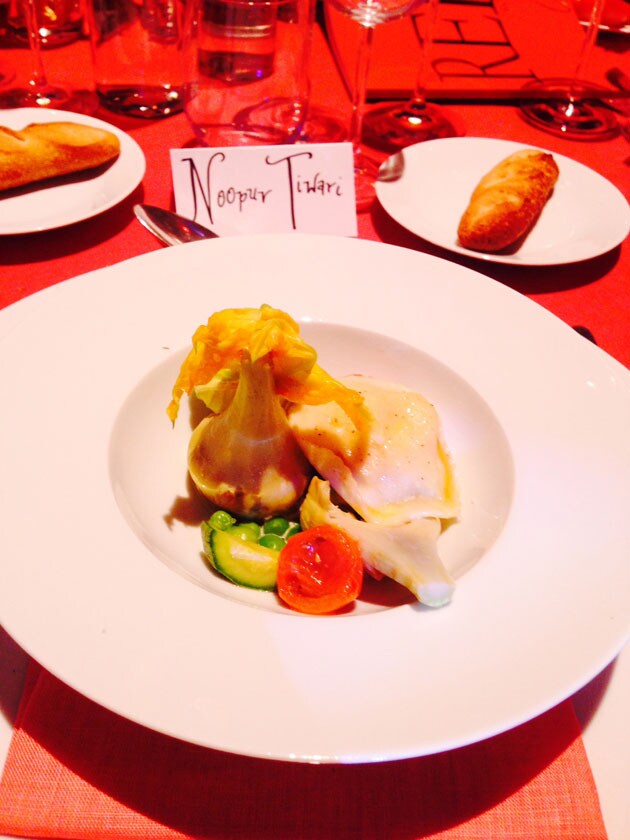 French actress, Aissa Maiga, who I had met the day before, became my 'party buddy'. We waded through the crowds together and exchanged notes and glances at appropriate moments. Aissa who looked stunning in her metallic see-through Jean Paul Gaultier dress, was much sought after by the photographers and occasionally stopped when greeted by several other celebs (she is fairly well known in France).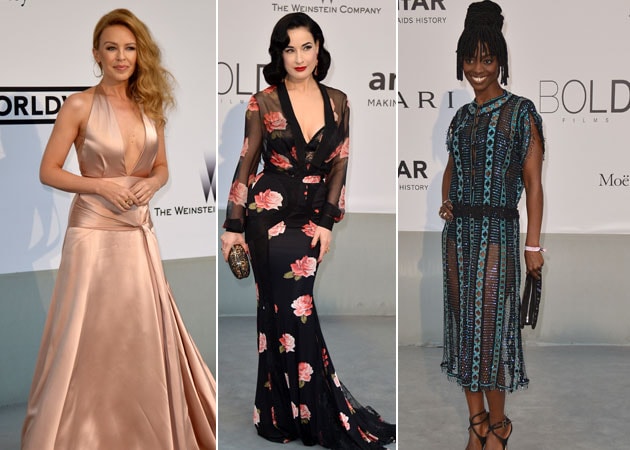 We were hovering at the reception for my mobile phone to get charged when John Travolta walked in. I just stepped forward and started a conversation. He said he was in the final stages of signing Shekhar Kapur's
Paani
and was hoping to be in India soon. Right after that I spotted Sharon Stone, (the host of the gala and amfAR chair), a few meters away, posing on a winding staircase for photos in her deep red, full sleeve Roberto Cavalli gown. She told me later that it was "preposterous" that homosexuality was outlawed in India. She said it was an "extreme lack of compassion" and a "lack of reality"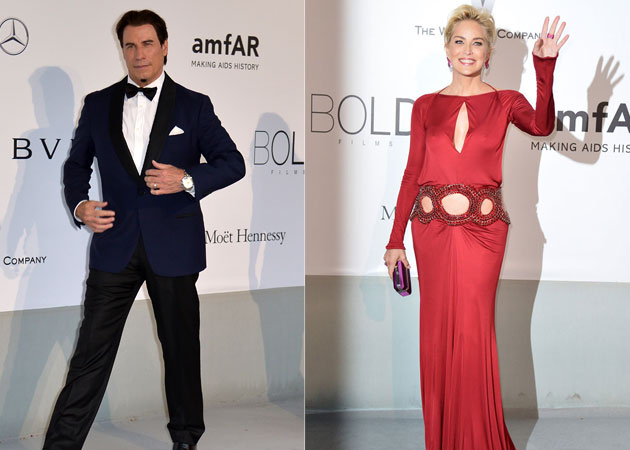 Not everyone likes to be interviewed during the gala, though. Leonardo DiCaprio, who seemed to be in a mood to relax, politely declined, saying he was happy to see me again (I had reminded him I had interviewed him last year for NDTV) but he added that he wasn't too keen to give quotes that night. He shook my hand and left with three bodyguards who kept stretching their hands out to keep people at a distance from him.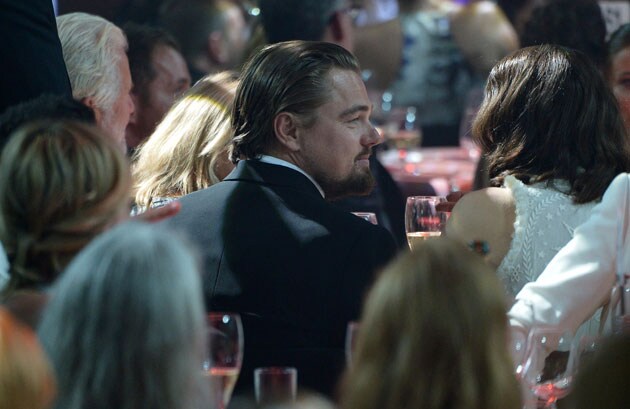 Outside the massive dinner tent, I saw Justin Bieber taking selfies with a bunch of teenage looking women. I almost knocked off Marion Cotillard who was bending down to unentangle her white Alexander McQueen gown from her shoes. Inside the massive dinner tent that had a stage set up, I met Dita Von Teese. I wanted to get her to talk to her about her work but instead she told me she had six saris in her wardrobe.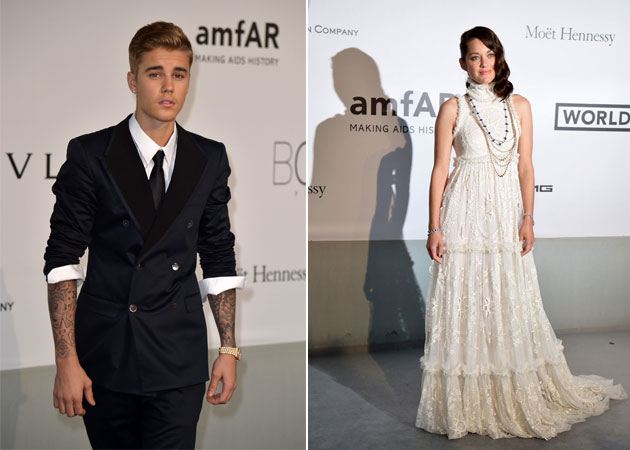 Jane Campion, who is the president of the main competition at the Cannes Film Festival this year, held both my hands in hers when I told her that I was from India. I asked her if she still did yoga everyday to which she laughed and said "Yes, almost everyday". She said she made regular trips to Jaipur to see her yoga teacher and that she loved the warmth and kindness of Indian people. I was slightly bewildered at this unexpected show of warmth. We moved on to closer to the stage to hear Lana Del Rey sing in her beautiful voice. It was a superb treat to watch her live!
Sharon Stone had changed into a skimpier gold outfit for the warmer interiors. "I know there are many millionaires and billionaires in this room," Stone said, urging them to bid generously.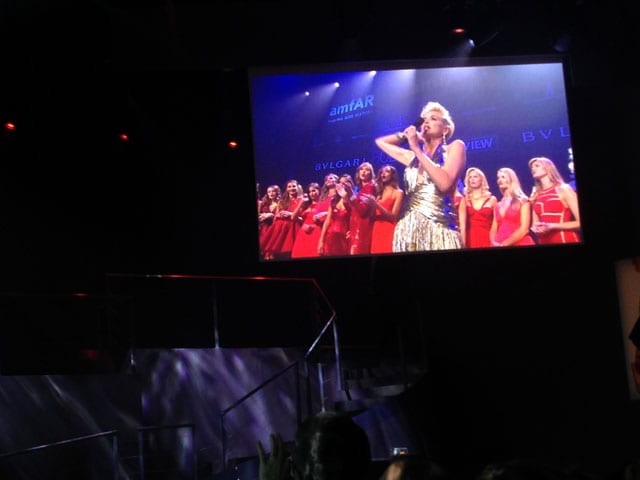 She auctioned a collection of 42 red outfits inspired by Marylin Monroe, designed by 42 of the biggest international fashion houses and presented in a fashion show by forty two of the world's top models. I was taking photos standing right behind Catherine Deneuve (and happened to noticed she has a tattoo at the back of her neck). The lot of dresses was bought for five million dollars by someone in the room.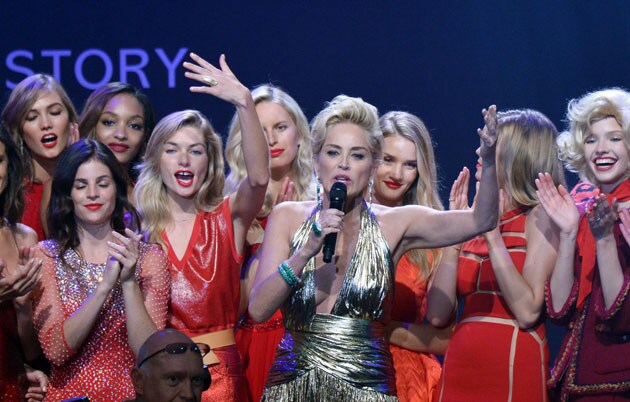 For Damien Hirst's work, the bid shot from one million to 10 million euros within ten seconds and it was sold for 11.5 million euros. We were told the artist was present in the room. Also auctioned were an eleven bedroom yacht and Moet et Chandon's 21 vintage champagnes, created in the last hundred years, including one from the year 1911. Other objects shown at the party and auctioned included Karl Lagerfeld's own custom gloves, a Warhol Marilyn Monroe print, a Picasso pencil sketch, a customized S63 AMG car with personal configuration consultancy with Lewis Hamilton offered and a Lubna motorcycle handcrafted by master builder Vanni Lughi. I must admit I felt pangs of envy for the person who would get to "leave earth to go to outer space" with Leonardo DiCaprio on Virgin Galactic. They paid one million dollars for this opportunity.
When I spotted Aishwarya and Abhishek Bachchan, they were surrounded by a pack of photographers. Both were co-chairs of the gala this year. Abhishek had arrived that morning and was to leave the following day, his shoot schedule did not allow to stay on longer at Cannes. He said they planned to bring the amfAR gala to Bombay as an annual event. Aishwarya told me they were asked to fix November 16 as the annual date but it happened to be their daughter Aaradhya's birthday so she had to plead for it to be shifted to a day later.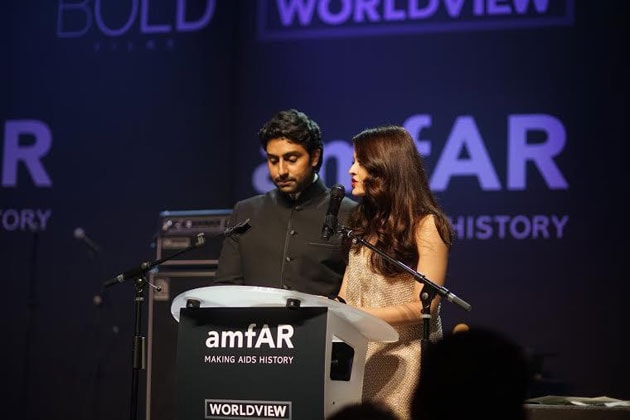 Carla-Bruni Sarkozy, Jane Fonda and Adrian Brody were on tables not far from ours. I spotted the bearded Conchita Wurst - the Eurovision drag star, was in a glittering black and blue gown. After dinner, Robin Thicke got everyone dancing with celebrities behaving like any other happy crowd of fans. To perform his smash hit
Blurred Lines
, Thicke jumped off the stage and climbed on to the table right where we were standing. Quite a bonus for me I'd say!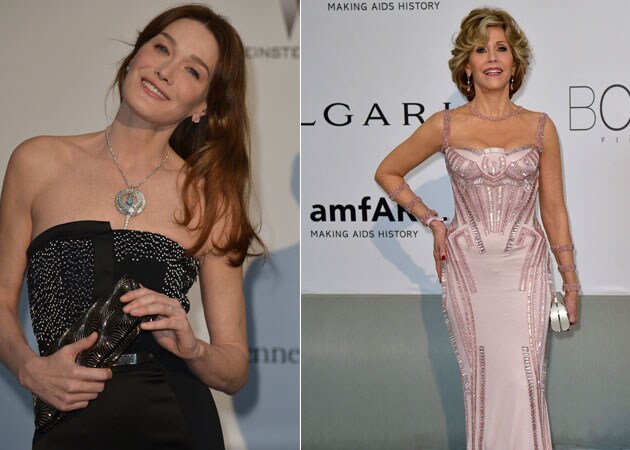 At the after party which was just above the infinity pool, I counted 12 yachts shimmering out at sea in the dark of the night. Couldn't help thinking how all this was far removed from the misery in the world. But some of the rich and famous had paid generously that night for amfAR's goal to find a cure for AIDS by 2020.
Disclaimer:
The opinions expressed within this blog are the personal opinions of the author. NDTV is not responsible for the accuracy, completeness, suitability, or validity of any information on this blog. All information is provided on an as-is basis. The information, facts or opinions appearing on the blog do not reflect the views of NDTV and NDTV does not assume any responsibility or liability for the same.