SPOILERS AHEAD
Chhoti si zindagi
chewing gum
ki tarah kheench diya
(a short life stretched like chewing gum), one exasperated character intones in the climactic sequence of
Laali Ki Shaadi Mein Laaddoo Deewana
. Couldn't agree more! The title is a mouthful all right. But wait until you bear witness (if you must) to the film elongating itself unconscionably over its 131-minute runtime. It overstays its welcome by at least half an hour.
Laali Ki Shaadi Mein Laaddoo Deewana
, neither wildly wacky nor sensationally snarky in its do-over of the big fat wedding genre, is a tedious rom-com that fails to shrug off its loopy quality despite a few entertaining performances (from seasoned character actors like Saurabh Shukla, Darshan Jariwala and Sanjay Mishra) and stray moments of mirth.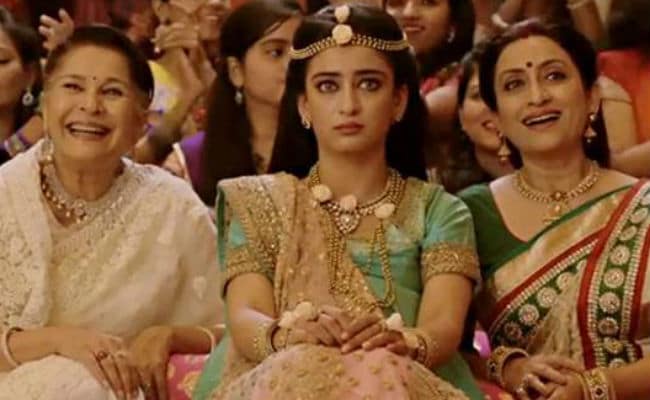 The leads - Vivaan Shah, Akshara Haasan and Gurmeet Choudhary - are given the onus of livening up a monotonous film that has little by way of genuine flow and flounce. It is a tall ask and failure is inevitable.
Laali Ki Shaadi...
is done in by major structural flaws and glaring lack of logic. It lurches from one scene to another, moving back and forth between the point where the film begins and the different junctures in the story revealed via multiple flashbacks. Keeping track of all the to-ing and fro-ing that unfolds on the screen takes some doing. It's just not worth the trouble.
Laaddoo (Vivaan Shah in his fourth big screen role) is a likeable guy from a nondescript Madhya Pradesh town who wants to get rich quick. He relocates to Vadodara in quest of greener pastures and lands a job in a café run by his father's friend, Kabir (Sanjay Mishra).
Laali (Akshara Haasan in her second Hindi-language release) is a regular visitor to the café. Mistaking her for a wealthy heiress, Laaddoo latches on to her, pretending to be the eklauta beta (only son) of a millionaire. But Laali is only a middle-class girl seeking to make it in life on her own steam. Soon enough, she discovers the truth of Laaddoo's modest background - he is the son of a bicycle shop owner eking out an honest living.
Love blossoms, the lovers make a trip to Kashmir, and one casual roll between the sheets on a Dal Lake shikara leaves Laali pregnant. Laaddoo, intent on making pots of money before he settles down, advises his girlfriend to abort the child. She puts her foot down. "I can't stand nonsense," she says. A huge chasm opens up between the two. The resultant complications are far too knotted for easy comprehension.
Suffice it to say that Laaddoo's estranged father (Darshan Jariwala) disowns his son and decides to play dad to Laali. Laali's alcoholic and abusive father (Saurabh Shukla), on his part, takes a shine to Laaddoo and begins to treat him like his own son. And then there is this Ranima (Suhasini Mulay) looking for a bride for the heir to a sprawling royal estate (Gurmeet Choudhary). The latter is nursing a broken heart in the aftermath of a tragedy in which he lost both his parents and the woman he loved. In a bizarre twist, the family soothsayer suggests that the prince's fortunes could change if he marries a pregnant woman.
Laali constantly reminds the world that she is no pushover. "
Main thappad khaanewali ladki nahin hoon
," she declares before walking out on her father. The film pays lip-service to the freedom of women to do what their hearts desire, but it never manages to dispel the mindset that believes that eventually it is the men who must make the important decisions. All the women in the story are mere shadows of the men in their lives.
Laali Ki Shaadi Mein Laaddoo Deewana
might have been a lot more fun had the script been better loaded. In the opening sequence, a pregnant bride, a distraught prince, a young man thwarted by life's reverses and an over-enthusiastic actress (Kavitta Verma) roped in to stand in as a bride are in the midst of a dual wedding ceremony when the father of the unborn baby in the heroine's womb spills the beans before the prince who is all set to marry her. The confession doesn't go down well. The prince demands that Laaddoo make a clean breast of the whys and wherefores of his affair with Laali.
Everybody in this turgid film has a
kahaani
of his or her own, so it is hugely refreshing when one potential flashback is quickly nipped in the bud. In their first meeting, Laali asks the prince:
Aap janna nahin chahte meri kahani kya hai
(don't you want to know my story)? No, not all, the tired prince replies.
You, too, have the option of deciding if you have money and time to waste. Like the aforementioned prince, make sure that your answer is in the negative.