Moments like these are hard to come by, on celluloid leave alone real life. When Shashi Kapoor received his Dadasaheb Phalke Award at Mumbai's Prithvi Theatre - which he helped found - on Sunday, it was not just an army of famous Kapoors who cheered him, but also several of his former co-stars, including Amitabh Bachchan, Rekha, Waheeda Rehman, Hema Malini and Asha Parekh. So august a gathering and such an atmosphere of goodwill is rare in showbiz which mines the current celebrity of its inhabitants and mostly ignore past glories.
While the epic photo of Mr Kapoor with eight of his heroines has already gone viral on social media, thanks to proud nephew Rishi Kapoor, here are 10 equally Kodak-worthy moments you may have missed from the award ceremony.
Like this one, of his leading ladies cheering him. The cheer squad consisted of Zeenat Aman, his co-star in
Satyam Shivam Sundaram
; Shabana Azmi with whom he starred in
Junoon
and
Fakira
; Rekha, his co-star from
Baseraa
and
Utsav
; Neetu Singh, who was his heroine in
Deewar
and is married to Rishi Kapoor. Karisma, daughter of Shashi Kapoor's nephew Randhir, was also a vociferous cheerleader.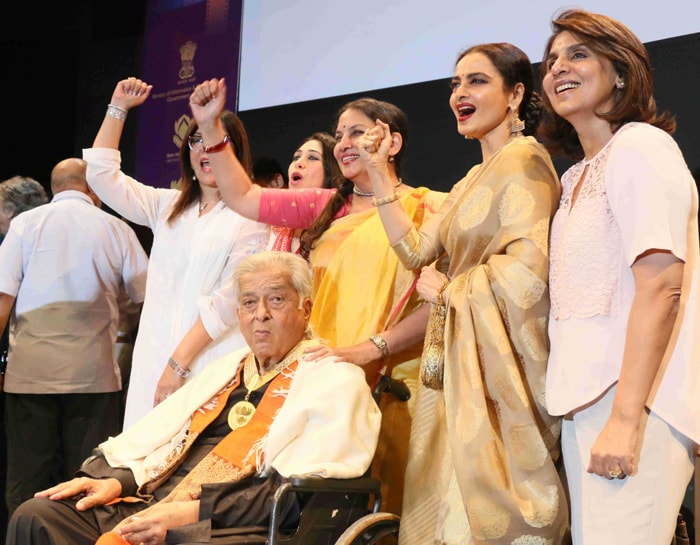 Shashi Kapoor, called the 'nicest co-star' ever by everyone present, showed just why he was fondly described this way when he gave his audience a thumbs up after receiving the award.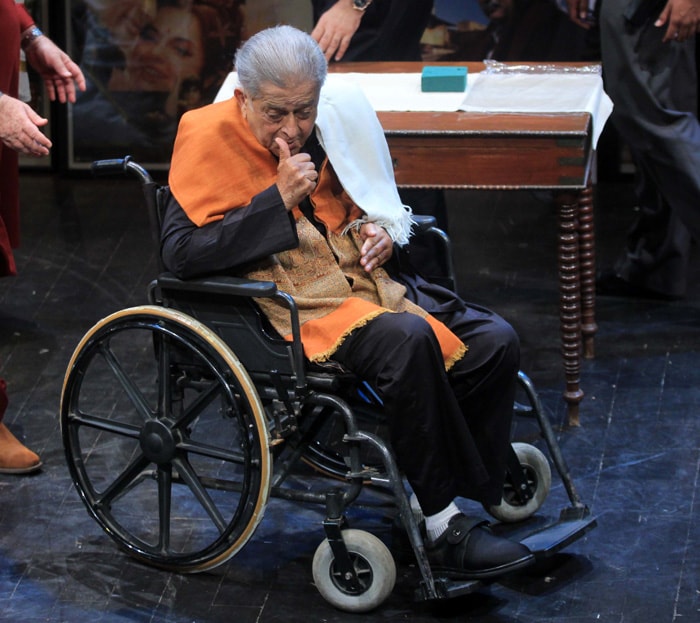 There was this loaded moment when Amitabh Bachchan and Rekha solved the
Silsila
of being in the same room an at such close quarters be resolutely not speaking or making eye contact.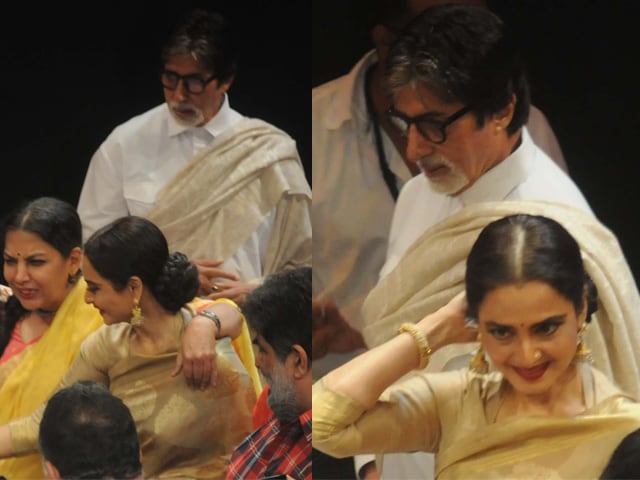 Several selfies were taken. The one produced by this in-the-making image later made it to Neetu Singh's Instagram.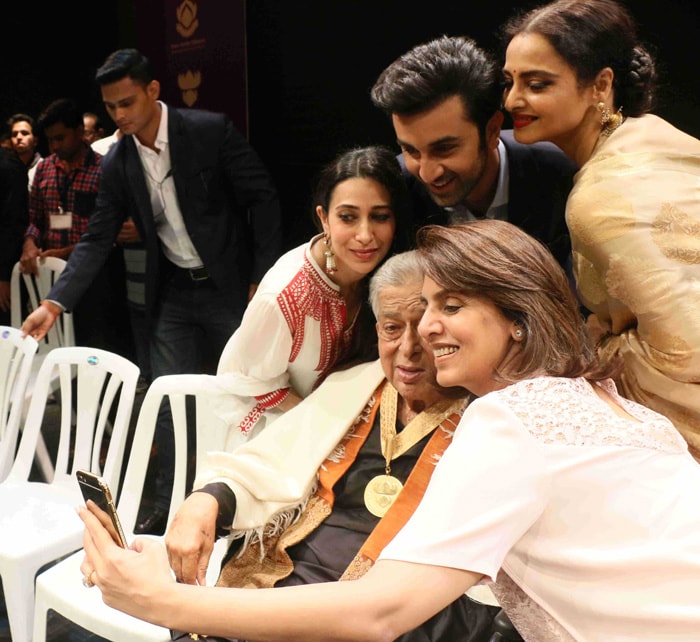 Amitabh Bachchan, who's known the Kapoors for years, was photographed touching the feet of Krishna Raj Kapoor. His house, Jalsa, incidentally, is a stone's throw away from Prithvi Theatre.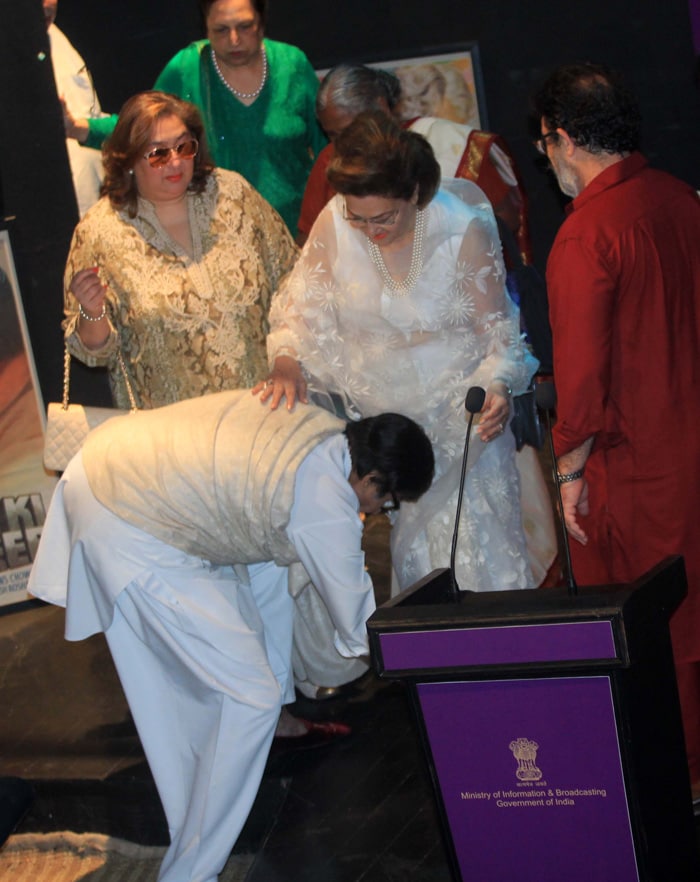 Mr Bachchan's son Abhishek followed in his father's footsteps when he touched the feet of Neela Devi, wife of late actor Shammi Kapoor.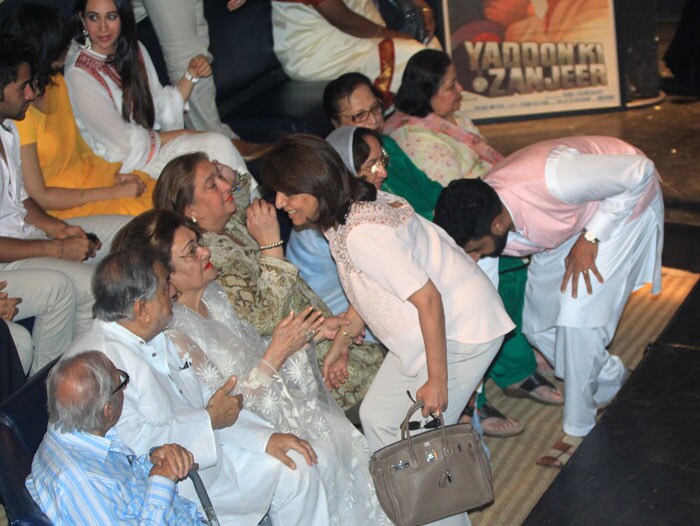 Meanwhile, Rekhaji and Hema Malini, friends and co-stars from Dharmatma,
Palkon Ki Chhaon Mein
and
Apne Apne
, greeted each other warmly.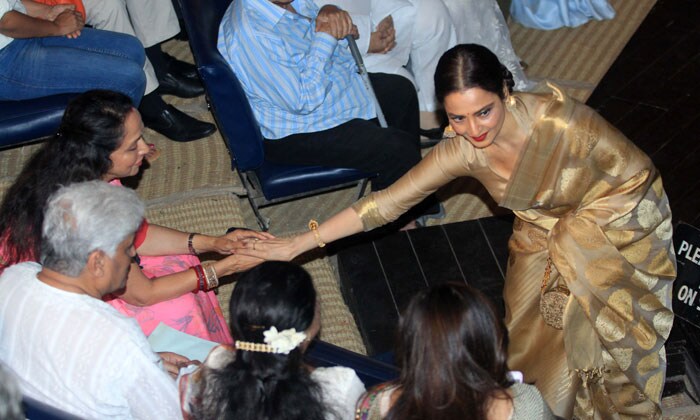 Shabana Azmi was elegance personified as she charmed the audience with a special
adaab
for Shashi Kapoor.
Equally
nawaabi
was the
namaste
with which Saif Ali Khan greeted the women of the family (Neela Devi, Reema Jain and Krishna Raj).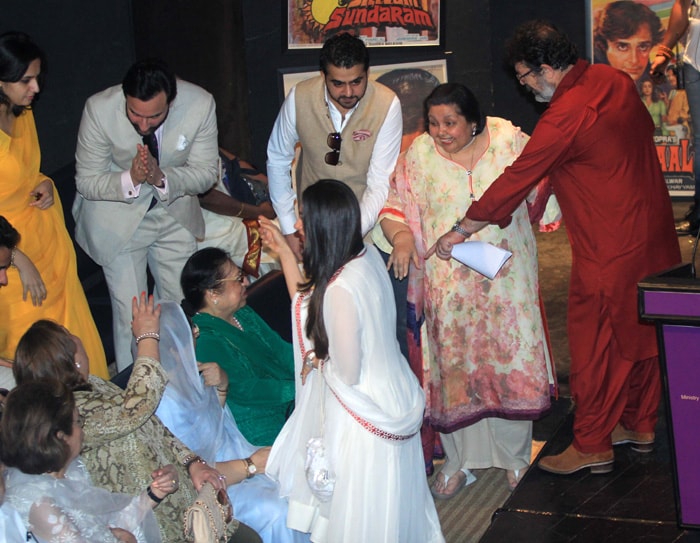 The oldest living Kapoors rarely make public appearances and never together. Which is why this picture of Shashi Kapoor with his sisters-in-law, clasping Neela Devi warmly by the hand, is extra special.