Filmmaker Karan Johar brought home his twins - Yash and Roohi- on March 29 from Suriya Hospital in Mumbai. The twins, born two months premature, were kept under close observation in the hospital for 50 days. On Saturday evening, actor Aamir Khan along with wife Kiran Rao were photographed visiting Karan Johar's residence. The 44-year-old director named his son after his late father Yash Johar and daughter Roohi's name is a rearrangement of his mother name, Hiroo Johar.
Sidharth Malhotra and Varun Dhawan were the first ones to meet KJo's twins
. Other celebrities who visited Karan Johar's residence to meet his twins were - Alia Bhatt and Shahid Kapoor.
Aamir Khan and Kiran Rao photographed outside Karan Johar's residence. See pic below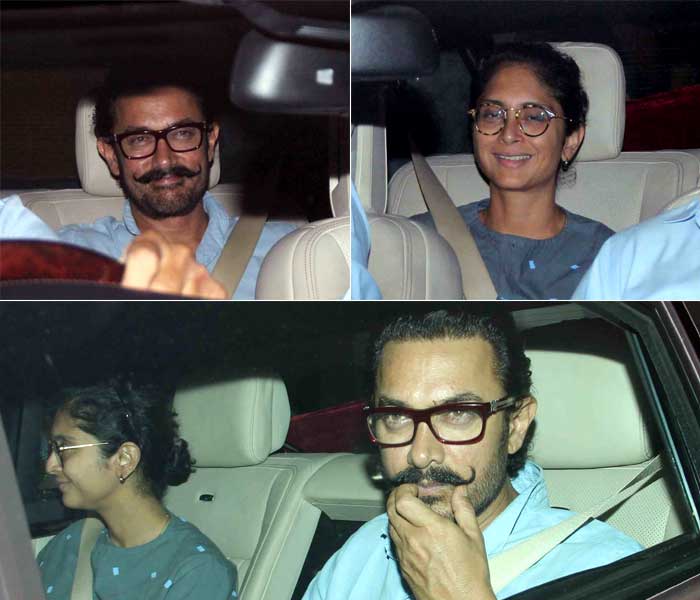 On Friday,
Karan Johar shared a picture of his twins' nursery, designed by close friend and Shah Rukh Khan's wife Gauri Khan
, on social media. He wrote: "My baby nursery designed by @gaurikhan with so much love and care....its my paradise!!! Love you gauri.... (sic)."
According a
Mid-Day
report, the twins - Yash and Roohi will only meet a limited number of guest list for a month. "He (Karan Johar) needs to keep a tab on the number of guests he receives; the babies are susceptible to infection," Dr Bhupendra Avasthi, who monitored the twins' health, told
Mid-Day
.
Karan Johar, who is extremely thrilled to be a father, in a heart-felt statement on Twitter unveiled that he was terrified when he got to know that his twins had health complications. His statement read: "Even the most anticipated events can sometimes leave us shaken, confused. And events that occur without any warning can turn our worlds on their very heads. My children were born two months premature and worryingly underweight. Like any person in this situation and on the brink of fatherhood, my heart sank."
Karan Johar last directed 2016 film
Ae Dil Hai Mushkil
starring Ranbir Kapoor, Aishwarya Rai Bachchan and Anushka Sharma.