He belongs to a family of thespians but actor Abhishek Bachchan is happy to have his five-year-old daughter Aaradhya choose her own path. "I want her to do what makes her happy," Abhishek said in a live Twitter chat with fans on Thursday. Abhishek, 40, is the son of actors Amitabh and Jaya Bachchan and he is married to actress Aishwarya Rai Bachchan. Between them, the Bachchans form the first family of Bollywood, much awarded and much beloved. Abhishek, star of films like the
Dhoom
series, and Aishwarya married in 2007 and Aaradhya, their only child, was born on November 16, 2011.
Asked by a fan in the Twitter Q&A if Aaradhya, the youngest member of the illustrious family, would continue the 'Bachchan trend' in Bollywood, Abhishek replied in a video message: "I would like my daughter to do whatever she chooses to do and whatever she loves to do. As a kid I was told to do what made me happy and I want her to do what makes her happy. Whatever it is I will be happy."
.@aamir_is_in#askabpic.twitter.com/92yVinMYRK

? Abhishek Bachchan (@juniorbachchan) November 24, 2016
The actor also replied to a somewhat unfair question asking him to choose between his wife and daughter. "I love both equally. You can't choose between your wife and your daughter. So I love both equally," he said.
Abhishek Bachchan also spoke about the challenges of being the son of an acting great and the inevitability of comparison. Amitabh Bachchan, now 74, is still one of Bollywood's busiest actors and one of the country's most admired and respected stars. "I think it is very important to have high standards... So I think it's not difficult, but a matter of great pride and huge inspiration for me," Abhishek said in reply to the Twitter question.
Abhishek Bachchan, who made his debut in 2000 with Refugee, told one fan that he's been waiting 16 years to be cast in a Tamil film. He also said that a sequel to his 2007 film
Guru
is unlikely and that he and Saif Ali Khan would make a 'very cool buddy' film if they were cast together.
We last spotted Abhishek - or rather, his back - supervising preparations for
Aaradhya's birthday party
in Mumbai last Sunday.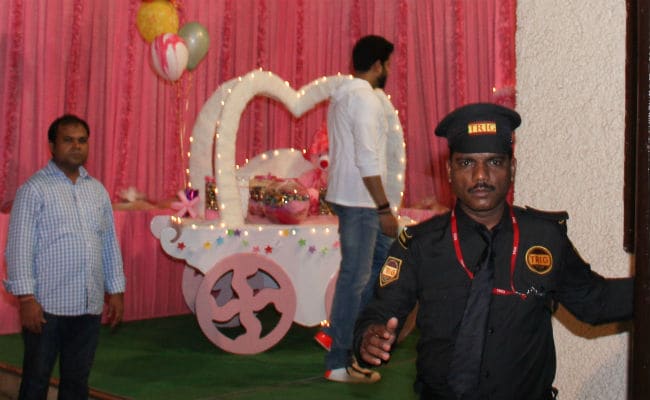 Abhishek Bachchan's most recent film was
Housefull 3
.
(With inputs from IANS)