Everyone rejoicing over India finally growing a sense of humour or something like it can stop cheering. Comedy collective AIB's brave attempt at a roast - of actors Ranveer Singh and Arjun Kapoor - has become a casualty, at least temporarily, to the fine Indian art of taking offence. The three-part roast has been removed from YouTube pending a probe into allegations of obscenity by the Maharashtra government. AIB has explained that they took the video off not because of 'a 3 am phone call or a morcha at our front door or a gunman on a grassy knoll' but because people who had supported the group had been 'put in a position where things could get deeply unpleasant for them'. (Also read: Roast Removed, AIB Explains; Sonakshi, Alia, Karan Johar Tweet)

Just days ago, singer Mihir Joshi was ordered to drop the word 'Bombay' from a song - a precedent that might spell trouble for director Anurag Kashyap's soon-to-release film Bombay Velvet.

While we debate censorship and the thin red line between dirty jokes and obscenity, there's plenty to be offended by in Bollywood if you just know where to look.

For one, the insistent and insidious sexism that creeps through every other Bollywood film, reducing generations of actresses to little more than set decoration. Just last year, films with strong female characters like Queen, Dedh Ishqiya, Mary Kom, Highway and Mardaani were all too frequently punctuated by the likes of Jai Ho, which had a mini-cast of women in need of rescuing; Singham Returns, with Kareena Kapoor requiring the services of super-cop Bajirao Singham; and Sonakshi Sinha who featured as a cinematic footnote opposite Akshay Kumar, Ajay Devgn and Rajinikanth in Holiday, Action Jackson and Lingaa.

For another, the film industry's persistent disregard of the laws of physics, presumably based on the assumption that those watching the films failed to pay attention in school. 20 years after Shah Rukh and Salman grabbed speeding bullets out of the air with their bare hands in Karan Arjun, they are still challenging science and the audience's willing suspension of disbelief in films like Chennai Express and Dabangg. Like so: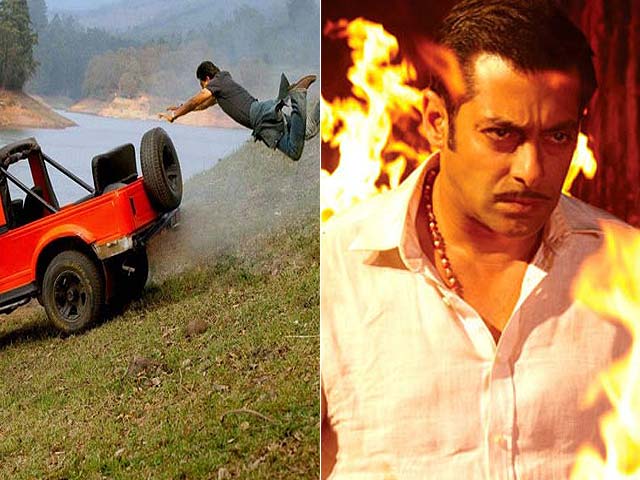 Rajinikanth is also still defying gravity, although fewer people seem to be wanting to watch him do it now based on the box office performances of his latest films Lingaa and Kochadaiiyaan.

Logic is also optional in many Bollywood films, as anybody who has seen Govinda and Kimi Katkar dressed as Superman and Spiderman dancing in an utterly, utterly random song sequence in 1988's Dariya Dil will testify.

Any number of Anu Malik songs 'inspired' by English hits; stereotyping of South Indians, Nepalis, Bengalis, Gujaratis and almost anyone who doesn't fit the Bollywood mould; 'lost and found' formulae and other theatre of the absurd plotlines from Eighties blockbusters; eye-watering costumes and make-up from the dark ages before the discovery of stylists; and Sajid Khan's Humshakals - if you're looking to be offended, Bollywood has an insult for almost everyone.

And yet, every Friday brings with it a new film hoping to sell tickets and fill seats in cinemas. And here's the thing - you can always choose not to. If you don't want to watch Saif Ali Khan and Riteish Deshmukh running around in drag, you don't have to. Find another film to watch.

Which is exactly what those baying for AIB's blood are free to do as well. If you are uncomfortable with rude language and jokes about sexuality, just don't press play.