'The Ides of March are here. Aye Caesar, but not gone,' reads actor Amitabh Bachchan's somewhat ominous blog post on March 13. The actor who is currently filming his new project
PINK
in Delhi, posted images of himself as a lawyer from the film sets. March 15 - also called the Ides of March - is linked with the 44 B.C. assassination of Julius Caesar, and with doomsday prophecies, dramatically portrayed by William Shakespeare in his play Julius Caesar.
Big B, 73, posted: "These are the days of brevity and sublime. Of the less, the better. Of the approaching of the 'Ides of March' and its reference. The Ides of March are here. Aye Caesar, but not gone." The reference Big B writes about has been shown in William Shakespeare's famous play Julius Caesar, when Caesar is warned by the soothsayer to 'beware the Ides of March.'
T 2173 - I am but a lone voice in the corridors of what many see as ... pic.twitter.com/0WPuqwAXGu

? Amitabh Bachchan (@SrBachchan) March 13, 2016
"
PINK
film
ki
shooting
chal rahi hai Dilli mein
," disclosed Big B to his fans as he shared more pictures of himself dressed as an advocate and wearing a 'training mask' - we're not entirely sure yet what purpose the mask serves.
Driving past his 'old Delhi home' in the landmark Mother Teresa Crescent area seems to have filled the actor with a 'sense of nostalgia.'
T 2173 - As i drive past my Delhi home of the early years .. a sense of those early morning winter runs to Univ pic.twitter.com/MuBfoTMcqd

? Amitabh Bachchan (@SrBachchan) March 13, 2016
On his blog, he wrote: "If this be the interpretation of solitude. Be sadly mistaken ... for there never can be, that has evolved over 1000s of years and not the next IPL season. I drove past my Delhi home when we did not have our own in Gulmohar Park. It was 13, Willingdon Crescent and now it's Mother Teresa Crescent. Of those very bitingly cold winter mornings and the rising up to run for stamina and strength down the Crescent till the Estate of the President and back. Used to be a most warming adventure despite the cold. The cold continues."
Fans of Big B also shared images of Big B, Taapsee Pannu and Kirti Kulhari exploring the city in between shoot.
Amitabh Bachchan looking super dashing in #Pink ... BADDUUUMBAA pic.twitter.com/RhoE0JRh4I

? Moses Sapir (@MosesSapir) March 13, 2016
On Saturday, the amused actor revealed that he had walked through the streets of Delhi without being noticed. He had written on his blog: He had written on his blog: "Huummmmpphh. Ran out of breath bending down backwards laughing my strengths out. My strengths, strengths. My stomach. So why the hysteria? The masked wonder on the streets of crowded Delhi and ne'er an eye is raised. This is what what life is all about buddy. It's called indifference, unrecognisable, and even if recognisable not interested in recognising.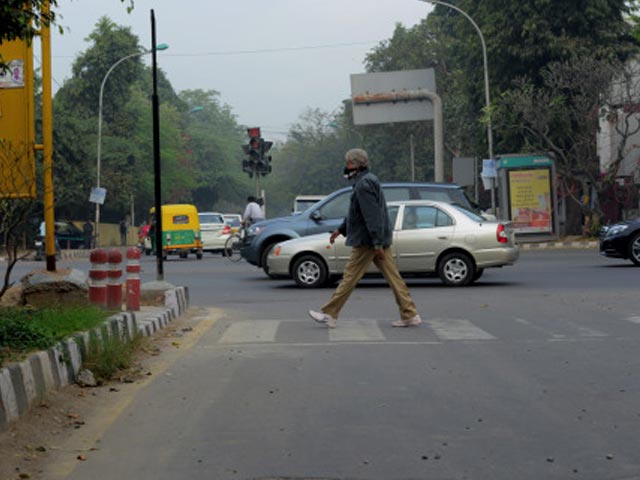 He also shared this picture of himself in a state of reverie, admiring the view in a park.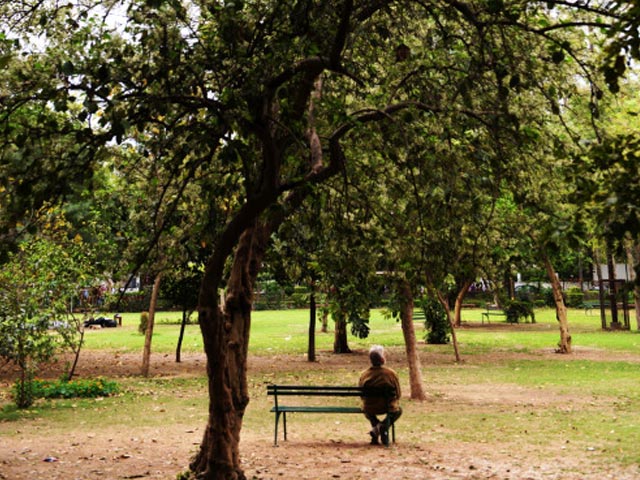 Directed by Aniruddha Roy Chowdhury,
PINK
releases on September 16 this year. Besides
PINK
, Big B will also be seen in the much-hyped
TE3N
which also features Nawazuddin Siddiqui in a key role and which opens on May 20.