Actress and former Miss World Aishwarya Rai Bachchan just had her thunder stolen, but is likely not going to be upset about it. Bollywood megastar Amitabh Bachchan, Aishwarya's father-in-law, described his grand-daughter Aaradhya's " pareshaan mudra " (worried expressions) more "aakarshak" (attractive) than the million dollar smile Aishwarya dazzled the crowd with at the just-concluded Miss World 2014 pageant.

Aishwarya, who was honoured at the Miss World 2014 pageant for her charity work, was accompanied on-stage with her husband, actor Abhishek Bachchan, three-year-old daughter Aaradhya and her mother Vrinda Rai. (Also Read: At Miss World Pageant, Aishwarya Rai Bachchan Honoured for Charity Work)

Proud grandfather Big B, however, had eyes only for his little granddaughter, who seemed a little perturbed by having so many eyes on her. Big B wrote on his official Facebook page, "Putr, putr- bahu, putr- beti .. London ke ek Miss World karyakram mein .. bitiya ke chehre ki pareshaan mudra, sabse aakarshak !!."

Mr Bachchan is a doting grandfather, who always has cheerful anecdotes to share about his grandchildren. While in Delhi for an event for a news channel, Big B also updated fans about his daughter Shweta Nanda's children, Agastya and Navya Naveli.

Big B posted this image in his blog: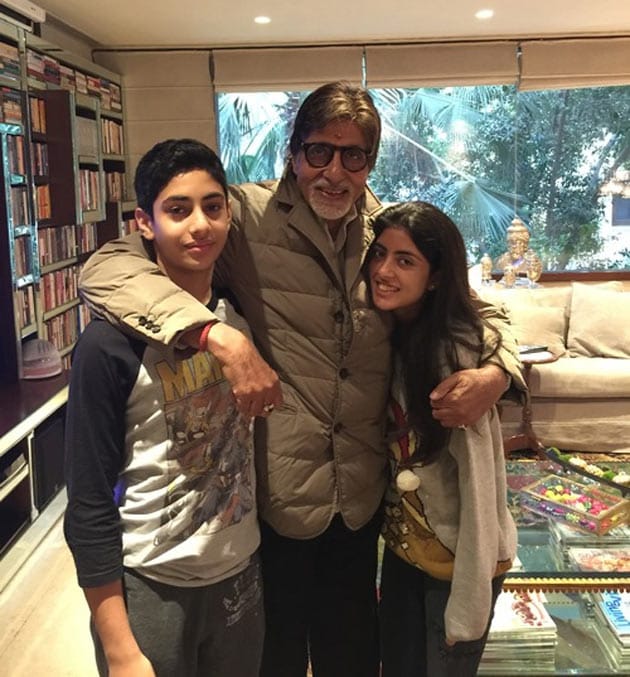 He wrote on his blog: "The grandchildren have grrrroooooowwwnnnn ! They are tall and filled up and with crackling voice, about to break through to maturity. And the short time spent with them was educative and sound."

Aishwarya, who was crowned Miss World in 1994, was felicitated at this year's pageant held in London on December 14. She is among India's most recognised faces internationally, and certainly its most glamorous.