It's T minus one for Ranveer Singh's new film. If you think about it,
Befikre
is a most unlikely film to be made under the stewardship of Aditya Chopra, whose films were all about loving your family much before Karan Johar assumed that responsibility. Like KJo, Mr Chopra also appears to have graduated to more complex romantic equations - love that doesn't necessarily end in marriage and requires no parental approval.
Befikre
, co-starring Vaani Kapoor, is far, far removed from
Dilwale Dulhania Le Jayenge
.
It has so much kissing in it
that
DDLJ
's Baoji would have locked up both Dharam and Shyra, the characters played by Ranveer and Vaani. In one memorable scene, Dharam strips down to his underwear.
Befikre
, then, is a risque piece of filmmaking that would have been less remarkable had it come with anyone else but Aditya Chopra's name attached.
That underwear scene has grabbed attention from several quarters, including Shah Rukh Khan who asked on chat show
Koffee With Karan
why Ranveer
was wearing padded underwear.
"It was cold in Paris when they had shot the scene and padding was necessary," Ranveer said during his own Koffee appearance. Later, he told NDTV that the scene required a lot of prep. "Ever since Adi Sir told me I had to wear the underwear, I slaved in the gym to get into shape," Ranveer said.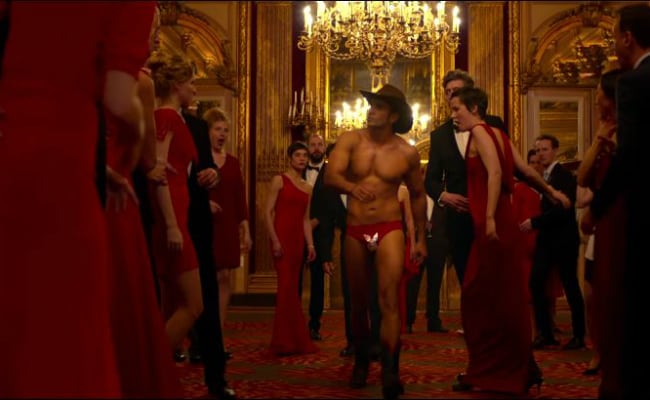 Befikre
's Dharam is aspirational for Aditya Chopra. "Dharam is someone who I wish I could be, but I was never carefree enough to be. Dharam is a man who will remain a boy all his life. For Dharam, college never ended, the party never stopped. He is so happy being himself and making everyone around him that it literally becomes his job for life. If this is the character then there cannot be any other actor but Ranveer Singh.
Ranveer is Dharam, Dharam is Ranveer
. Even before I knew that I'm going to direct this film, I was writing it for Ranveer. He was actually the leading man of Befikre even before I was the director of the film," he said in a statement. Dharam's
befikre
ness is a polar opposite of the gravitas of Peshwa Bajirao, Ranveer Singh's last role.
The mise en scene is Paris - in keeping with Yash Raj tradition, which locates at least part of several of its films in Europe - and Ranveer Singh's Dharam
comes to the city of love
seeking adventures of the heart. He meets the free-spirited Shyra, played by Vaani Kapoor, who is of Indo-French extraction and they begin a romance as carefree as the title of the film. But
ae dil hai mushkil
, as everyone knows.
Apart from the trailer, four songs have been released from the film, including a wedding song titled
Khulke Dulke
.
Video: Watch the trailer of Befikre
Video: Watch Ranveer Singh and Vaani Kapoor dance in Khulke Dulke
Befikre
releases on Friday, just weeks before Aamir Khan's Dangal caps the year.
All told,
Befikre
is a brave film for its director to make. Aditya Chopra,
jee ley apni zindagi
.