Uptil Sunday morning, this would have been a very different piece. Though, per usual, opinion is hugely divided on Aishwarya Rai Bachchan's 2016 Cannes outing (see our own website for proof!), I actually thought she did very well. At first glance, sure, it was a bit like seeing the result of close contact with an incontinent glitter factory, but on closer inspection you realised that Ash made it work. She looked splendid, decadent even, all gilded and grand - like something out of one of those fabulous French balls. In Versailles. In the 1800s. Sigh. And the fact that she isn't skinny added to it, the nude and gold paired with that Monica Bellucci-esque voluptuousness was actually pretty magnificent.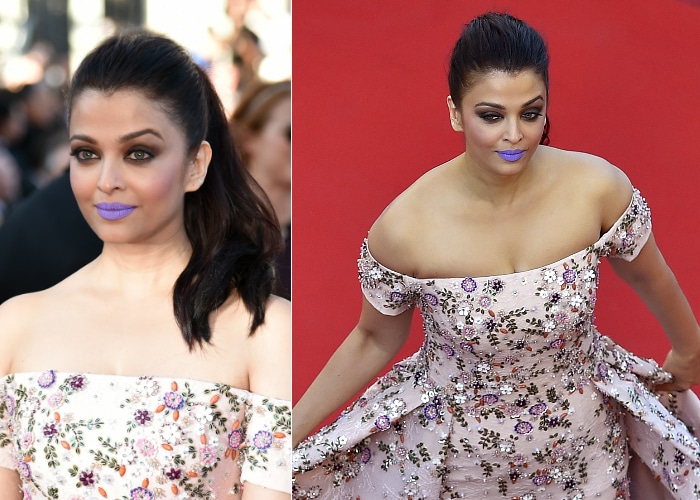 Then the rounds started for
Sarbjit
, and, well, Lipstickgate happened. The millennials are onto something there are basically two ways to effectively convey the collective horror - in three letters (OMG. WTH (and it's less polite variant). And, of course, that old chestnut: LOL) or several hundred.
I'm even convinced that her army of fans, will not have (as) much to say in its defence. And
I know first hand
that they're a voluble lot. But the questions (so many of them!) have to be asked: does her stylist secretly hate her? Is there some seething grouse with her make up artist? (I will sign the petition too!) Have all the mirrors in Cannes evaporated? Because unless she is trying to slyly audition for
Guardians Of The Galaxy 2
(and hello, taken already) that lipstick is inexcusable. I thought the golden tent she brought out for the first round of
Sarbjit
press was bad, but this... this seemed to be a joke, but no one can figure out what the punch line is.
Because this is
the most beautiful
woman in the world. In the world! She has been declared this many times. Look at that face. Those eyes. Those lips. (For now though don't look too hard it negates my point. Which is my point!) You actually have to work to make her look bad - and someone is working alarmingly hard at it.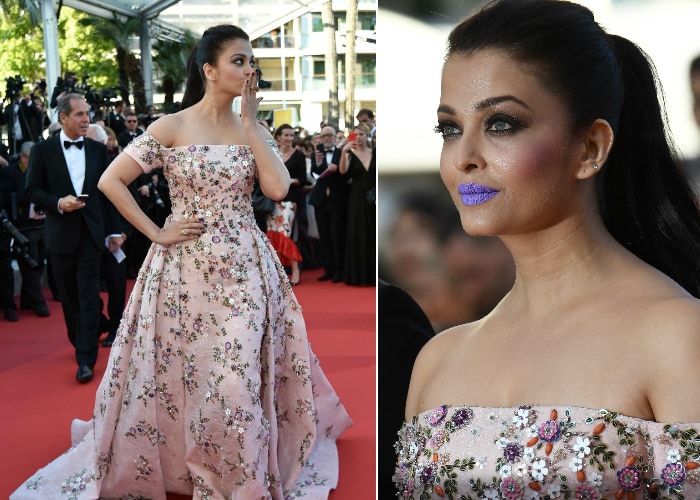 I know what it must be - there's a giant cosmetics conspiracy. That's it. Some competing giant has paid her/ blackmailed her/issued dire threats. Maybe Liam Neeson has taken Abhishek and is holding him to ransom? Perhaps Loki did his mind-controlling sceptre thing to the entire Croisette? Maybe Apple has developed live photoshop and some evil genius is hacking in? Perhaps Sanjay Gupta offered her another film. Look, I don't know. None of this makes sense. Unless, of course, she knows how apoplectic it will drive all of those back home and she's having the last laugh. Except there are more effective ways to do it.
And I realise also that Ash is stuck in a bit of a 'damned if she does, damned if she doesn't' loop.That's not her fault, its ours. If she dresses safe, we call her boring; if she experiments, we call her out. And yes, I'm equally sure that this particular My Little Pony brand of radioactive purple is the hot new trend for the summer. I believe she is contractually bound to showcase said trends, I just really wish they'd found another trend for her. One that didn't look like she's been enrolled in Grape Skittles Anonymous. One that didn't look, as some one posted on my time line, as though she'd just been kissed by an Oompa Loompa. One that actually matched her dress?
And just to show how they could have gone, check out this hot coral trend she showcased with the gold Cavalli in 2014.
That's
what you do
to
for your brand ambassador.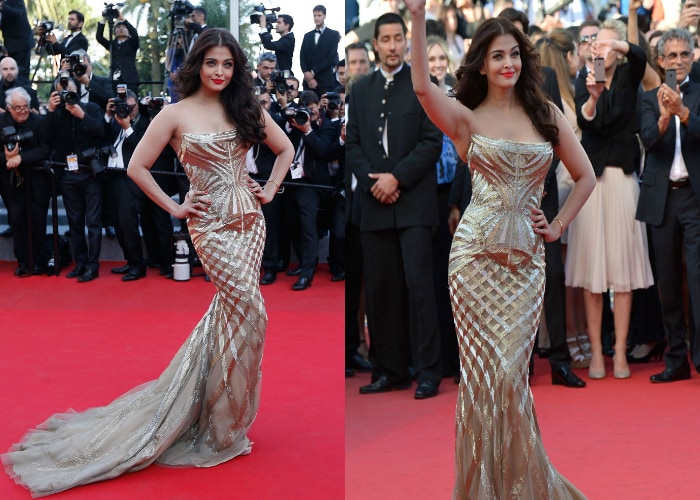 In fairness, I also know she's not the first to suffer at the hands of cosmetic related catastrophes, and so to that end I beseech her and every one else to rewatch an old beloved series. The moral of the story is that we can all learn a little something from Joey Tribbiani.
Aneesha Baig is NDTV's Lifestyle Editor and Anchor, Will Travel For Food
Disclaimer: The opinions expressed within this article are the personal opinions of the author. The facts and opinions appearing in the article do not reflect the views of NDTV and NDTV does not assume any responsibility or liability for the same.