Actress Sonam Kapoor, now in her third year at the Cannes Film Festival, warned us in advance that she was packing a traditional outfit for the French Riviera this year. "I will wear an Indian outfit for sure for one or both the red carpet events," she told IANS.(
Read: Vidya Balan blows a French kiss in Sabyasachi at Cannes
)
So we weren't surprised when she showed up at the screening of
The Great Gatsby
in a
sari
rather than a couture dress. The name she wore for her first Cannes appearance this year was neither Gaultier nor McQueen but Khanna. (
Read: Amitabh Bachchan gives Cannes opening ceremony address in Hindi
)
Sonam, whose love for vintage is well-known, wore a decidedly old-world white and gold creation by designer Anamika Khanna, made extra-special by a trailing baroque-effect jacket.
That brings to mind a certain Mrs Bachchan who also paired her Cannes
sari
with a jacket last year. We don't know about you, but Sonam's elegant take far outclasses Aishwarya's rather frumpy look in our book.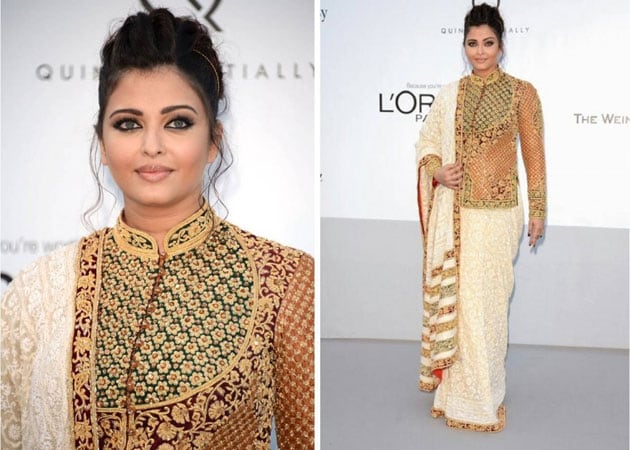 Aishwarya Rai Bachchan at the Cannes last year.
Sonam accessorised her glamorous outfit with the simplest of baubles - an outsized nosering - and a classic face of winged eyeliner and deep red lips. "A younger version of Rekha," a L'Oreal press release called her. That ought to please Sonam, a L'Oreal ambassador, who is playing Rekha's role in the remake of hit comedy
Khoobsurat
.