It could have been a scene straight out of Deepika Padukone and Ranbir Kapoor's 2013 hit
Yeh Jawaani Hai Deewani
, or even their director Imtiaz Ali's earlier film
Jab We Met
. On Sunday night, the Tamasha crew boarded a train from Mumbai to Delhi and rediscovered the joys of Indian Railways - they spent the overnight journey chatting, joking and drinking
chai
at a station. (Also Read:
Deepika's First Time in First Class. Discoveries Aboard a Rail Gaadi
)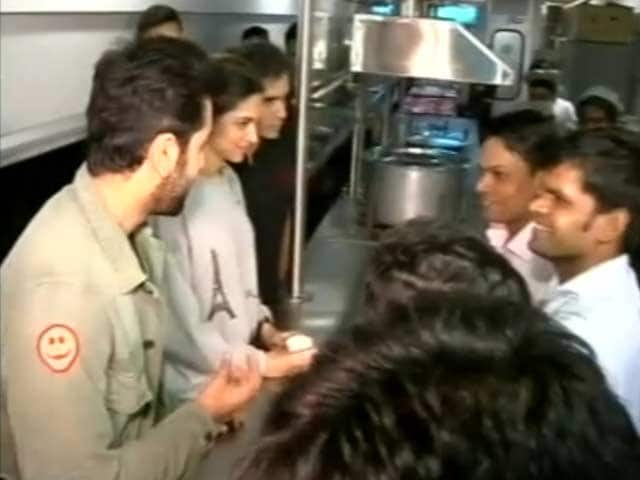 At New Delhi Railway Station this morning, Deepika and Ranbir were received by a massive welcome party. Excitement levels were out of control.
#TrainMeinTamasha se #DelhiMeinTamasha@deepikapadukone#RanbirKapoor#ImtiazAli@TamashaOfficial@NGEMoviespic.twitter.com/K3IrHAvRKD

? UTV Motion Pictures (@utvfilms) November 23, 2015
This was the scene at the Kota junction at 3 am.
About last night.. Kota junction at 3 am! #TrainMeinTamasha#ImtiazAli#RanbirKapoor@deepikapadukonepic.twitter.com/JVLhZXROE0

? UTV Motion Pictures (@utvfilms) November 23, 2015
Deepika, Ranbir, Imtiaz and gang are in Delhi to promote their film which opens on Friday. News agency PTI reports that they were meant to have travelled by air, as is usual, but that plans changed after Deepika recently spoke about how she hadn't taken a train in ages and wanted to. She has Ranbir to thank for making all the arrangements - the flight tickets to Delhi were canceled and what would have been a couple of hours in midair turned into a fabulous PR exercise through the night.
Imtiaz said, "This idea was hatched by Deepika. It's a wonderful idea and is a great time The working title for this film was 'Window Seat' because the first idea had come from sitting and looking from a window seat and imagining the world from out there."
Twitter, fortunately, had more than just a window seat. The hashtag #TrainMeinTamasha went viral on the social networking site.
@TamashaOfficial Beauty! outside and inside the train They looking soo soo much adorable! #TrainMeinTamashapic.twitter.com/OKFJX8mLZ4

? (@iShreyaRKapoor) November 22, 2015
There was some confusion over who had the tickets.
Who had the tickets? #TrainMeinTamasha#Tamasha27thNovember#TamashaIn5Dayspic.twitter.com/PXsGsVPP07

? Tamasha (@TamashaOfficial) November 22, 2015
The actors were accompanied by their Tamasha director Imtiaz Ali. Ranbir was the official photographer for the three of them.
Ranbir Kapoor capturing all the #TrainMeinTamashapic.twitter.com/LzVKgJ43f6

? TAMASHA (@RKFanGhosts) November 22, 2015
Dinner was fun too.
Dinner time! #TrainMeinTamasha@deepikapadukone#RanbirKapoor#ImtiazAli#Tamasha27thNovember@TamashaOfficialpic.twitter.com/opCzzat8Ow

? UTV Motion Pictures (@utvfilms) November 22, 2015
Taking over Indian Rail.
Aannndddd the journey begins!!!#Tamasha27thNovember#jimitstshirttorepic.twitter.com/EBmF4sTkfb

? Deepika Padukone (@deepikapadukone) November 22, 2015
When NDTV asked Ranbir how he and Deepika kept their friendship 'chugging along,' he said, "There's a lot of respect, admiration and inspiration one has to take from each other. Deepika inspires me as an actor. Imtiaz tells me things about myself that I don't know. He cares for me so much that I ask myself, 'Do I deserve this?' We all are dreamers and we all like to make that dream come alive."
In her conversation with NDTV, Deepika said, "Even though there is a lot of system I like for my life, there is a madness that I like within that as well. I like being spontaneous. It's nice for life to be unpredictable sometimes and have fun. Imtiaz and Ranbir have influenced my life in a very positive way. Their opinion really matters to me. Their advice to me is something I take very seriously. We are not talking to each other every day but we are aware and looking after each other somewhere."
Deepika and Ranbir last collaborated on
Yeh Jawani Hai Deewani
. Ranbir and Imtiaz reunite after the acclaimed
Rockstar
and Deepika and Imtiaz after
Love Aaj Kal
.