What's in a name, did you say? Ask some of our Bollywood celebrities who have landed up in some hilarious and some not-so-funny situations because of their shared names.
Farah Khan jewellery designer
Farah Khan choreographer
Farah Khan Ali, the jewellery designer, recently received a mail about the hotel booking which she never did. "The identity crisis is a part of life now I have changed my name to Farah Khan Ali and I hope the other Farah Khan changes hers to Farah Khan Kunder! I had to call up the manager of this hotel and tell him that they have sent the mail to the wrong Farah.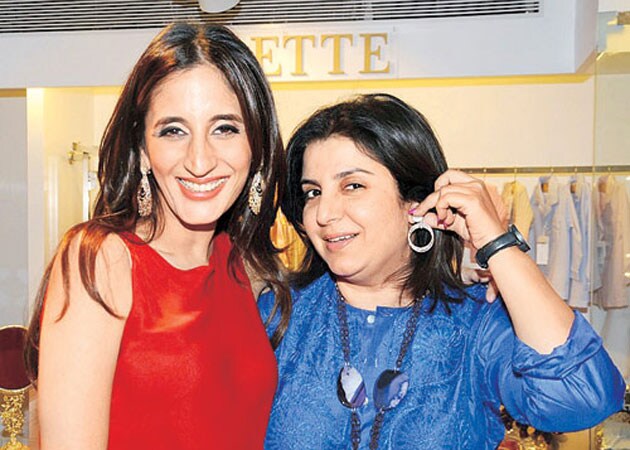 I also receive bare chested pictures of these hot hunks wanting to act in movies and I keep wondering why I am getting these mails." Farah Khan, the choreographer turned producer has a different set of problems. She says, "I get these invitations from really top haute couture designs and I know they are not for me. She gets a lot of flowers and gifts meant for me. The funniest thing perhaps is when Shah Rukh sent a sentimental message meant for me to her."
Kunal Roy Kapur Actor-directorKunal Kapoor Actor
Kunal Roy Kapur and Kunal Kapoor also have had their share of hilarious incidents. Once Kunal Roy Kapur got a call to judge a college fest. As he was out of town he said he won't be able to. The caller to his embarrassment then asked if someone else from
Rang De Basanti
team will be able to make it.
"Instead of explaining them the goof up, I simply told them that none of them are free. This keeps happening every once in a while with me." The other Kunal Kapoor had once mentioned that he gets a lot of calls meant for Kunal Roy Kapoor for acting offers in theatre and also some call to ask for Siddharth's (Kunal Roy Kapur's brother) number.
Rajat Kapoor Actor-directorRajat Kapoor Theatre personality
Rajat Kapoor the actor, director and writer shares a funny incident when once a person mistaking him to be Rajit bombarded him with calls all day. "Our names are different.
Rajat and Rajit. But people get confused. It's funny because I get calls for roles etc. and then I come to know they are offers meant for Rajit and not me. It becomes a little embarrassing at times."
Shabina Khan costume designer-turned-producerShabina Khan choreographer
Choreographer Shabina Khan and costume designer-turned-producer Shabina Khan both have stories -- of hilarious phone calls and baffling invitations -- to tell about each other.
Shabina, the choreographer gets calls for costume designing all the time. "In fact, a well-known journalist carried my interview and I couldn't stop laughing when I read that costume designer Shabina Khan has now turned into a choreographer! Now since I have also started with my production house, I guess that's enough reason for more confusion. When I used to assist Ganesh Acharya, Shabeena used to come on the sets once in a while and I would feel good about the fact that someone like her shares my name "
She says, "Recently when MiD DAY carried a story of Sunny Leone taking dance classes from me, a journalist asked me how I turned into a choreographer from a costume designer and I had to explain that we are not one person. Sometimes I receive invitation cards intended for her."
Shabina Khan, the costume designer-turned-producer, is facing similar problems, "I get so many calls to ask when I am reaching for the rehearsals and when is the next dance schedule. Also at times I get all the queries regarding a movie and then they say how much will I charge for one song and that is when I realise that they have contacted the wrong Shabina!"
-- Compiled by Asira Tarannum