Anushka Sharma has wowed audiences and film critics
with her turn as Aarfa
in
Sultan
. Realistic, believable and empowered, her character made huge impact on celebrated female wrestlers from India and wrestling professionals.
In the words of Deepika Kaliraman, national wrestling champion, "Anushka's work is awesome and fabulous, every move, every technique she does is like a professional. A lot of eminent actresses have played sportspersons but Anuhska has done a spectacular job. Each technique and each move is so sharp and accurate that you can't guess if it's an actress or a professional wrestler. Dialogues are still a part of the story but her movements as a wrestler- be it the Dhobi pachad move or Bharandaach - all her moves were so accurate! She looked a wrestler, didn't feel fake."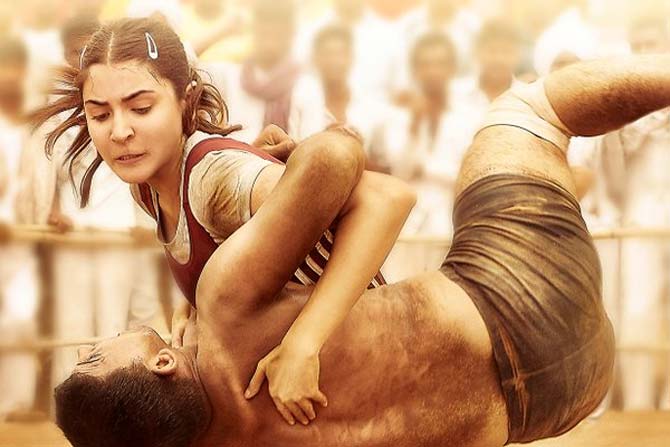 "Moreover there is a touch that is very personal to us about how a woman rises against all odds to become a wrestler. I remember there was a scene where Anushka is sitting with Salman Khan are talking and he says 'Wrestling is a man's sport! How did you go on to become a wrestler?' So I recalled my time when I was told the same thing that wrestling is a man's sport (
mardo ka game hai
), you girls are gifted with good heights and look decent, should get into women things like modelling, etc. And Anushka said 'Dad wanted a son but then he got me. And I have to fight with men because I am not less than men in terms of power.' And trust me my family went through the same situation. In 1998, my father was the only man whose daughters (both his daughters) went from city to city to promote Female Wrestling to bring their girls into wrestling and asking ourselves how to spread the sport, if it has a future in our country or not - it's a male dominant game. I could recall this while watching the movie as to how accurate the touch is."
Suman Kundu, a national champion and national level medallist in women's wrestling, who is also honoured with 15 Bharat Kesari medals, was moved by Aarfa's character in
Sultan
. She said, "The Wrestling portion is very good, doesn't seem fake, seems very real. You need a lot of hard work and time to learn the moves that
Anushka Ji and Salman Ji
have used in the movie and it looks like they are wrestlers, not actors. Aarfa as a character was really good. She played a female wrestler from a village in Haryana and the story and her character, everything was fantastic - she is a superstar. We were thinking that as wrestlers we can just limit ourselves to wrestling but as an actor, she played our role (that of a female wrestler) which is commendable. I would like to thank her especially. Anushka looked an athlete, a wrestler in her costume. You can't say she is playing a character. After watching this movie, I can say the motivation will be such that in the next Olympics that will be held in Tokyo, we will score 8-10 medals. I have lived in Haryana all my life, and to tell you the truth, even I can't speak Haryanvi as well as Anushka speaks in the movie."
That
Anushka's role as Aarfa
finds resonance and positive endorsements from real women wrestlers with roots in Haryana, is testament enough to just how powerful and commendable this performance is. Aarfa leads the way in Hindi cinema in the space of empowered, free thinking independent women.
(This story has not been edited by NDTV staff and is auto-generated from a syndicated feed.)