The awards night at the IIFA weekend was expectedly jam-packed with Bollywood heavyweights but adding some more star power to the green carpet were some Hollywood heavyweights as well. (Also read:
IIFA thumakda: John Travolta dances with Hrithik, Priyanka
)
Priyanka Chopra was lucky enough to spend the day with both Hollywood stars - John Travolta and Kevin Spacey - but she had a rather different take on it.
"I can't believe you're saying that. Shouldn't you be saying the boys were lucky," the
Exotic
singer told us. (Also read:
IIFA thumakda: John Travolta's favourite Bollywood actors
)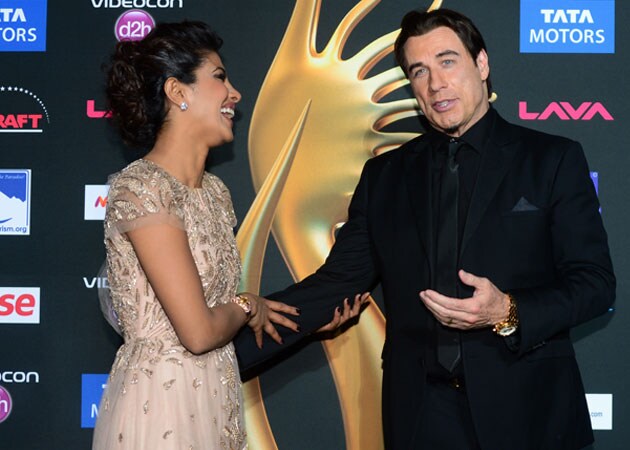 Kevin Spacey and John Travolta clearly thought so and seemed to be rather taken with Priyanka's charm. The two seem to have big plans for India as well, and for once it doesn't seem like a platitude. John Travolta is currently negotiating with Shekhar Kapur and will, in all likelihood, star in the director's next
Paani
. The project will take off in the fall and shooting is expected to take place in India and Spain.
Kevin Spacey on the other hand plans to try his hand at reviving theatre in India.
"I would really love to do a play in India because I think the theatre scene could really use a boost," said the
American Beauty
star.
While Priyanka may have captured the attention of the Hollywood heavyweights, Deepika Padukone was feeling the love and how.
"I didn't expect so many people to come to Tampa Bay. It's really phenomenal," said The Dimpled One.
Deepika may have had an evening full of jitters of the good variety but Saif Ali Khan, after hosting the technical awards, could sit back and just relax. The actor was tongue in cheek about voting in his recent act but he seemed much more thoughtful when questioned about the political scenario on the green carpet. (Also read:
Deepika is calm but not for long, Parineeti has a new look
)
"This election is going to stir things up. Even people who aren't politically inclined will start to get interested. As for this election I'm sorry that I didn't get to vote but I honestly don't know who I would have voted for."
On that note, the IIFA awards ended as they began, with actors continuing to defend their absence from the ballot box.
Watch video