Actress Kangana Ranaut, star of
the new film Rangoon
, appears to blow hot and cold in what she says about co-star Shahid Kapoor in interviews. By several accounts, the actors didn't get along on set - despite the incendiary scenes they have together. In the various interactions she's been having with the media ahead of her film, which released today, Kangana has alternately appeared to
disparage Shahid and praise him
. The outspoken star, 29, was told at a jewellery brand event in Mumbai last night that Shahid Kapoor has reportedly said he won't work with her again. Kangana Ranaut disclaimed all knowledge of this, reports news agency PTI.
"There's nothing like that. We were together at the screening last night.
He didn't say anything like that to me
," Kangana told the press, PTI reports. Shahid, who told PTI weeks ago that "it's all good," has made minimum appearances with Kangana - he only made the briefest of appearances on the
Koffee With Karan
session that featured the actress with Rangoon's third star Saif Ali Khan, although that could and maybe should be attributed to the fact that Shahid has already been on the show this season, with wife Mira. However, both Alia Bhatt and Varun Dhawan made repeat appearances this season, the second time in aid of their new film
Badrinath Ki Dulhania
.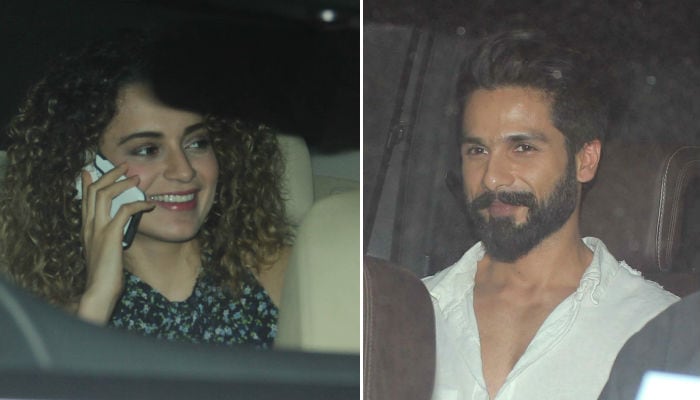 Kangana and Shahid have appeared to spar in separate interviews over the last few weeks. She told
DNA
, "You have a formal equation with someone and suddenly you are into each other's mouth. That big moustache of Shahid is horrible. It was such a ... Not a turn-off but a tragedy of different level! When I asked him about it, he said he applies wax and has a running nose!
Mera naak isme bah ke jaata hai
." Shahid retorted, also to
DNA
but separately, "I have to tell you that Kangana makes up things in her head. She has a vivid imagination. I don't remember telling her all this at all."
Kangana Ranaut responded in an interview to
Pinkvilla
, "That line he (Shahid) must have borrowed from Hrithik. He would have thought that dude I will borrow these claims from Hrithik." Hrithik Roshan and she feuded all of last year over a romantic relationship that she says happened, he says didn't.
Last year, Kangana Ranaut referred to herself as
Rangoon
's 'third hero.' Shahid later told
DNA
, "Why doesn't she say there are three heroines in the film? Is there anything less in being a heroine?"
Earlier this month, Kangana also
praised both Shahid and Saif Ali Khan
to news agency PTI. "They are incredible actors. They are amazing with Vishal Bhardwaj sir (Rangoon's director) and he has given them wonderful characters in the films that he did with them. They are both very special, very natural and spontaneous," she said.
Rangoon
, a tale of wartime passion set in the World War II trenches of Burma, stars Kangana Ranaut as an
actress named Miss Julia
, Shahid Kapoor as the soldier Nawab Malik, and Saif Aki Khan as a film producer called Rusi Billimoria.