Actor Salman Khan's little sister Arpita just got married but this story isn't about her - it's about how actress Katrina Kaif might be next. (Also Read: Arpita Khan's Wedding Concludes With a Farewell Lunch)

After the wedding ceremony, Arpita dropped a kaleera for Katrina, who is rumoured to be dating actor Ranbir Kapoor. In the picture, Katrina, dressed in an anarkali by Anamika Khanna, is seen examining a part of Arpita's kaleera, while Arpita 'hunts' for another prospective bride. (In Pics: 10 Best Photos From Arpita Khan's Wedding Album)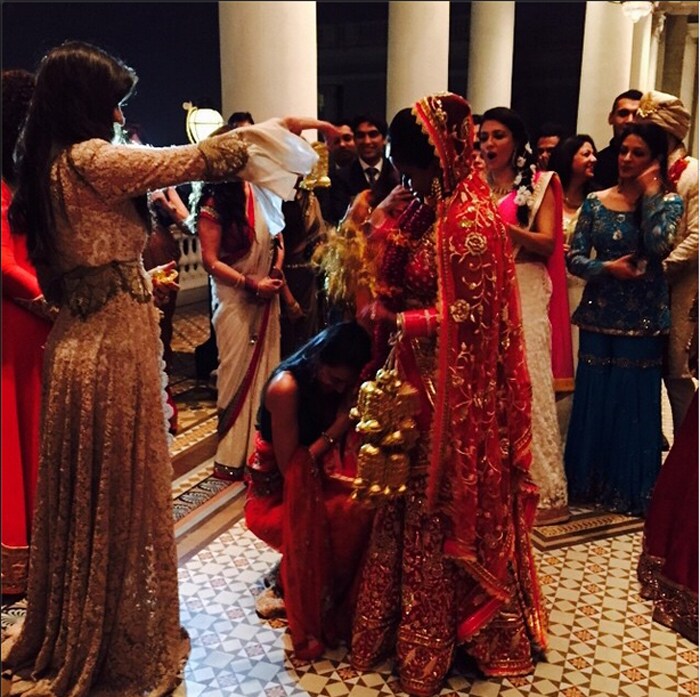 Dropping kaleera on the heads of unmarried young women is the North Indian equivalent of throwing the bridal bouquet - if a kaleera comes off on a particular head, that young woman might soon be headed to the shaadi mandap.

Arpita's brother Salman, thought to be a confirmed bachelor, also took the kaleera test, but there's no word on whether the kaleera favoured the 48-year-old actor.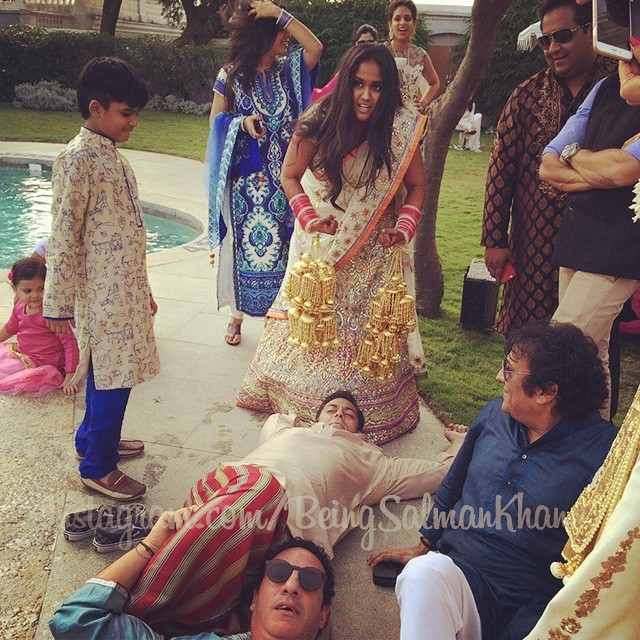 Katrina Kaif is believed to have recently moved in with Ranbir to a plush Bandra flat. Ranbir had, however, said in an interview that his moving house was going to be temporary, due to construction taking place at the Kapoor bungalow, Krishna Raj.

Katrina and Ranbir have so far refused to admit to a relationship leave alone wedding plans, despite rumours that they might marry in 2015. Both are currently firming Anurag Basu's Jagga Jasoos.

Arpita Khan married businessman and aspiring actor Aayush Sharma in Hyderabad's Falaknuma Palace on November 18. Katrina, who is reportedly Salman's ex-girlfriend and a very close friend of the bride, was only one of a bunch of A-list celebrities who attended the wedding. Other VIP guests included actors Aamir Khan and Priyanka Chopra, directors Karan Johar and Kabir Khan, tennis star Sania Mirza and South actor Ram Charan Teja. (Also Read: At Arpita Khan's Wedding, Salman and Aamir Sing Aati Kya Khandala)