In the months that have passed between the first teaser glimpse of director Dibakar Banerjee's crafting of a beloved Bengali sleuth story in Hindi, we've found ourselves auto-prefixing any mentions of Detective Byomkesh Bakshy with the description 'dhoti-clad.' In our archive of stories about the film, a variant of the phrase 'Sushant Singh Rajput, who plays dhoti-clad detective Byomkesh Bakshy' unfailingly appears. In this case, clothes maketh the man - 'dhoti-clad' is a map of sorts to Byomkesh's identity, coordinates to help place him, sartorial shorthand for who he is. While constructing a Bollywood version of Saradindu Bandopadhyay's colonial-era private eye, Dibakar may have excised the Bengali language from Byomkesh but not the basic Bengaliness of him. He speaks Hindi, but Sushant's Byomkesh wears his dhoti, or dhuti rather, in the manner of ordinary Bengal going about its business.

Byomkesh Bakshy (for convenience, we'll stick to Dibakar's spelling of the last name) is one among the great literary goendas or detectives of Bengali fiction - although he dislikes being referred to as a goenda and prefers the designation satyanweshi or 'truth seeker.' At least two of Byomkesh's fellow sleuths - Satyajit Ray's Feluda and Shirshendu Mukherjee's Shabor Dasgupta - have been adapted for Bengali film or TV. Just as there have been several Byomkeshs (Uttam Kumar, Rajit Kapur, Abir Chatterjee, Sujoy Ghosh), there have been several Feludas. Playing Feluda, requires little or no sartorial preparation, no devoting of time and effort to looking good in the shirt-pant-jacket that is his sleuthing uniform. To truly inhabit the part of Byomkesh, however, the actor playing him must pay attention to the folds of cloth and the intersection of fabric and fingers.

Wearing the dhuti also presents a physical challenge as this Byomkesh, at least, is something of an action hero. There is no solving crimes from the comfort of his armchair for him, he employs not just the little grey cells but all his energies and faculties while on the hunt. his As Dibakar puts it, "Throughout the film Byomkesh is being chased, Byomkesh is being hit, Byomkesh is chasing, a runaway car is trying to run down Byomkesh, Byomkesh is running after a car and doing all sorts of very energetic things while wearing a dhoti." This meant that many 'practice sessions' were required so that "Sushant was absolutely, absolutely comfortable wearing a dhoti," Dibakar says. After six or seven days of the 'practice sessions,' Sushant was dhuti-perfect and is now apparently able to wind himself into one in 13 seconds flat.

The way the dhuti is worn in Bengal is very different from the rest of India. Traditionally, it is pleated down the length of either ends of the rectangular cloth and tucked in behind you in a style known locally as 'malkocha mere'. It is similar to how Marathi women wear their traditional nine-yard saree. With the advent of the Bengali bhadralok in the early 1800s, the urban gentry who were absentee landlords in most cases, a new style emerged where one end of the stiffly-starched pleats were either held ornamentally in your hand or tucked back in front. This 'kochano' dhuti is still widely worn for ceremonial occasions in Bengal, but you would struggle to find a bada babu going to work in a 'malkocha' dhuti anymore.

However, the 'malkocha' dhuti was regulation street threads or work wear in the age of Byomkesh. One would go to college or office in a dhuti and the Bengali version of a shirt, with cuffs and collars but shaped like a kurta. As a twentysomething product of the Bengali middle class in the Calcutta (not Kolkata, please) of the '30s and '40s, Byomkesh wore the ordinary uniform of the young men of the time. But his dhuti is, at several levels, much more than simply an item in his closet - much like Sherlock Holmes' deerstalker, which has been transplanted to modern-day London for Benedict Cumberbatch who wears it on the TV series as an affectation that earns him the epithet 'Hat Detective.' One imagines that any such fast-forwarding of Byomkesh into our times would include a telly-porting of his trademark garment as well.

Director Dibakar Banerjee understands the importance of Byomkesh's dhuti only too well - in the very first preview of the film that was released last year, between nano-second flash frames of the top of his head and silhouetted profile, the camera lingered lovingly on Sushant's dhuti-encased lower half rattling though the bylanes of Calcutta in a rickshaw. "You can't imagine Byomkesh without the dhoti because till the early Seventies, the dhoti was pretty ubiquitous on the streets of Calcutta," Dibakar tells NDTV.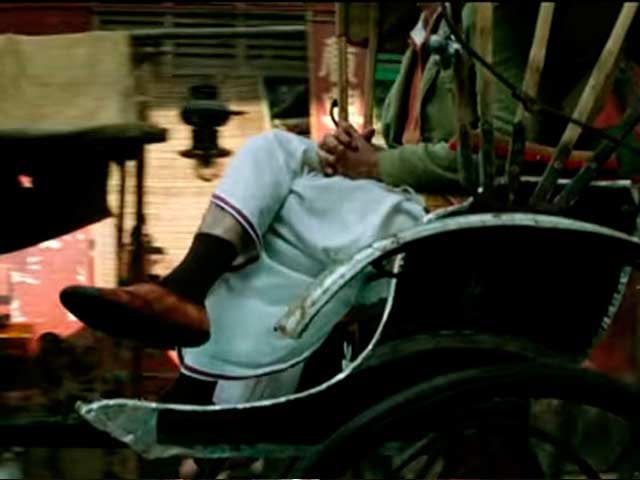 Dibakar's film, set in a time when getting dressed each morning involved greater ceremony than just flinging on a pair of jeans, is an ode to, or perhaps a lament for, a vanished world. "I think the loss of the dhoti is a big loss in the sartorial fabric of India because you're quite cool wearing a dhoti, ask any man. It's quite liberating. It's a garment that has evolved to absolute perfection over the many thousands of years it's been in existence. It's so easy, it's just drapery - there's no stitching involved and it's so elegant. I think men look very elegant when they wear a dhoti and you can see it in the film," he says.

For Sushant, the dhuti helps to locate Byomkesh in terms of geography rather than time. "The dhoti, as an Indian traditional costume, contains the very impression of Indianness needed to project our national identity to the entire world. Byomkesh, as the original Indian detective, reflects the very same essence that his dhoti represents," Sushant says. Bengal jealously guards its heroes and the North Indian Sushant says the only time he was 'skeptical and scared' about playing Byomkesh was in Calcutta, when he was told by several locals "this is our Byomkesh, don't go anywhere else." The actor, who grew up in Patna and Delhi, can expect to be scrutinized, judged and marked as much for his dhuti-wearing ability as for his performance as the Bollywood-ised Pride of Bengal.

Byomkesh may well have been taken out of Bengal, but will Bollywood have taken Bengal out of him? Unlike the Westernized, Charminar-smoking Feluda whose adventures take him around and beyond Bengal and India, Byomkesh never leaves his natural habitat of Calcutta and would be shorn of his identity were he to be rendered dhuti-less. He might survive having to speak Hindi, but would he weather a costume change? Subtract the dhuti from Byomkesh Bakshy and the resulting eclipse would possibly blot out both his Bengaliness as well as his Byomkeshness.

(With inputs from Prasad Sanyal)