This may be the year when we have celebrated the grand half century mark for Aamir Khan, and are gearing up for similar celebrations for Salman Khan and Shah Rukh Khan-but it looks like another 50-year-old has slipped in and set a new benchmark. Milind Soman has, at almost 50-years-old (this November), just completed -successfully-- the impossibly challenging Ironman triathlon. A triathlon that involves a 3.86 km swim, followed by a 180 km bike ride, followed by a 42 km run. And as this picture proves he looked incredibly good doing it.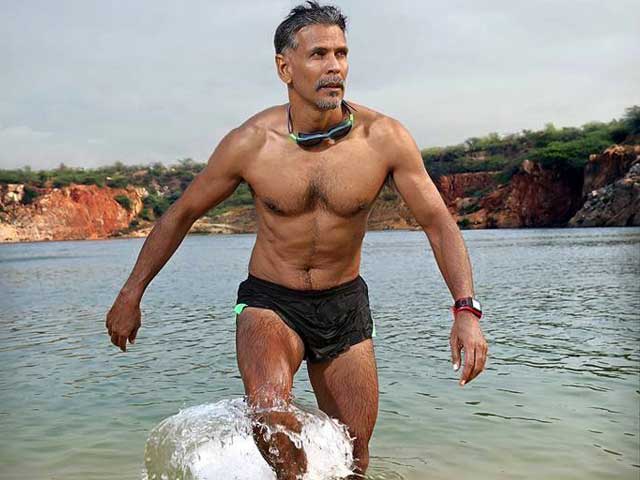 That it's gone viral is no surprise to anyone, certainly not to him. "I like the picture that's why I put it there. Two reasons, really: One, times have changed and more people waking up to endurance sport and enjoying it. I did a run from Delhi to Bombay that was 10000 times tougher than this, and there was attention, but it wasn't this kind. For this it was a combination-- the 50th year, the distance involved and this beautiful picture and that was it."
He says the reason he decided to do it was a celebratory 50th year present to himself. We couldn't help but ask, wouldn't a fancy car or a Rolex have worked as well? He says no." That's celebrating someone else's success. Those things don't appeal to me. If I buy something that someone else made, how does it make me feel better?"
He goes on to clarify, "It was just an idea. Everyone has different ones, about what turns them and this excites me. To push myself, to explore my potential, to find out my capabilities. If it wasn't fun I wouldn't do it. If it didn't make me feel great, I wouldn't. I have loved exercise since I was ten. I won't call it exercise-the sort that's boring, dull or routine. I like being active, I like to play, always have. I like to test my physical limits, my mental and my emotional limits too. I like to explore. And this is an exploration of one's self. It could be a little narcissistic as well, to see how good I am, how good I can get."
So how did he do it? Allow us to repeat: 3.86 km swim, 180 km bicycle ride, 42 km run. All without a break. And in 15 hours 19 minutes 29 seconds.
He says, "It all depends on how hard you want to push yourself. To make it I didn't find it tough, my training was tough. If you prepare well enough the final act is easy. Its comfortable, its fun, and you can enjoy it.(!!) The pain is during the months of training, and even then its more mental. The body can do it very easily, the mind struggles with the routine of the training. All the excuses are made by the mind, the body doesn't make them. And that tough stretch is what you train for. You train for when you're tired. When you reach that last ten percent and that's what you've trained for, then its a piece of cake." He says so.
It's worth noting here, that he created his own training plan and says it is proof that Ironman status is achievable with just 12-13 hours a week.
When we spoke to him he was winding down in Florence, a reward for a triathlon well done, though he is already regretting that he didn't decided to cycle the distance from Zurich to Florence, through the legendary Gotthard pass. He's there to see the David by Michelangelo. To compare notes? He says no. (We wouldn't blame him if he had.)
And if you're wondering, no, he doesn't feel at all guilty about destroying the curve for all the other 50-year-olds. "I've just given them something to do about it-- the curve was already screwed, they just didn't know it!"
Aneesha Baig is NDTV's Lifestyle Editor and Anchor, Will Travel For Food