Actor Ranbir Kapoor, fourth generation of Bollywood's most sprawling dynasty, woke up to 'the warmest welcome' on Twitter this morning. This morning.

Despite having shaped the Hindi film industry in many crucial ways ever since Prithviraj Kapoor appeared in first Indian talkie Alam Ara, the clan and its current generations are very late to the social media party.

Ranbir only just joined Twitter to promote a brand he endorses. His fans were beside themselves with joy when he made it onto Twitter yesterday, with 'Welcome Ranbir Kapoor' trending on the site. This was the Yeh Jawani Hai Deewani star's first tweet:

Check...1...2...3...check cash...Hi, that's the warmest welcome I have ever woken up to! Thank you :) #RanbirHitsA6

- Ranbir Kapoor (@RANBIRKA6000R) January 21, 2015
And that's how I wrote my first Tweet! #RanbirHitsA6pic.twitter.com/NMugZnLYNz

- Ranbir Kapoor (@RANBIRKA6000R) January 21, 2015
His next step was to inform his fans that he will also be available on photo sharing site Instagram:

#shoefiehttp://t.co/olvUzTBYd0

- Ranbir Kapoor (@RANBIRKA6000R) January 21, 2015
Ranbir's fledgling social media presence, celebrated so fervently by fans, is in keeping with the rest of the family.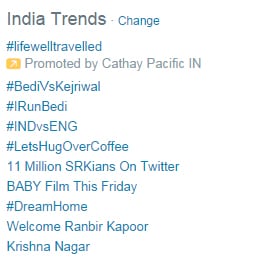 His cousin, Armaan Jain, who made his Bollywood debut in Lekar hum Deewana Dil, joined Twitter when the film released last July, and has mere 29 tweets since then.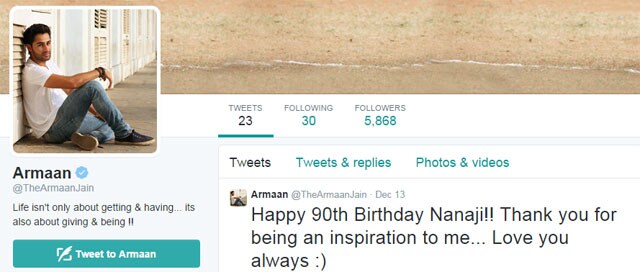 Ranbir's other cousins Kareena and Karisma, daughters of Randhir Kapoor and Babita, are again not interested in interacting with the world beyond. In sharp contrast to their best friends, actress sisters Malaika Arora Khan and Amrita Arora who religiously document their hang-outs (and thank you for that), neither Kapoor sister has shown the slightest inclination in keeping fans updated with personal pictures or musings.

Kareena isn't on Twitter but does have an official Facebook page which is clearly not managed by her. Karisma has Twitter and Instagram accounts, neither are entirely managed by the diva.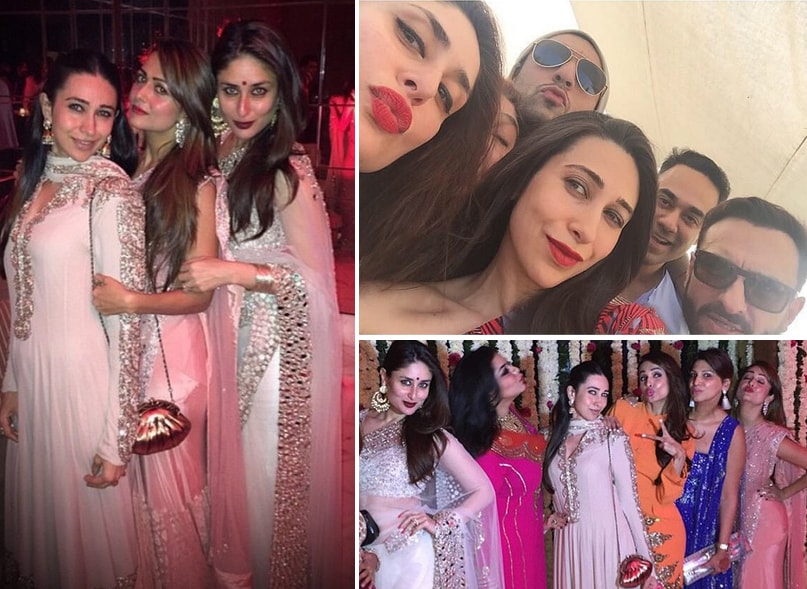 With her limited social media presence, Karisma chooses to focus on her own fashion diary. The actress shares details of her solo outings but she is very guarded about her children - Samaira and Kiaan Raj Kapoor - who hardly ever appear in her posts.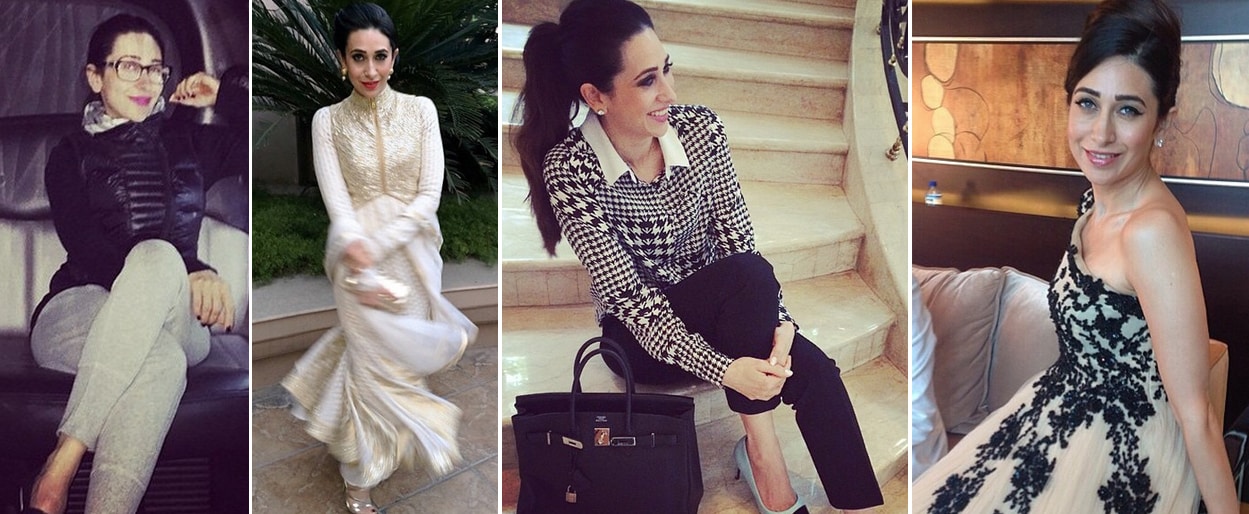 There is one other prospective Kapoor who also blithely ignores the virtual socialising that Facebook and Twitter promise. Actress Katrina Kaif, who is dating Ranbir and is rumoured to be engaged to him, has given social networks a wide berth, as has Kareena's husband Saif Ali Khan.

On the other side of the social media divide are celebrities like Amitabh Bachchan, Deepika Padukone, Priyanka Chopra and the Khan trinity - Shah Rukh, Salman and Aamir - who are so online-savvy that showbiz journalists are able to generate reams of headlines simply by following their Twitter updates.

Ranbir's Twitter debut coincided with SRK's fan base growing on 11 million. Priyanka Chopra participated in a live chat on Reddit with fans last year. Meanwhile, Bollywood lyricists have adopted 'Instagram' into their lexicon with the song Let's Instagram This Moment from Tevar which stars the other sort of Kapoor - Arjun.

Not all the Kapoors are social media-challenged, however. Ranbir's mother Neetu, sister Riddhima and aunt Reema Jain (who is Armaan's mother) could teach him a thing or two about working social networks.

Riddhima and Neetu mostly share their family hangouts on Twitter and Instagram.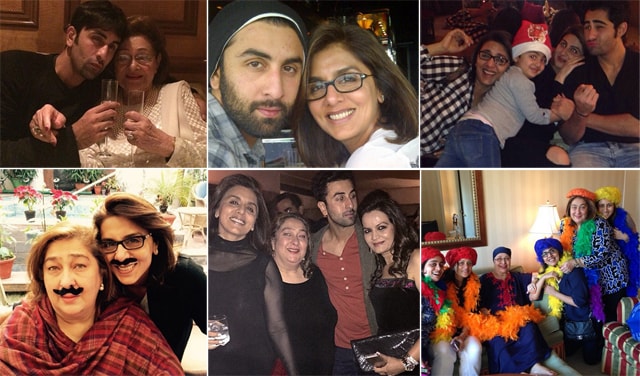 Neetu also does her son a favour by using her accounts to create a buzz around his upcoming releases. Riddhima shares the adorable moments she spends with her daughter Samara and sometimes posts pictures of Ranbir's play dates with his niece.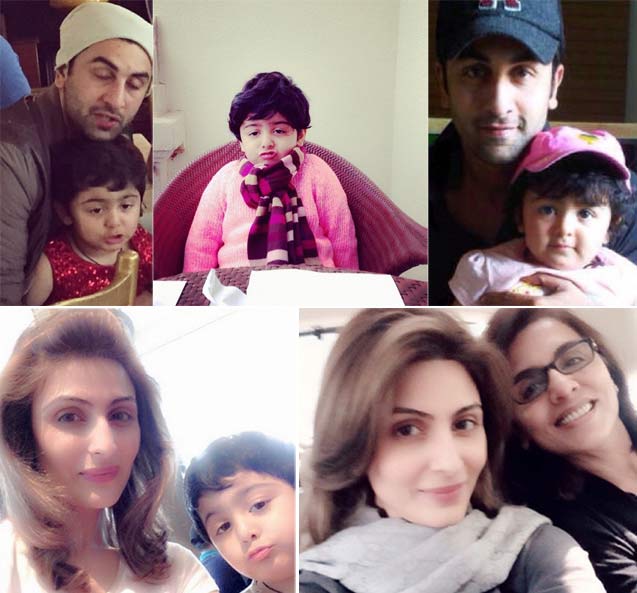 Perhaps, with his mother and sister on board, Ranbir - who guards his privacy fiercely - simply doesn't feel the need to put himself out there. Many would say 'keep it that way,' given that Twitter and Instagram are now so crammed with pictures of celebrities going about their daily lives. That having been said, it would be nice to be privy to the personal lives of the Kapoors every now and then.

Now that Ranbir's on Twitter, we live in hope.