Ranveer Singh
thrilled us yet again. The 31-year-old actor was in conversation with Shekhar Gupta on show
Off The Cuff
recently. On the talk show, he was asked about his 'most embarrassing' experience as an actor, casting couch and his days of struggle in Bollywood. Ranveer was frank as always, and in addition we got scoop on how he reacted when one-film old Ranveer missed a call from Shah Rukh Khan, his first encounter with Kareena Kapoor Khan and being yelled at by Priyanka Chopra. Ranveer and Priyanka are co-stars of Ali Abbas Zafar's
Gunday
and
Bajirao Mastani
, directed by Sanjay Leela Bhansali.
When asked to share his experience of being yelled at on sets, Ranveer was prompt to take Priyanka's name. He told Shekhar Gupta that he was screamed at for being "too raw" on the sets of
Gunday
, which was Priyanka and Ranveer's first film together. "Priyanka Chopra yells at me a lot. She thinks I'm extremely badly-behaved, which I will admit. I was very raw when we first collaborated. Our first film together was
Gunday
. At that time, I was quite a handful to deal with off camera. Now I can switch off and switch on. She wasn't having any of it being very experienced. She'd yell at me a lot. She's one of my favourite co-actors."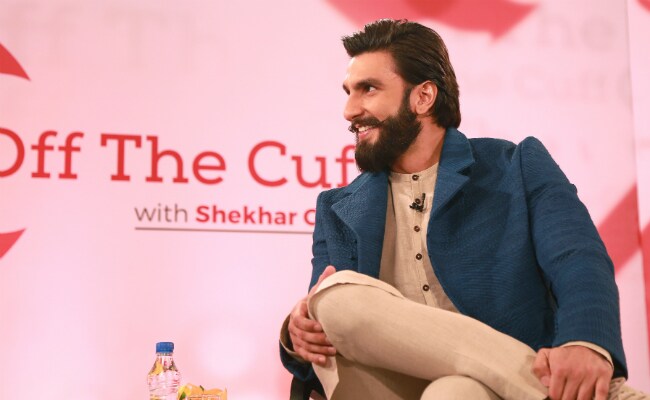 Ranveer also described the actor in himself as "sensitive," and said: "I am a sensitive actor. When I get yelled at, I go into a shell and my spirit breaks very easily. And I'm not resilient because as actors you're baring your soul, you're most vulnerable. There have been instances when I had to excuse myself from set, take a walk, come out of the studios, bawl my eyes out and come back."
"Shaad Ali (director of
Kill Dil
) screamed at me the most. And that's my biggest flop," he added.
Ranveer
also opened up about his 'surreal' brush with casting couch and his reaction. "You think an experience like this would be very dark or something. It will scar you for life. I find it very amusing. When I look back at it, I almost remember sitting there at some point in the interaction and observing this person's character. I learn everything about him and put him in my bank in case in my life I have to play a creepy casting director," he told Shekhar Gupta.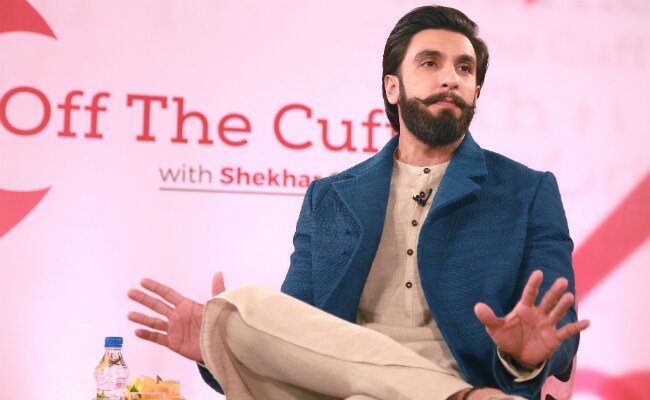 He said he was also asked by the certain casting director in concern: "Are you a hard-worker or a smart worker?"
Ranveer's first encounters with Shah Rukh and Kareena Kapoor Khan were also no less interesting. Having missed a call from Shah Rukh, Ranveer's first reaction was: "Never in my wildest dreams had I thought Shah Rukh Khan would be calling me." Meanwhile, Ranveer, who met Kareena for the first time at the Filmfare Awards' backstage, said: "I was majorly star struck when I met Kareena Kapoor Khan. I was a huge fan of hers. I think I might have overreacted and thrown her off a bit."
Ranveer Singh made his Bollywood debut with Maneesh Sharma's
Band Baaja Baaraat
in 2010, and is also the star of films like
Lootera
,
Dil Dhadakne Do
and
Bajirao Mastani
.
When asked about what makes him say yes to a film, he said: "I try and be true to my first emotional and instinctive reaction to it. It has to do something to me emotionally. I love those scripts where you laugh your heart out, where you cry your eyes out. I remember crying my heart out when I read
Lootera
or
Bajirao Mastani
."
As Ranveer enacted a scene from Amitabh Bachchan's
Deewar
, he also confessed his wish to star in a remake of
Don
, having "tasted blood" with his
new Padmavati role
. Ranveer features as the tyrannical conqueror Alauddin Khilji in Sanjay Leela Bhansali's next period film.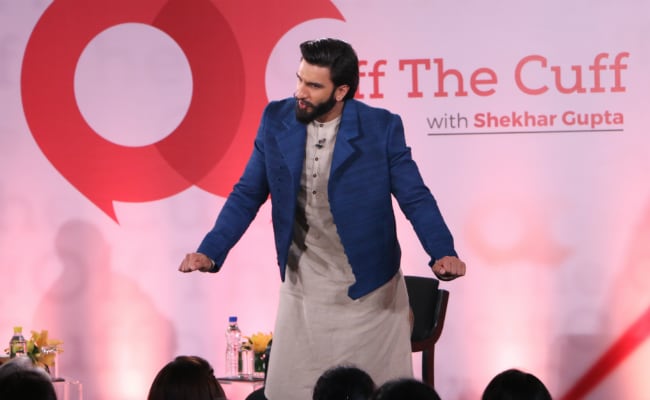 Finally, Ranveer concluded the
Off The Cuff
session by sharing his "most embarrassing" experience as an actor.
Meanwhile, Ranveer's advertisement for a clothing line, which shows the actor dressed in office wear with a woman over his shoulder, watched by a grinning butler on the side, was criticised as sexist and offensive by the Internet and even some celebrities. The tag line of the ad says, 'Don't Hold Back. Take Your Work Home.' However, the 31-year-old actor issued a statement on Friday in which he apologized for the oversight and said that he "would never do anything to disrespect" women. The ad, now pulled by the clothing brand, was widely slammed on Twitter earlier this week.
"It was important to give the brand creative freedom while designing their campaign, but I guess we got it wrong on one of those billboards and I'm sorry this happened but it's a thing of the past. We rectified it immediately by having that hoarding taken down as soon as possible from everywhere in over 30 cities overnight. I treat all women with the utmost respect both professionally and personally, and would never do anything to disrespect them,"
Ranveer said in a statement
.
Watch the entire episode of
Off The Cuff
here:
Padmavati
also stars Deepika Padukone and Shahid Kapoor. Ranveer Will next be seen in
Befikre
, which releases on December 9.