Actor Ranveer Singh
is already in
Padmavati
mode but he's not devoted heart and soul to the Sanjay Leela Bhansali-directed historical just yet. Ranveer's new film
Befikre
releases at the end of this week and
the actor and his co-star Vaani Kapoor
are busy on publicity duty.
Befikre
releases on December 9 but premieres in Dubai a day earlier. New Delhi was the last stop on the promotional tour.
Befikre
, directed by Aditya Chopra, is set in Paris. The title means 'carefree' and its lead actors play Dharam, a Delhi resident who goes to Paris in search of adventure, and Shyra, of Indo-French origin.
Vaani Kapoor, whose chiseled jawline is as hard to miss in
Befikre
as Ranveer's abs in the underwear scene (more on that below), recently denied having had plastic surgery done. No mention of the topic was made at the press conference in New Delhi but Vaani did have another confession to make. The actress said ever since she debuted in
Shuddh Desi Romance
, Ranveer has been the actor she wanted to star opposite and, let's say, the wait was worth it. However, she did admit, "it's difficult to match Ranveer's energy and I hope to get to that level some day."
On the question of energy, specifically his
Befikre
brio while prancing around on screen near-naked, everyone wants to know why Ranveer wears padded underwear in the scene in question. Shah Rukh Khan asked this question out loud on
Koffee With Karan some weeks ago
. During his own subsequent appearance on the chat show, Ranveer Singh defended the padded underwear saying, "It was cold in Paris when they had shot the scene and padding was necessary." Asked again in Delhi, the actor said the underwear scene required a lot of prep on his behalf and he was absolutely cool stripping down to the bare minimum. "Ever since Adi Sir told me I had to wear the underwear, I slaved in the gym to get into shape," Ranveer said.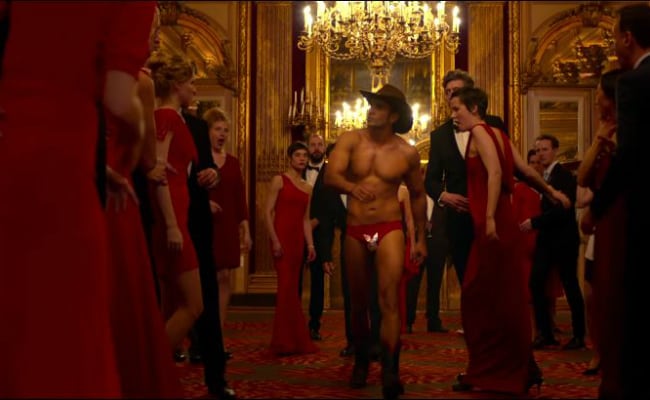 Though the innumerous kissing scenes
in the film may be the talk of the town, Ranveer Singh and Vaani Kapoor both said there is more to
Befikre
. Ranveer said, "It's a film with universal appeal and you need to watch it with someone special. It's an original love story by Aditya Chopra, a true blue Hindi film."
Last year, Ranveer played the passionate lover in
Bajirao Mastani
; now, he's had the time of his life as the devil-may-care Dharam in Befikre; and next, he is all set to get serious with
Padamvati
, in which he plays emperor Alauddin Khilji opposite Deepika Padukone as
Padmavati
.
Ranveer Singh's parting shot: "
Befikre mein bahut ayyashi, ki ab agle saal Padmavati mein pata chalega main kya karunga."