As Shah Rukh Khan told the Yale crowd in 2012, flying into USA is a humbling experience for him. The 50-year-old star was detained yet again on Thursday night at Los Angeles airport, writing on Twitter, "I fully understand and respect security with the way the world is, but to be detained at US immigration every damn time really really sucks."
SRK was detained at New York airport for two hours in April 2012, while on his way to address Yale students as a Chubb Fellow. "We were detained at the airport as always. For one and a half hours. It was nice. It always happens when I come to America. Whenever I start feeling too arrogant about myself I take a trip to America," he said in his speech later.
The US Customs and Border Protection wrote to India's New York Mission apologizing but it wasn't the first time SRK had been through extra screening at an American airport - he was stopped for two hours at Newark in 2009 - and clearly it wasn't to be the last.
This time, he played Pokemon, he said in a tweet.
Twitter, waking up to news headlines on Friday, directed Shah Rukh Khan to External Affairs Minister Sushma Swaraj, who has gained a reputation for swift action when tweeted to for help.
@iamsrk@SushmaSwaraj SRK contact Shushma ji. She is very helpful for the needy but don't forget to be polite

? Parthiv (@TwitParthiv) August 12, 2016
Other tweets sympathized with the actor or outraged on his behalf:
SRK had dreaded SSSS mark on his ticket..which in most case random.. rotten luck:( https://t.co/neEDEzPYu7

? Roza T (@shah_roz) August 12, 2016
how yall detaining SRK at immigration don't yall know who he is

? ala (@alabaluu) August 12, 2016
How do you keep detaining someone as big as SRK so many times?

? Raees (@MagicalSRK) August 12, 2016
American immigration team needs to watch some Bollywood films. It happens everytime SRK travels to the US. https://t.co/8mz2wvoIpk

? Samia Khan (@samiakhan183) August 12, 2016
Some suggested his films were the reason Shah Rukh Khan is detained so often:
#SRK detained at LA airport. I think US immigration are big fans of yours and feel proud to keep you for 2 hrs :) @iamsrk

? Manish Sinha (@manish_ansh) August 12, 2016
That officer who detained SRK watched "Fan" recently so was eager for revenge. So did in his own style https://t.co/GFcoeqKCzm

? Dirghayu Oza (@dirghayuoza) August 12, 2016
Ever since SRK started making shitty movies, he's been detained at US airport. US are trying their best to save the world.

? titu (@cinghh) August 12, 2016
On Wednesday, Shah Rukh Khan was photographed at Mumbai Airport with daughter Suhana.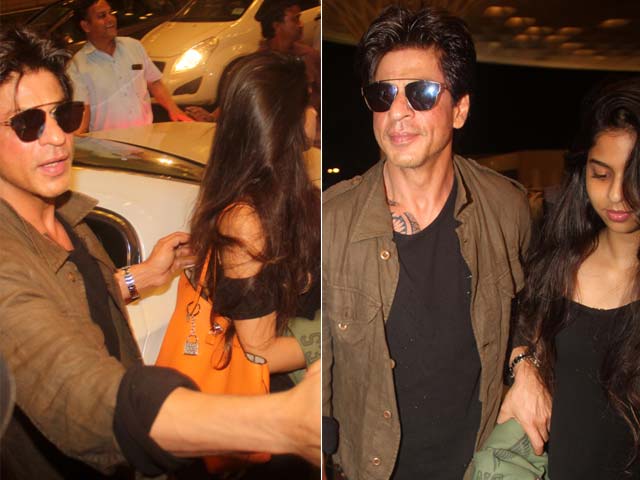 SRK, last seen in
Fan
, has the films
Dear Zindagi
and
Raees
coming up.