Actor Shah Rukh Khan is a trooper. And we are not taking out of our hat. The man is a bundle of surprises, and with every new movie or move he makes, he is always trying to leave his fans grappling for air if not more.
In a video released recently, as part of his upcoming film Happy New Year's publicity campaign and as a rejoinder to actor Hrithik Roshan's Bang Bang challenge to SRK on Twitter, King Khan looks unbelievably hot and ripped. He is seen working out on his shoulders, his arms, his abs for the body he has built for himself for his new movie which is set for a Diwali release.
Filmmaker Farah Khan is seen motivating the actor in the background while he does bench press, revealing the secret of his eight (or is it ten) pack abs.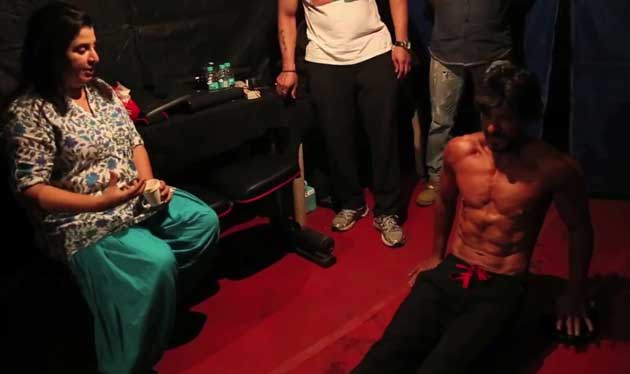 Hrithik Roshan had challenged SRK on September 20 on microblogging website Twitter to accept his Bang Bang challenge, where SRK will have to share with the public at large a picture of him doing his favourite abdomen exercise.
The 10pack #bangbangdare@iamsrk show us a pic doing ur fav ab exercise!all want 2 know which 1 it is! U hv 3 days! Qabool?

- Hrithik Roshan (@iHrithik) September 20, 2014
SRK, who is currently touring United States of America with the cast and crew of Happy New Year, not only accepted the challenge but came out with a reply which has left everyone gob smacked. Way to go, Shah Rukh!
Watch