The trailer of Zoya Akhtar's Dil Dhadakne Do is out tomorrow and the stars of the film, for one, cannot wait.
The Mehras, Bollywood's newest filmy family, have been tweeting a countdown to the release of the trailer. Ayesha Mehra, also known as Priyanka Chopra, tweeted:


My DDD Familia... the fun continues! @DDDTheFilm#1DayForDDDTrailer@AnilKapoor#ShefaliShah mommy and daddy Mehra pic.twitter.com/NejnwE160g

— AYESHA MEHRA (@priyankachopra) April 14, 2015
Yesterday, Priyanka and co-star Farhan Akhtar tweeted:
All smiles ... #2DaysForDDDTrailerpic.twitter.com/ULgCgdstls

— AYESHA MEHRA (@priyankachopra) April 13, 2015
#2DaysForDDDTrailer ... tick tock tick tock pic.twitter.com/u1yZYMYCT0

— Farhan Akhtar (@FarOutAkhtar) April 13, 2015
The day before, it was Ayesha's 'father' Kamal Mehra, who otherwise goes by the name of Anil Kapoor:
#3DaysToGo before the Mehras take over your world! Consider yourself warned @DDDTheFilm#DilDhadakneDopic.twitter.com/zjYAhocAQ8

— KAMAL MEHRA (@AnilKapoor) April 12, 2015
There has been no tweet so far from Ranveer Singh, who plays Anil Kapoor's son and Priyanka's brother in the film, although he's been retweeting other celebrities' verdicts on the trailer which was screened at a party hosted by Anil Kapoor last evening. Ranveer absented himself from the festivities. However, he was missed:
@RanveerOfficial you're the tadka to our khichdi. Missing you at the trailer viewing tonight #2DaysForDDDTrailerpic.twitter.com/hJvSRNl1Q3

— KAMAL MEHRA (@AnilKapoor) April 13, 2015
Cast members Anushka Sharma and Farhan Akhtar did not appear to be at the party either. Those who did make it to the do included Priyanka, actress Sridevi and her husband Boney Kapoor, Shilpa and Shamita Shetty, actor Arjun Kapoor, Shefali Shah who plays the Mehra matriarch in the film, director Zoya, actor Rahul Bose who makes a cameo, filmmaker Karan Johar, and actor Mohit Marwah.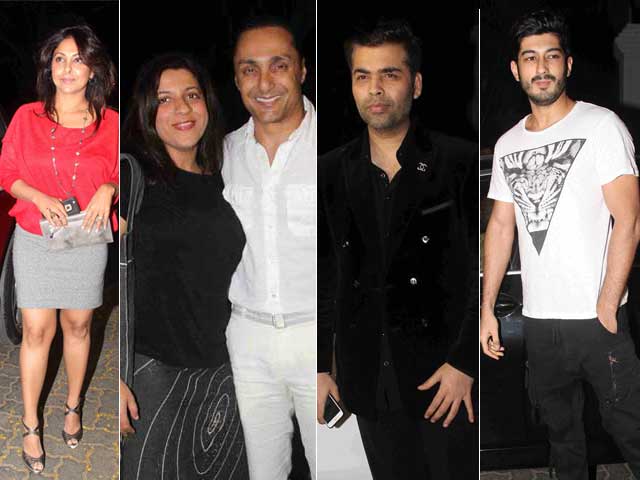 The celeb preview of the trailer received a thumbs up on Twitter:
Saw trailer of Dil Dhadakne Do. Fabulous looking wholesome entertainer. Absolutely spellbound! @AnilKapoor@FarOutAkhtar@priyankachopra

— SRIDEVI BONEY KAPOOR (@SrideviBKapoor) April 14, 2015
Saw the @DDDTheFilm trailer...loved it simple charming cool & fun...can't wait for 5th June....this cast has too many handles to tag

— Arjun Kapoor (@arjunk26) April 13, 2015
Watched the trailer of #DilDhadakneDo last night. Loved it. Charming, fresh, great cast. Looking forward to watch the film.:) @AnilKapoor

— Anupam Kher (@AnupamPkher) April 14, 2015
Ok! I just saw the best trailer I have seen in a while...#DilDhadakneDo is the film to really watch out for!!!!!! I love you Zoya!!!!!!

— Karan Johar (@karanjohar) April 13, 2015
FANTASTIC #DilDhadakneDo trailer! Zoya u STAR! @RanveerOfficial@priyankachopra@AnushkaSharma@FarOutAkhtar@AnilKapoor@RahulBose1 ROCK!

— homiadajania (@homiadajania) April 13, 2015
#DilDhadakneDo first look is fresh n fab. Kudos #ZoyaAkhtar n DOP Carlos @AnilKapoor does a wickedly sexy desi Clooney, by George

— atul kasbekar (@atulkasbekar) April 13, 2015