Arunabh Kumar, the CEO of online entertainment platform The Viral Fever, has denied allegations of molestation against him, saying he wants the accuser to lodge a police complaint so that the matter can be investigated legally, reported
Mumbai Mirror
. "I unconditionally and unequivocally deny all these allegations. Social media has already declared me an offender, but I am ready to address all the allegations against me. I am open to receiving a police complaint so that I can respond legally as well. TVF is bigger than me and if there is a remote chance that I have done any wrong, let me be prosecuted,"
Mumbai Mirror
quoted him as saying.
Arunabh Kumar has been
accused of sexual harassment
by a former employee of TVF, who wrote in a blogpost - titled
'The Indian Uber - That is TVF'
and published on Medium - "Right from Pitchers to Tripling, I was molested. Be it in parties where Arunabh would try to lift me or would try and fall on me pretending he is drunk." The post was shared over the weekend and went viral, invoking mixed reactions on Twitter.
Pitchers
and
Tripling
are two of TVF's most popular web series and were released in 2015 and 2016 respectively.
Mr Kumar's accuser has not revealed her identity and used the pseudonym 'Indian Fowler.' She reportedly joined The Viral Fever as a 22-year-old in 2014.
After the post on Medium, filmmaker Reema Sengupta and ex-TVF member Aayushi Agarwal also revealed they experienced sexual harassment while working with TVF. Part of Ms Sengupta's post read: "In the middle of the shoot, he (Arunabh Kumar) touches my shoulder tattoo and tells me he finds it sexy."
Read Ms Sengupta's Facebook post here:
Meanwhile, Ms Agarwal referred to the account on Medium and said: "
I have had to face a similar experience
working there."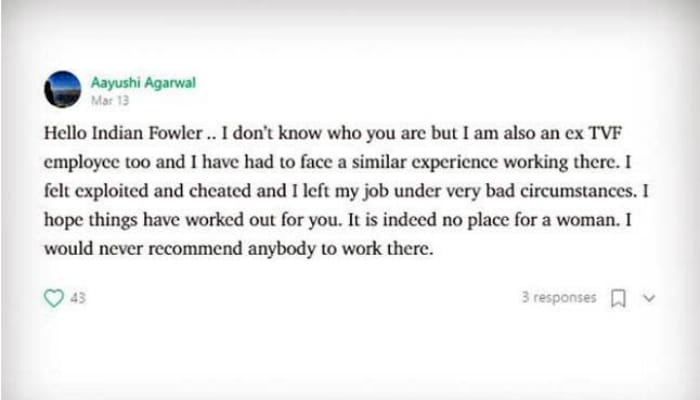 A screenshot of the post shared by Aayushi Agarwal
Arunabh Kumar dismissed Ms Sengupta's allegations as "untrue" and claimed that he had simply "complimented" the filmmaker. "The kind of insinuations the FB post makes are untrue.
I am a heterosexual
, single man and when I find a woman sexy, I tell her she's sexy. I compliment women. Is that wrong? Having said that, I am very particular about my behaviour - I will approach a woman, but never force myself," he told
Mumbai Mirror
.
When asked about Ms Agarwal, he revealed that she had complained about inappropriate behavior from a former colleague and told
Mumbai Mirror
: "The entire process was handled as it would be at any other corporate office." The colleague of Ms Agarwal was reportedly asked to leave.
The Viral Fever has so far released shows like
Permanent Roommates, Humorously Yours, Chai Sutta Chronicle
and
TVF Bachelors
, many of which are hugely popular amongst netizens.