It's tough to stay away when you've broken bread together. Late on Wednesday night, Anushka Sharma and Virat Kohli exited a restaurant on Waterfield Road, Bandra. The lovebirds, who had hit a rocky patch in their two-and-a-half year relationship, seem to have reconciled over some Cantonese food.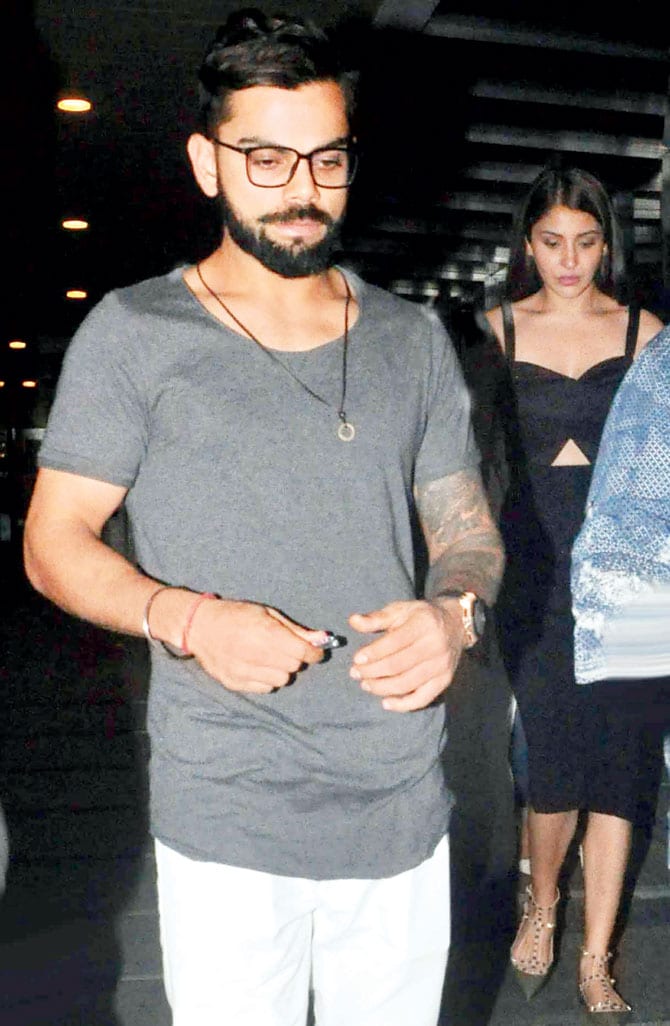 The two had not been spotted together for the last three months. Recognising Anushka's car, the paparazzi waited outside the restaurant to catch a glimpse of her, but were taken by surprise to see Virat in tow. The actress was accompanied by Leepakshi Ellawadi, stylist of her next film
Sultan
, while celebrity consultant Bunty Sajdeh was with Virat.
Says a source, "The two exit the restaurant just before midnight. Virat was in casual wear while Anushka was dressed to the nines. They got into their respective cars and zoomed off." (Also Read:
The Ex Factor? Anushka, Virat Spotted at Dinner After Rumoured Split
)
Adds the source, "Anushka made a pit stop at Salman Khan's Galaxy Apartments in Bandra. Kabir Khan was also present there. She left within 10 minutes and then visited Sohail Khan at his Pali Hill home."
So, does the dinner date signal that Virushka have kissed and made-up? The star's spokersperson says, "Anushka would not like to talk about her personal life. So, no comments."
What or who brought about this rapprochement just a week before the first look of
Sultan
is unveiled? There are theories galore.
Salman connection
The couple was spotted with Bunty Sajdeh, who handles Virat's endorsements and happens to be Sohail Khan's brother-in-law. Buzz is Salman Khan may have been instrumental in bringing the two face-to-face and putting their differences aside. Given that she had been shooting with Salman for the past several months, they developed a rapport, and Sallu wanted to be the peacemaker.
Rising to her rescue
The country's star batsman rose to Anushka's defence after Twitter trolls went berserk during the recent World T-20 matches - an indication that he had not yet given up on his ladylove. After they were not spotted together since early this year, the two had even unfollowed each other on social media. Anushka preferred to immerse herself in work while Virat posted telling selfies on Instagram that depicted his mood for the time. However, he seemed to have won over Anushka once again after he silenced the online trolls.
Playing big brother
It is said that Anushka's brother, Karnesh, hit it off with Virat when his sister started dating him. The two remained buddies even after the two drifted apart. Speculation is rife that Karnesh could have played a role in their reunion.
The beginning
Anushka and Virat's love story began in mid-2013 when the two did a shampoo commercial. They bonded over salsa rehearsals for the shoot. The ad was filmed at Film City and their friendship gradually blossomed into love. Virat would even come to drop her home in Versova post the shoot. Later, he started visiting her and on one occasion, Anushka's car was even spotted at Mumbai airport to pick him up and the two were seen heading to her house.
What went wrong?
As soon as they unfollowed each other on social media early this year, tongues started wagging about their break-up. There were rumours about the actress turning down Virat's marriage proposal since she wanted to focus on her Bollywood career. Anushka remained mum about it. The two then got busy with their professional commitments which kept them apart.
(This story has not been edited by NDTV staff and is auto-generated from a syndicated feed.)