Amitabh Bachchan made our day with several sharp one-liners during his conversation with filmmaker Karan Johar on Friday. Amitabh Bachchan was speaking at the Hindustan Times Leadership Summit. Karan, who worked with the veteran actor on the films
Kabhi Khushi Kabhie Gham...
and
Kabhi Alvida Naa Kehna
, asked Mr Bachchan, 74, about staying relevant, making movies in the age of social media and being trolled. They also took questions from the audience and Mr Bachchan was asked about the possibility of becoming President and also what would happen to
Kaun Banega Crorepati
after the currency ban. Mr Bachchan concluded the session reciting a poem from his courtroom drama
Pink
.
We have curated Amitabh Bachchan's top quotes for you:
What he would do if asked to become President of India. He said: "It's a long-standing joke started by Shatrughan Sinha. Have a look at me, do you really think? C'mon... no worthiness, no capability, no knowledge..."
Amitabh Bachchan on starring in films in the age of social media: "In today's times, everything is so immediate and fast. You get immediate reactions. I find that very helpful in many ways. You also get abused but it's very healthy"
On being abused on the Internet: "If you're not prepared then don't go for it. You can't have anyone not abusing you"
Mr Bachchan was also asked about his ever-lasting stardom. What he said: "That's a question for you (pointing at the audience), not me. This is the people that make me do what I do. Well, it's a nightmare. It lasted so many years. I have just been very lucky. Sometimes, I feel fate has been very kind to me"
Mr Bachchan was mid-way through his answer when Karan interfered: "You think those are pre-requisites?"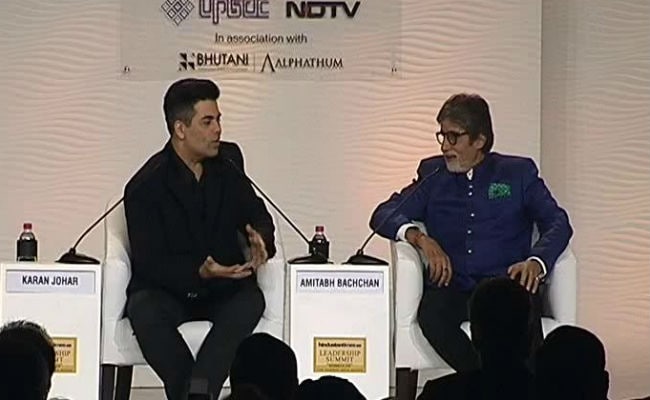 "Umm... are we live on TV?" was the actor's response.
Wait for Mr Bachchan's answer for the question: "Who do you think will be the next Amitabh Bachchan?"
Big B: "Why,
what's wrong with me
?"
On the fate of
Kaun Banega Crorepati
after the currency ban - watch what he said:
On dealing with criticism: "It's learning for me. I read it, listen to it, admire it. Sometimes, even work at improving. I like to go back and assess"
On being a self-critic: "It kind of stays with you when you've worked throughout the day. Sometimes I get up at 2'o clock and call up the director to say 'Can we re-do the shot?'"
What he had to say on being relevant in the film industry even at 74: "If I'm connecting to somebody, that's the credit of the director and maker. The credit really goes there but I really do feel awkward because the average age on the sets these days is 25 and I'm 74"
Amitabh Bachchan on always being insecure as an actor: "It's with most creative people. They finish something and go back to it insecurity in our profession has a lot to do with continued assessment"
On the pressure to take a strong stand on a certain issues: "A lot of actors, artistes take very strong stands. I don't have that kind of strength but if there is something I can do socially, then I'd like to do that"
Karan Johar, who has directed Mr Bachchan twice, revealed that till date Big B seeks a nod of approval from his director, when in front of the camera. Big B quipped: "What else do you expect me to do? Once in front of the camera, I do not argue, as you must have noticed"
Amitabh Bachchan's role models: "My parents have been my role models. In the field of acting, Waheeda Rehman and Dilip Kumar are great artists. They are my role models"
Big B's wife, Jaya Bachchan, considers 1973 film
Saudagar
to be his best work so far. Earlier, Big B had confessed
Piku
is what he thinks is his best work is. When asked about the difference of opinion, Big B said: "Yes, she is right. Never say no to your wife. Always say yes"
How does Big B feel about waking up as himself? What does he carry with himself?
Big B: "My night suit?"
Mr Bachchan on
his last film Pink
, which deals with the issue of the social abuse faced by women: "There was a point at the end which was very relevant in today's times. Particularly at this age when we are trying to give women the respectability and dignity that they so deserve" Directed by Aniruddha Roy Chowdhury,
Pink
is a vivid documentation of the harassment faced by three working women placed in New Delhi.
The women leads were played by Kirti Kulhari and Andrea Taring with Taapsee Pannu as the protagonist. Big B featured in the character of Deepak Sehgal, a renowned advocate, who is retired owing to his mental disorder. Big B's character comes to the girls' defence, who were wrongfully accused of murder and physical assault.
Big B, who continued talking about the message shared via
Pink
, said: "We were very conscious of what we were doing. I think all of us believed that fact that this is something that we personally believe in. Every dialogue I have spoken in the film, I'd still speak even if I'm not working in the film"
Watch the entire session with Big B here