A day after the hit 1991 film
Saajan
celebrated 25 years, lead actor Sanjay Dutt dismissed reports of friction with Salman Khan, the film's other lead actor. Sanjay, 57, and Salman, 50, have been close friends for years but gossip insists they are now at war. Sanjay Dutt, who recently finished a five-year prison term, told
Mumbai Mirror
that this is not true.
"What
jhagda
? I went to his Ganpati celebrations when I was out on furlough and no one wrote about it. But he didn't visit me after I returned and that was news. He's a busy actor, he was shooting far away, he can't be sitting at my house 24x7 but
he's still my younger brother
," said the
Munna Bhai
star. The grapevine might need a little more convincing, given that Salman Khan is well-known for having a long memory when it comes to personal feuds.
All is not only quiet on the Salman front, says Sanjay, but also the Sanjay Gupta front. "
Bhaiyon mein jhagda hota hai
and the world takes advantage of that. But jab bhai mil jaate hain, no one talks about it," he told
Mumbai Mirror
about his former best friend. Sanjay Gupta directed Sanjay Dutt in films like
Kaante
and
Musafir
.
Sanjay Dutt came home from Pune's Yerawada Jail in February after completing the sentence he was handed by the Supreme Court for illegally possessing arms in a case related to the 1993 Bombay Blasts.
"Every citizen should know the law because once you are in jail, no amount of money can buy you back your freedom," he told
Mumbai Mirror
, a poignant statement from one who should know. "In 1993, when I went to MN Singh (then Joint Commissioner of Police, Crime), he decided my case fell under the provisions of TADA. Had I known then what TADA meant, I'd have questioned it," Sanjay said.
He also claimed to have been misrepresented as having received special privileges and extended furloughs while in prison. "I'd served out 18 months of the sentence earlier so I was entitled to furlough six months into my term this time. Every day hundreds of prisoners come out on parole and hundreds go back in, no one talks about them. Stardom is a doubleedged sword," he told
Mumbai Mirror
.
In jail, Sanjay Dutt read the Bhagvad Gita and the Puranas, learnt Marathi, used clothes lines and buckets as gym gear and earned money making paper bags.
On Monday, the actor was photographed
with wife Maanayata
, both looking cheerful and relaxed. "She helped me stay strong," Sanjay Dutt told
Mumbai Mirror
.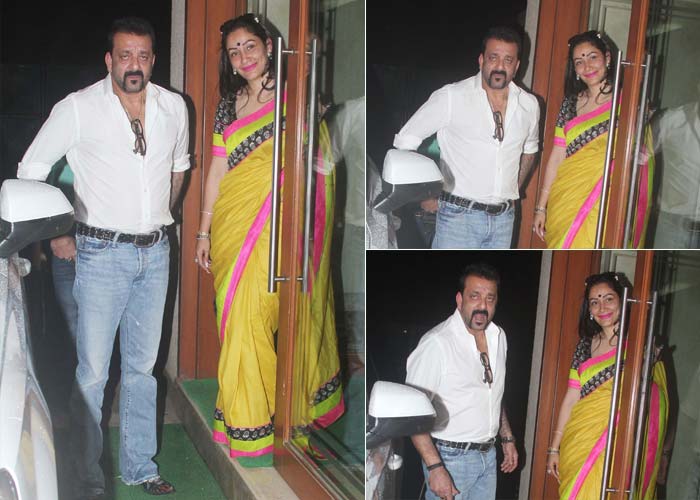 Last seen in
PK
which released while he was in jail, Sanjay Dutt has a series of films lined up. Among these is the sequel to
Khalnayak
, the film that coincided with his arrest in 1993 and the third
Munna Bhai
film.