Seeing the hordes of Bollywood folk at the 66th Cannes film festival made an industry insider snidely remark that was it Cannes or Lokhandwala that was on view? The prestigious festival, which wrapped up over the weekend saw just about anyone and everyone at the event this year.
Aishwarya Rai Bachchan may have made her 13th consecutive year appearance thanks to her brand endorsements while Anurag Kashyap over the years has all his films (either made or supported by him at the event) winning accolades.
Vidya Balan made her presence felt being part of the jury while Amitabh Bachchan due to his Hollywood film
The Great Gatsby
's screening. As part of the 100 years celebrations of the Indian film industry there was also Karan Johar, Dibakar Banerjee and Zoya Akhtar. While Sonam Kapoor makes it due to her endorsements and Nawazuddin Siddiqui due to his films but what about the rest?
Fringe benefits?
From Ameesha Patel to Poonam Dhillon and Rituparna Sengupta, Puja Gupta to Vishaka Singh and even a Sandeep Soparrkar. Not to forget Sherlyn Chopra and Mallika Sherawat - everyone appeared to be there primarily to showcase their designer threads (or disasters) at the red carpet.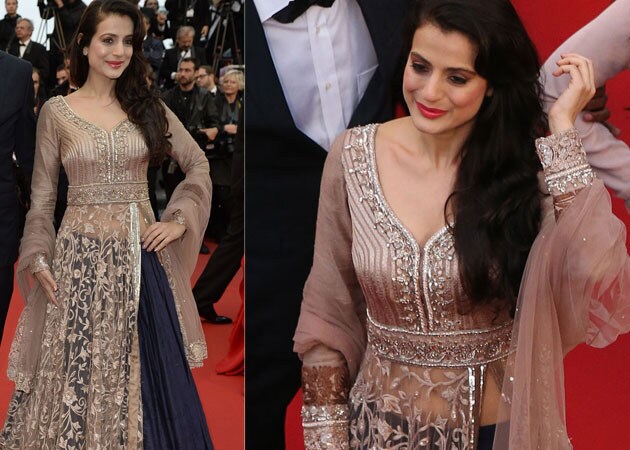 Mallika needs no introduction at the festival. She knows how to make her presence felt either through her outfits (she walked the red carpet with a python around her neck for her film Hisss in 2010) or through her motormouth (about her dirty dance with Antonio Banderas at an after party last year).
She has also been stating on her microblogging site, "Need new haters, old ones r beginning to like me:)" after she has been giving interviews to mags saying that she was the first Indian actress to wear a bikini and kiss on screen." Or if not tomtomming about her conquests: "Hung out with my FAV costar Jackie Chan, Thank u Jack 4 being there 4 me Always." Or posting snapshots of her with "His Royal Highness Prince Albert Of Monaco." Like Mallika, Sherlyn tried hard to impress in her see through outfit to promote her film Kamasutra 3D. Says a festival regular, "There were so many Indians this year as over the year going to Cannes has become like going to Lokhandwala. You either get there due to your film or endorsement.
Even if you don't fall into these two categories, you can always showcase your film. Everyone just wants to be on the red carpet to display their outfits. More than a festival, it has become a haven for fashionistas and designers to showcase their skills. Even a Rakhi Sawant can go to Cannes next year."
Poonam Dhillon attended the festival courtesy the National Film Development Corporation while Ameesha took her forthcoming film Shortcut Romeo on her own. As the insider informs, "If you are not invited, you wrangle an invite and once in Cannes, do as the rest do and go with the flow. Blow kisses on the red carpet and pirouette."