Actress Anne Hathaway has backpedaled on Instagram after an anti-Kardashian post provoked angry comments from fans. Ms Hathaway has now deleted the original post (in which she called for more Helena Bonham Carters in a 'world of Kardashians') and posted an apology.
Shade thrown was unintended, the post clarifies. The caption says she didn't mean to pit the famously quirky Ms Bonham Carter against TV's First Family.
Anne Hathaway deleted her original post - but not before others had screenshotted it. Here's an image of it: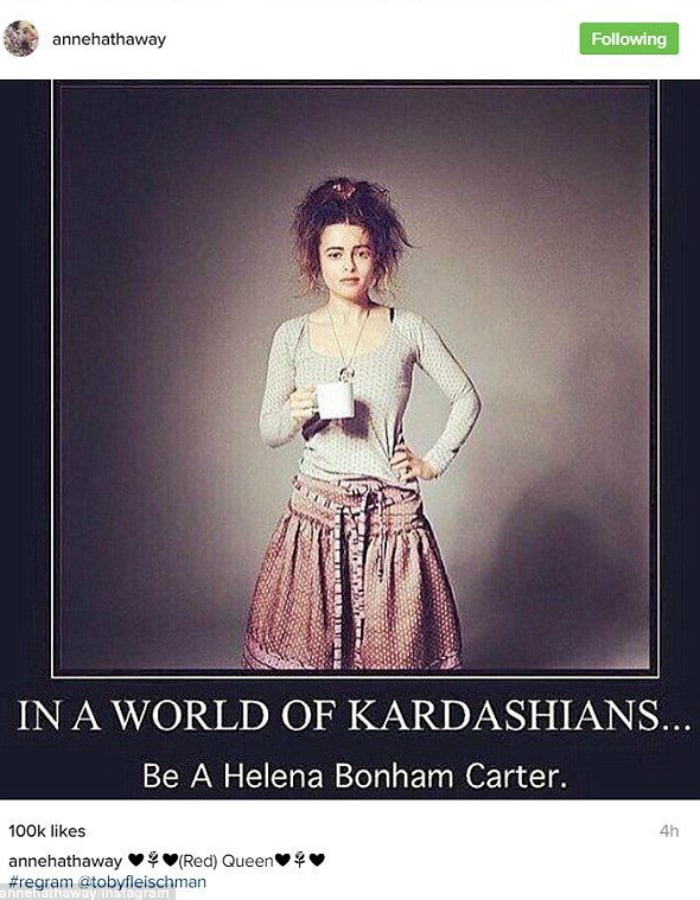 The 33-year-old actress is currently promoting her new film
Alice Through The Looking Glass
, which co-stars Helena Bonham Carter and is directed by her partner Tim Burton. Anne Hathaway reprises her roles as The White Queen in the sequel to 2010's
Alice in Wonderland
. Returning cast includes Johnny Depp as The Mad Hatter, Mia Wasikowski as Alice and Alan Rickman in his last role as the voice of the Caterpillar.