At the Golden Globes this year, the absence of serial photobomber Jennifer Lawrence left a gap that was swiftly spotted and filled by Best Actor nominee Benedict Cumberbatch. The 'Cumberbomb' was directed mid-show at a hapless Meryl Streep and an in-disguise Margaret Cho, dressed as a 'North Korean General.' As Benedict launched himself up, up and away behind them, Globe winner Michael Keaton was the prompt paparazzo, whipping out his camera phone for a Kodak moment.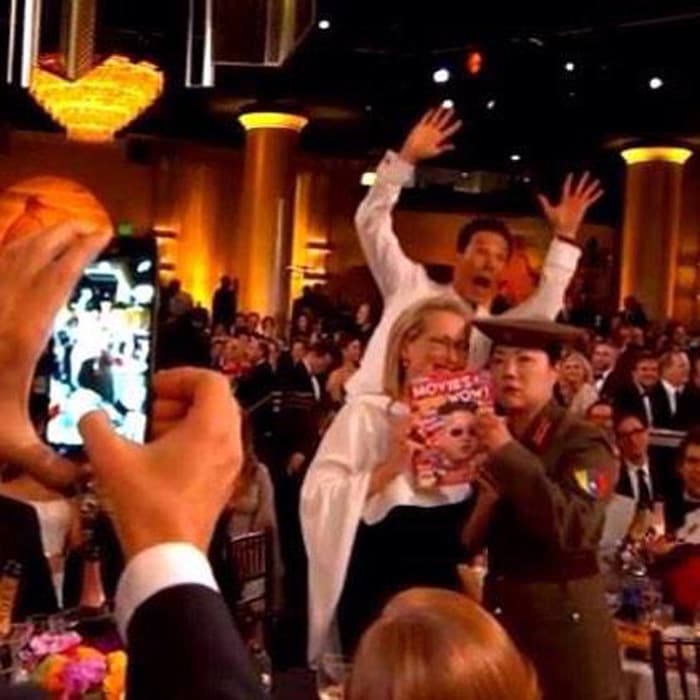 On-stage, hosts Tina Fey and Amy Poehler looked thrilled with the success of the gag they had set up. Some years ago, Margaret Cho played a North Korean weather presenter on Tina and Amy's show
30 Rock
, much before Seth Rogen and James Franco created such a stir with
The Interview
. Off-stage, a sea of camera phones clicked away furiously.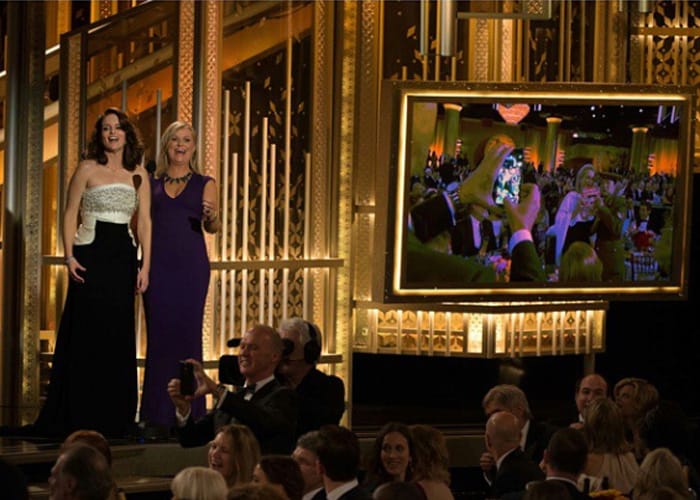 Fortunately for the Globes crowd, this 'Kim Jong Il' was more interested in posing with a celebrity than with making them cyber-squirm.
Meanwhile, that was Benedict Cumberbatch's game face. He also brought it to an off-stage portrait with co-presenter and fellow nominee Jennifer Aniston, who looked fierce. They looked like they were having fun, even if both did go home Globe-less - Benedict losing Best Actor - Drama to Eddie Redmayne, and Jen losing Best Actress - Drama to Julianne Moore.