The fashion parade down the Golden Globes red carpet featured several standout dresses as well as several fashion fails, some by usually well-dressed celebrities. We've picked some of our favourite dresses and some that we really disliked.
Jennifer Lawrence, Best Actress - Comedy/Musical for
Silver Linings Playbook
- was a dream in Dior. Her strapless red ballgown was cinched in by a thin metallic belt and brought to mind a previous red carpet triumph - Calvin Klein, also red, at the Oscars in 2011.
We also loved Anne Hathaway, Best Supporting Actress for
Les Miserables
, who was pristine in a white Chanel column. Also working the red trend was Claire Danes, Best TV Dramatic Actress, in Versace. Claire wore virtually no accessories - but she didn't need any, everyone was far too busy looking at her fantastic post-baby body. Incredibly, Claire gave birth to her son just one month ago.
Jessica Chastain, Best Actress - Drama for
Zero Dark Thirty
, also acquitted herself with honours in ice blue Calvin Klein, cut daringly low in front.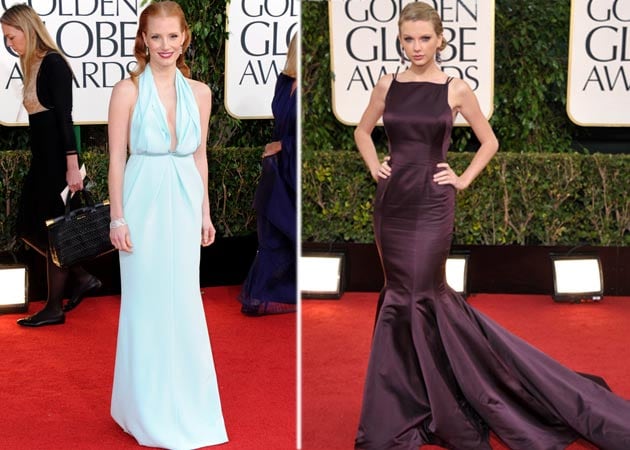 A big thumbs up to nominee Taylor Swift. She lost the Golden Globe for Best Original Song to Adele but took fashion honours in purple Donna Karan Atelier.
The usually stunning Halle Berry led the worst dressed brigade in a Versace dress that tried too hard, working many trends - print, cutaway, sheer, asymmetrical, but failing to nail even one.
Rachel Weisz was also an unlikely offender in black Louis Vuitton with a sheer dotted panel that replaced the bottom half of her dress.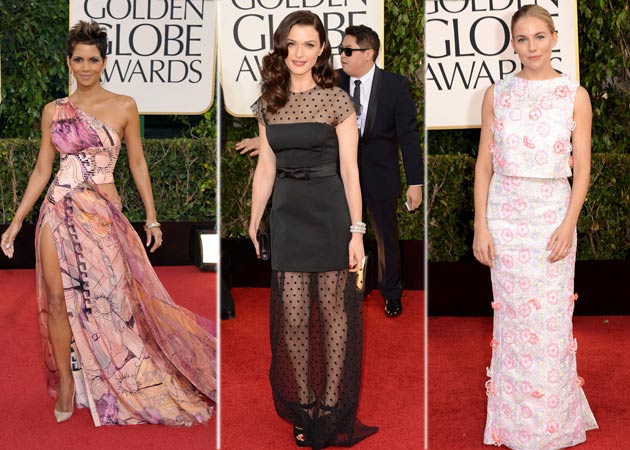 Nominee Sienna Miller also found herself on the other side of the fashion divide in a decidedly unglamorous top and skirt ensemble by Erdem that washed her out completely.
Yes, that's Eva Longoria and not Kim Kardashian. Big hair plunging front too high slit equals a fashion disaster even if it is by Emilio Pucci.
Modern family
star Julie Bowen picked a great shade of blue but her unflattering, draped Halston dress wears