Veteran Hollywood actor Harrison Ford is "battered, but okay" after his plane crashed onto a golf course, says his son.
Mr Ford was rushed to a hospital after his vintage World War II training plane crash landed on a golf course here on March 5. His son Ben Ford, has been updating fans on micro-blogging website Twitter about his father's condition.
At the hospital. Dad is ok. Battered, but ok! He is every bit the man you would think he is. He is an incredibly strong man.

— Chef Ben Ford (@ChefBenFord) March 6, 2015
Thank you all for your thoughts and good vibes for my dad.

— Chef Ben Ford (@ChefBenFord) March 6, 2015
An eyewitness at the golf course told tmz.com that she heard the engine sputter and watched Mr Ford's plane do a "nose dive straight on the 8th hole tee box".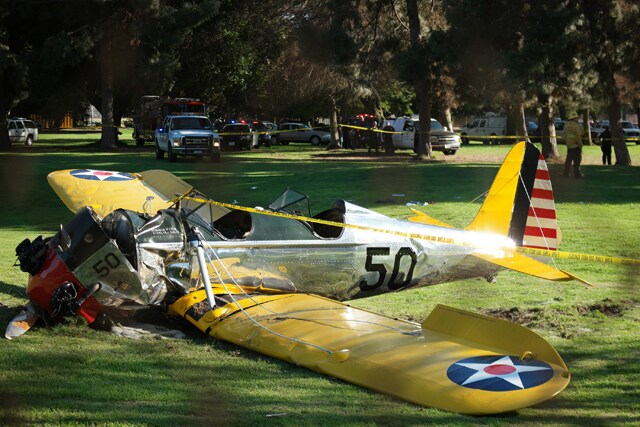 "I was one of the first people to run from the hole toward the plane. Four to five men pulled the pilot out of the plane. They got him away from the plane. They were concerned it would catch fire," said the eyewitness.
A video obtained by the site showed Mr Ford lying on the grass while being treated by paramedics after the crash.