A document that appears to be director Quentin Tarantino's cast wish list for
Pulp Fiction
has been posted on
Reddit
and is causing quite a flutter because it seems that John Travolta would not have played Vincent Vega if the actor the part was written for had been cast instead.
Hitman Vincent Vega was the role that resurrected John Travolta's career from Hollywood oblivion and fetched him an Oscar nomination. The role was written for Michael Madsen, however, who starred in Quentin Tarantino's 1992 debut
Reservoir Dogs
. As it happened, Mr Madsen was committed to the Kevin Costner-directed
Wyatt Earp
and so Mr Travolta was cast in his place. Other possibles were Gary Oldman - whose name appears against every male role on the typed sheet but didn't eventually play any - Alec Baldwin and Michael Keaton.
Several actors ended up playing the characters that were written for them - notable, Tim Roth as robber Pumpkin and Amanda Plummer as his girlfriend Honey Bunny. Dressing gown-wearing drug dealer was written for John Cusack and went to Eric Stoltz, the second choice. Patricia Arquette was the front runner for Lance's wife Jody but her sister Rosanna was eventually cast.
Johnny Depp, Nicolas Cage and Christian Slater were on the wish list for more than one role - none made it to the film.
The list above doesn't appear to name several major characters in the film - Mia Wallace who was played by Uma Thurman, or Jules, Butch and Marcellus played respectively by Samuel L Jackson, Bruce Willis and Ving Rhames.
The comments section in the Reddit thread, however, throws us this version of the list which appears to indicate that the role of The Wolf was filled by the actor it was written for - Harvey Keitel. (Also Read:
John Travolta Returns to TV With Crime Series
)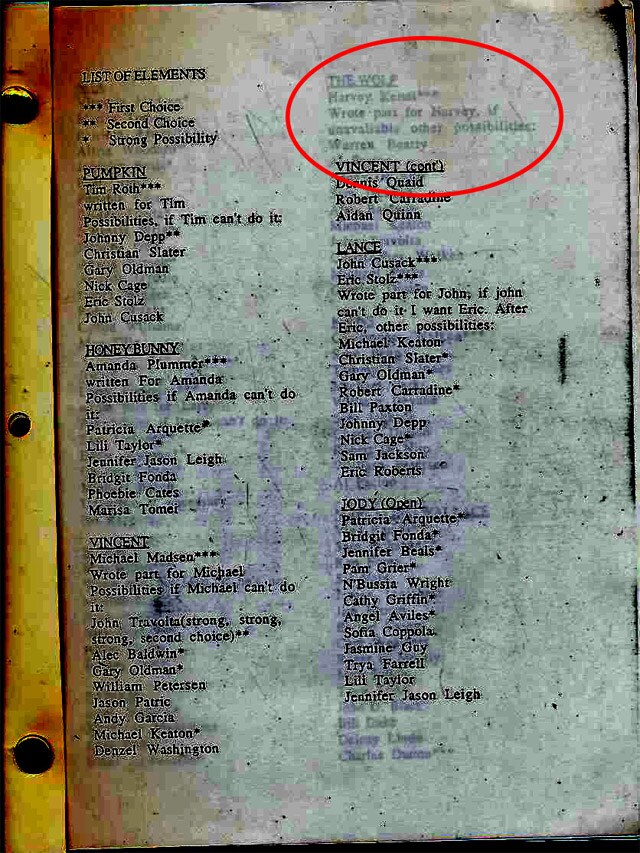 Pulp Fiction
, released in 1994, was Quentin Tarantino's second film and was nominated for seven Oscars. It is considered the career-making movie for actors Samuel L Jackson and Uma Thurman, who would later star in
Kill Bill
: Volumes 1 and 2.