Natural-born klutz Jennifer Lawrence now probably has a team of red carpet minders whose only job is to catch her when she falls, as she inevitably does. They did a sterling job at the premiere of her new movie
X-Men: Days Of Future Past
where they snatched her out of mid-fall as she tripped over her heels and midnight blue Jason Wu dress climbing up some stairs.
Here's picture of Jennifer, mid-trip.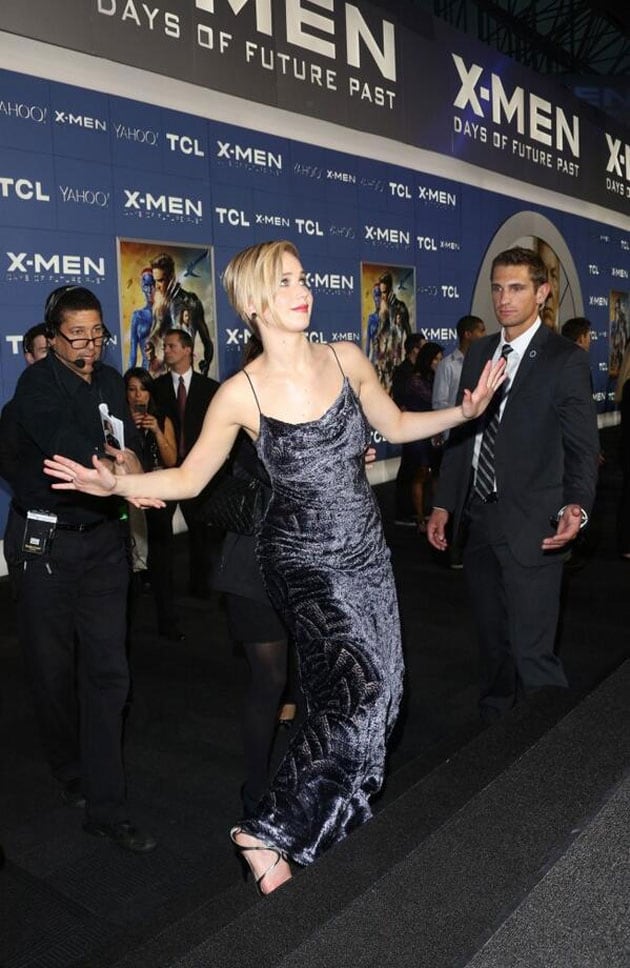 This would have been Jennifer's third fall. The first time she fell flat on her face was as she hurried to the Oscar stage to collect her Best Actress award last year. She fell over her giant Dior dress as she climbed the stairs to the stage as Bradley Cooper and Hugh Jackman rushed in to help.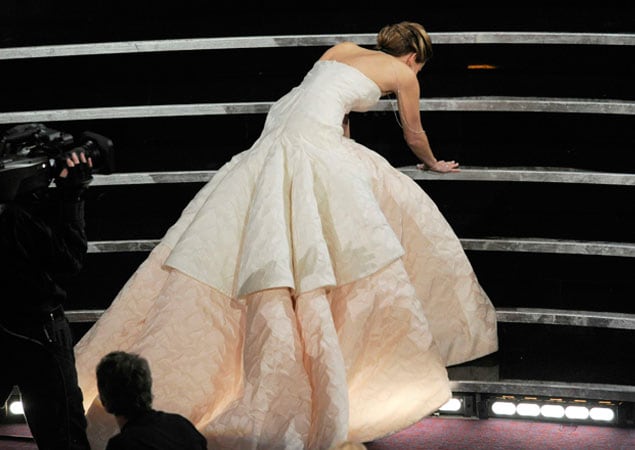 The next time she fell was on the Oscar red carpet this year, dressed in red Dior.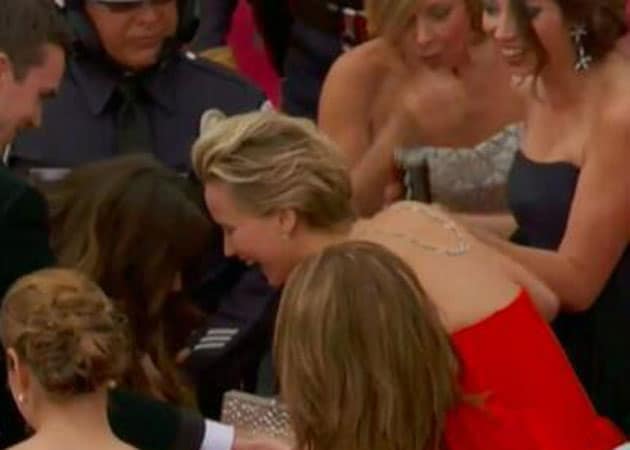 Jennifer's many tumbles haven't left her very dismayed. "My mom taught me to laugh at myself. What else can I do? There are so many things that I do and say which come out wrong because I don't think before speaking. I make a fool of myself easier than anyone I know," she said last year.
At least one person, however, is suspicious. "You know, I'm starting to wonder if this is a bit of an act," Dallas Buyers Club star Jared Leto told E!Online after this year's Oscar slip.
Jen's unsteadiness could simply be caused by a glass of wine too many. "I'm way too annoying because I get on red carpets and I am really hyper, most likely because I have been drinking, and I can't 'not photo-bomb' somebody if it's a good opportunity," the Silver Linings Playbook actress said recently.
Meanwhile, here are five reasons why JLaw is the most unselfconscious celebrity around.