Remember that metal plaque engraved with Leonardo DiCaprio's name that caused such a flutter of hopeful hearts two weeks ago? That's going to be junked. For many, 2014 will be notable as the fourth year that Leonardo DiCaprio didn't win his Oscar.
Instead, Leonardo's The Wolf Of Wall Street co-star and first-tie nominee Matthew McConaughey won Best Actor for Dallas Buyers Club. That's gotta hurt, but Leo jumped up to give Matthew a hug when they were announced loser/winner.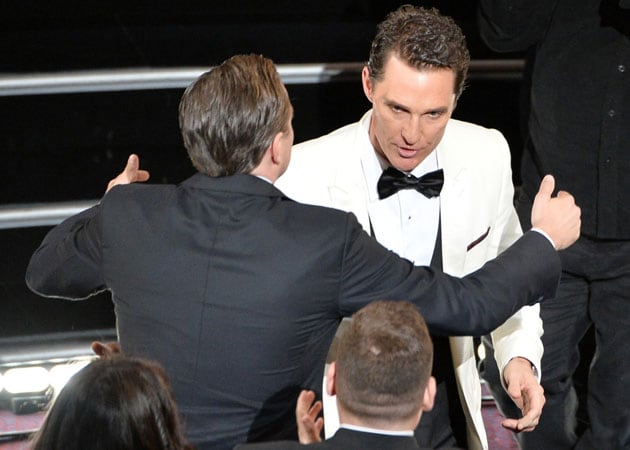 Oh, Leo.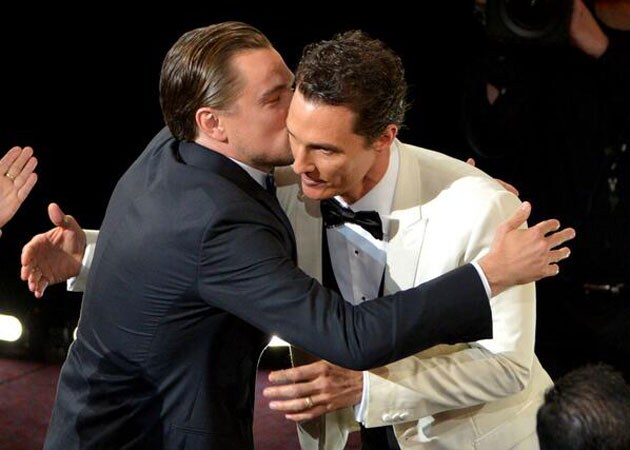 Leonardo was previously nominated for (and failed to win) Best Supporting Actor for What's Eating Gilbert Grape, and for Best Actor for The Aviator and Blood Diamond.
Twitter opinion was divided between heartbroken Leo fans
@blessingzayn i dont get it why leonardo dicaprio doesnt get an oscar he's one of the best actors ever im so mad
@itsbr0gan i swear people in the academy are making sure that leonardo dicaprio doesn't get an oscar
@MissMurphy Leonardo DiCaprio didn't win an Oscar and neither did the Wolf of Wall Street. I officially declare the world corrupt.
And wags who'll miss no opportunity to make a joke
@Callumx_ Leonardo Dicaprio could be the only guy nominated for an oscar and he still somehow wouldn't win it
@GabbbarSingh Waking up this Monday to find out I have won as many Oscars as Leonardo di caprio, whoa
@Benedictorum And the nominees are: Leonardo Di Caprio Leonardo Di Caprio Leonardo Di Caprio Leonardo Di Caprio And the winner is: Benedict Cumberbatch