Priyanka Chopra had a momentous night at the Emmys, not least because she looked sensational in her red
Jason Wu dress
. And it wasn't just fashion pundits who fell hard for her. By
E!Online's
account, Priyanka spent the after-party flirting with actor Tom Hiddleston, who co-presented an award with her.
Tom, 35,
twirled Priyanka
as they walked onstage to present the Outstanding Directing for a Limited Series, Movie, or Dramatic Special award to his
The Night Manager
director Susanne Bier.
It would seem that this moment was just the beginning: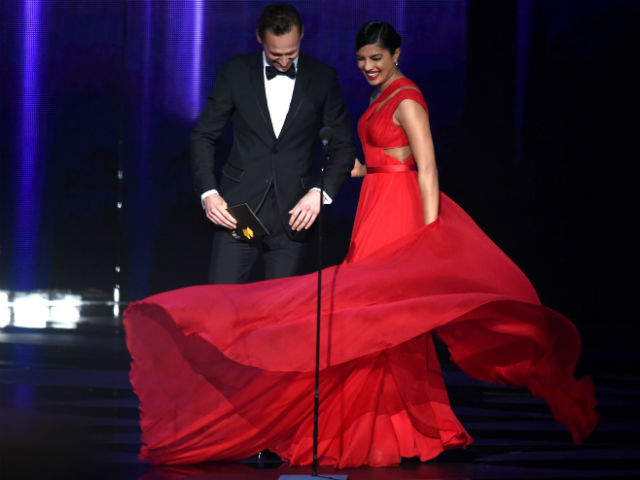 "Tom had his arm around her and held her close. Afterwards, Tom and Priyanka talked closely and were holding hands at one point for a few moments. Priyanka fixed Tom's bow-tie and then the two kissed on both cheeks," a source told E!Online.
Priyanka, 34, and Tom reportedly also
exchanged numbers
.
What are we to make of this? On the one hand, the possibility of a romance is likely wishful thinking on the part of the press, social media and fans. On the other, holding hands and exchanging numbers IRL by non-celeb folks would almost certainly add up to the probability of romantic interest - but who knows what is normal for celebs?
Part of Twitter is onboard with these current lonely hearts getting together.
Tom Hiddleston and Priyanka Chopra!??? I am here for this

? swi (@folieadou) September 20, 2016
Others aren't so thrilled.
Tom H and publicity machine needs to stay away from Priyanka Chopra. God! How thirsty is he?!

? Meeeow (@nairdee83) September 20, 2016
For this, Tom Hiddleston has himself to blame. It's been just weeks since he broke up with singer Taylor Swift after a determinedly public three-month romance and while celebrity hearts are apparently far more resilient than non-celeb ones (Taylor may or may not have moved onto Zac Efron), Tom lost in credibility what he gained in visibility from the high-profile relationship.
For one, 'HiddleSwift' as the couple became known was viewed with extreme suspicion by nearly everyone. Far from swooning in supplication, Tom and Taylor's public discusses endlessly and even hopefully the likelihood of HiddleSwift really being HiddleSwindle - an elaborate con for publicity purposes.
For Tom's fans, the possibility that the romance was real was even harder to swallow. The spectacle of him clutching his reputed inamorata's hand while wearing an 'I (heart) TS' tank was stomach-churning,
its cringe-worthiness
compounded this photo of them cuddling next to actor Ryan Reynolds, for whom public sympathy flowed in torrents.
Whatever happened to the dude who dances like nobody's watching and wants to be James Bond?
Thankfully, Tom Hiddleston's transformation into tween in a tank was as brief as it was painful to watch. Within three months,
it was over,
leaving him with a reputation in shreds and her with presumably new material for a song.
Whether or not HiddleSwift was really HiddleSwindle we may never know - but would HiddleChopra be a binary of any greater success? Tom broke it off with Taylor because he's a "commitment-phobe who gets bored easily," his friends told
Mirror
. Red flag right there for homegirl.
Anyhow, Priyanka Chopra is a busy girl. She's filming the second season of
Quantico
and has prompted talk of a second Hollywood film (her first,
Baywatch
, opens next year)
with this tweet:
The thrill of the unchartered & the new... that's what drives me. So, what's next? #KeepGuessing#TasteLifeInStyle

? PRIYANKA (@priyankachopra) September 19, 2016
And if HiddleChopra does indeed crystallize, Tom Hiddleston can depend on this - there will be few or no pictures of him with Priyanka, not because they won't be
eminently photogenic
together - of course they will - but because there's literally no celebrity around more guarded about her love life than Priyanka Chopra.