Actress Priyanka Chopra
rocked up to the Met Gala
in New York on Monday wearing a dress that began as a trench coat, ended as a ballgown and flashed plenty of shoulder and leg along the way. Priyanka, 34, was making her Met Gala (as was
Bajirao Mastani
co-star Deepika Padukone) and we think she looked sharp - the dress code was avant garde, after all. Some of you liked her look, some of you didn't -
Twitter compared it to a parachute and bedsheet
, and Priyanka made the worst-dressed list in
Daily Mail
. Between the viral worthiness of her dress and the starriness of the event, Priyanka Chopra's Met Gala experience was pretty unforgettable. On her Instagram account, the
Quantico
star has now posted the sketch designer Ralph Lauren made and which eventually became The Dress.
"It all starts with an idea..."
Meanwhile, Priyanka also Instagrammed one of the perks of Ralph Lauren's 'ingenious' idea:
One comment, if you look closely,
asks why the sketch looks like Deepika Padukone
. Does it, though?
The Dimpled One's look was far more classic. In fact, in her white Tommy Hilfiger sheath and diamante headband, Deepika appeared to have entirely ignored the avant garde theme, in honour of Japanese designer Rei Kawakubo.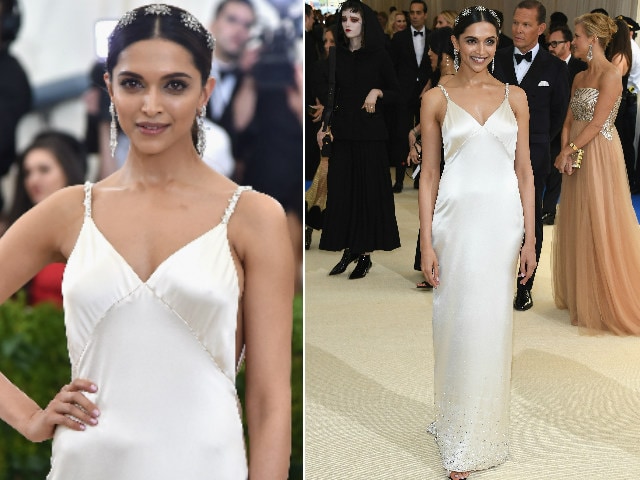 Sweet as Deepika looked
, Priyanka Chopra's outfit made the greater impact (Twitter jokes or no Twitter jokes). The actress has been polishing her fashion game on successive international red carpets - Oscars, Emmys, Golden Globes, Oscars again - and she'll have more practice now that her Hollywood debut is coming up.
Priyanka, already known to TV-viewing America as CIA agent Alex Parrish from
Quantico
, plays the evil Victoria Leeds in the movie version of
Baywatch
, starring Dwayne 'The Rock' Johnson and releasing on June 2 in India.