SPOILERS AHEAD
It isn't
enough for a film to be well-intentioned
. It still has to get most of its punches in to put points on the board.
31st October
, a rare Hindi film focused on the 1984 anti-Sikh riots, decisively checks the first box. It, however, fails to score big on the second count.
Written by producer Harry Sachdeva and inspired by true incidents,
31st October
makes a fair fist of recreating one of the darkest days in the history of independent India.
Directed by Marathi filmmaker Shivaji Lotan Patil,
31st October
makes the right noises but is unable to direct and land its blows with the ferocity that could get the audience all pumped up.
That is a pity because it does serve a clear and necessary purpose. Its message is unambiguous - justice still eludes the victims of the 1984 anti-Sikh riots and it is about time we as a nation did something about it.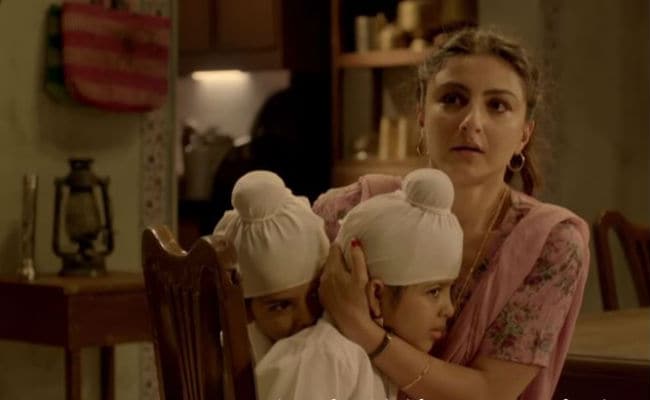 To make its point, the film tells the story of a middle class Sikh family in Delhi cowering in fear in their home and dodging the attention of a marauding, bloodthirsty mob on the day of Indira Gandhi's assassination.
It is a day that begins as innocuously as any other. Davinder Singh (Vir Das), an employee of the Delhi Electricity Supply Undertaking (DESU), leaves for work after escorting his two sons to their school bus and paying obeisance at the local
gurdwara
.
His homemaker-wife Tejinder Kaur (Soha Ali Khan) goes about her daily household chores, much of which revolves around caring for her infant daughter.
31st October
opens at 6.30 in the morning. We catch a group of people - both Sikhs and Hindus - prepping for a
langar
at a
gurdwara
. It is business as usual for residents of Tilak Nagar.
Less than three hours later, India changes forever. A serving Prime Minister is gunned down by the very men entrusted with the job of protecting her. Innocent people are sucked into the vortex of the madness and mayhem that the act unleashes.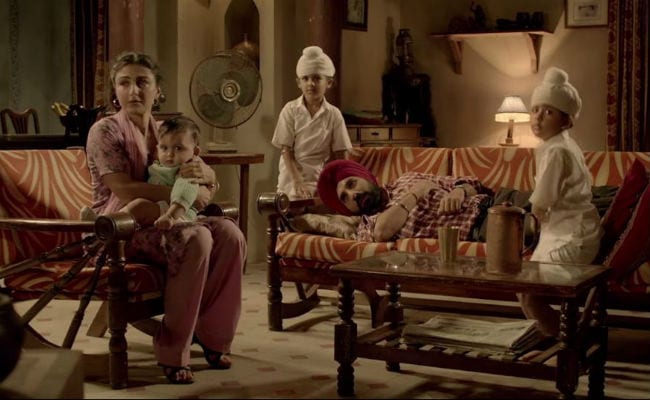 By mid-afternoon all hell breaks loose. An India-Pakistan limited-overs international is quickly forgotten as news comes that Indira is dead.
Packs of men armed with machetes and hockey sticks take to the streets and go on a hacking and burning spree, targetting Sikhs and their homes, shops and businesses. Policemen look on without lifting a finger.
You want to root for
31st October
. That is the kind of film it is. You want to will it on to punch above its weight. Sadly, it is too feeble in the legs to run the distance with its heavy burden. The dawdling pace reduces the narrative to a crawl.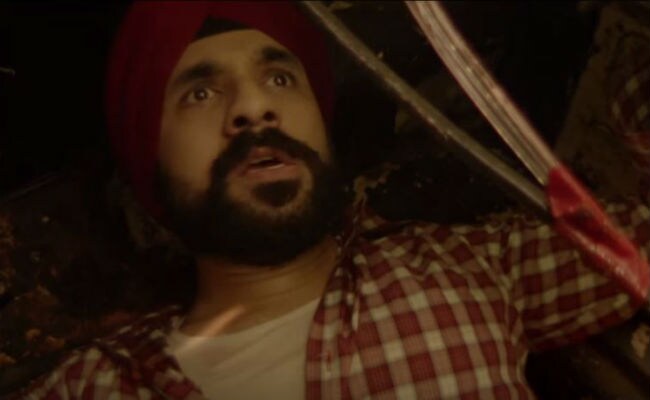 31st October
has its heart in the right place. What it lacks is genuine firepower. Despite the anger and anguish that drives it, it is unable to whip up urgency and force.
A series of title cards at the end of the film fills the audience in with broad details of what happened on that fateful day and its aftermath. It is as if the horrors that it depicts in the previous 100 minutes or so aren't enough to get the point across.
31st October
suffers for want of a sharper and stronger screenplay. The quality of the acting, too, is rather rudimentary.
The film could certainly have done with a more apt lead pair than Soha Ali Khan and Vir Das, neither of whom
look right for the parts
of a Sikh man and his wife.
Despite all the time and footage that the film invests in this middle class family caught unawares as the anti-Sikh rioters go on the rampage, the couple does not emerge above the din.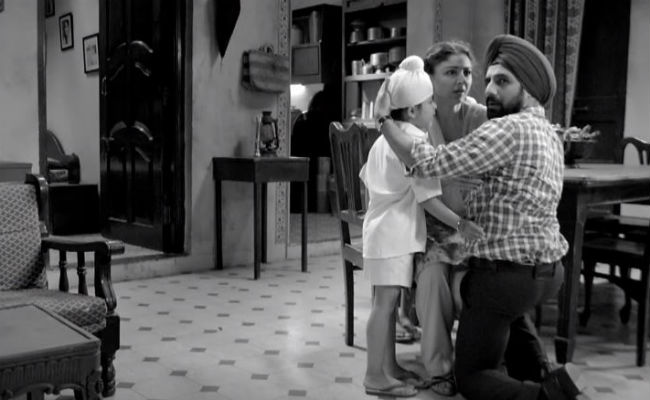 31st October
pulls no punches in exposing the ignominious role of the police but it names no party or leader. We do, however, spot at least a couple of characters who resemble real-life Delhi netas accused of inciting violence against Sikhs on those four days of utter lawlessness.
Knocks on the front door are heard frequently at the home of Davinder and Tejinder. It turns out that a DESU lineman Jhanjuram (Daya Shankar Pandey) is keeping a watch over them.
Other righteous Hindus, friends of Davinder's brother-in-law, surface and take upon themselves the onerous task of rescuing the stranded Sikh family.
Pal (Deepraj Rana), Tilak (Vineet Sharma) and Yogesh (Lakha Lakhwinder Singh) team up for the rescue mission. How the brave do-gooders and the family they want to save negotiate the threats on the way is what the rest of film is about. By then, too much time has been expended on not-so-crucial subplots.
All the dangerous encounters, especially those that they have with a cavalier cop, Inspector Dahiya (Nagesh Bhonsle), are just not enough to create the air of dread that is needed to push the drama forward.
31st October
springs to life occasionally. In one sequence, a Sikh man chased by a mob is given shelter by an unnamed drunkard.
Such is the atmosphere on the streets - the film banks upon what look like two-wheelers on fire to convey fear and foreboding - that even when the sloshed man lights a beedi, the act invokes a sense of menace. But such moments are few and far between.
Its theme is of pressing relevance. Yet, 31st October doesn't leave a lasting impression. It isn't half the film it could, and should, have been.
Be that as it may, it is
still is a film that needs to be widely seen
.
Watch Trailer