SPOILERS AHEAD
A star Indian batsman is kidnapped 36 hours ahead of a make-or-break match. The external affairs ministry in Delhi rushes a badass cop to a place "somewhere in the Middle East" to lead the manhunt to find both the missing cricketer and the mysterious captor.
Sounds super exciting? On paper, it does. It definitely is an unusual plotline for a Hindi film. But any novelty that Rohit Dhawan's
Dishoom
possesses ends right there.
It is an action-packed buddy film in which both John Abraham and Varun Dhawan, playing a bumbling police department rookie who is reduced to running errands for his exploitative boss and seeks liberation and greater glory, are pretty much stuck in a rut.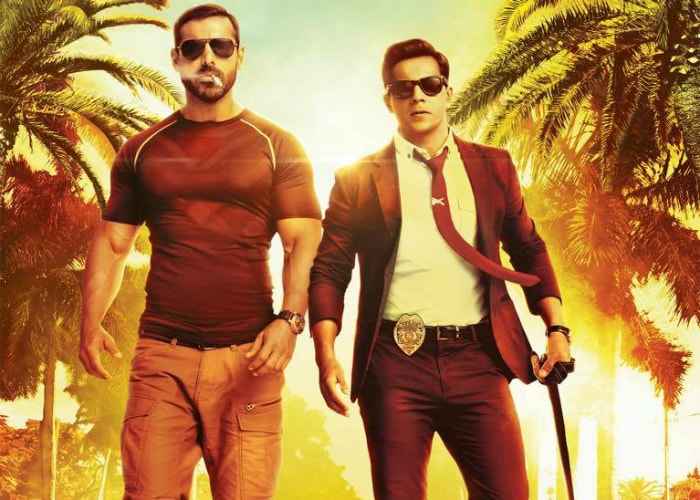 Abraham, as always, makes a fair fist of playing a dishy hunk who broods endlessly and revels in scoffing at the world. He growls rather than speaks.
Dhawan, too, is the boyish prankster that he has always been on the screen, a man blessed with clean-cut charm.
Dishoom
opens in a packed cricket arena where we watch the aforementioned champion batter, Viraj Sharma (Saqib Saleem), make mincemeat of opposition bowlers.
Real-life retired cricketers Pommie Mbangwa and Akash Chopra provide the running commentary while the Indian team coach (Mohinder Amarnath, no less) barks instructions to his wards.
This, the audience is told, was the semi-final. The all-important final is two days away.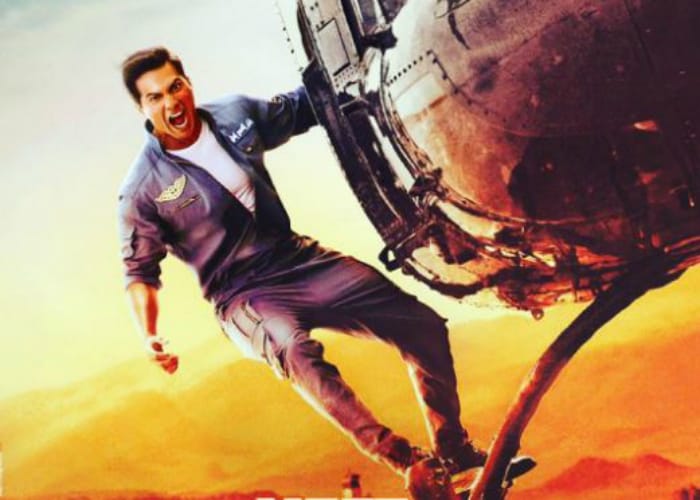 But any semblance of realism that
Dishoom
promises is quickly dashed as snazzy automobiles, scantily clad girls and all manner of meanies (led by Nargis Fakhri) crawl out of the woodwork after Viraj Sharma vanishes.
The two temperamentally disparate men, Kabir Shergill (Abraham) and Junaid Ansari (Dhawan), when thrown into the cauldron, learn to work in tandem even as sparks of animosity fly between them.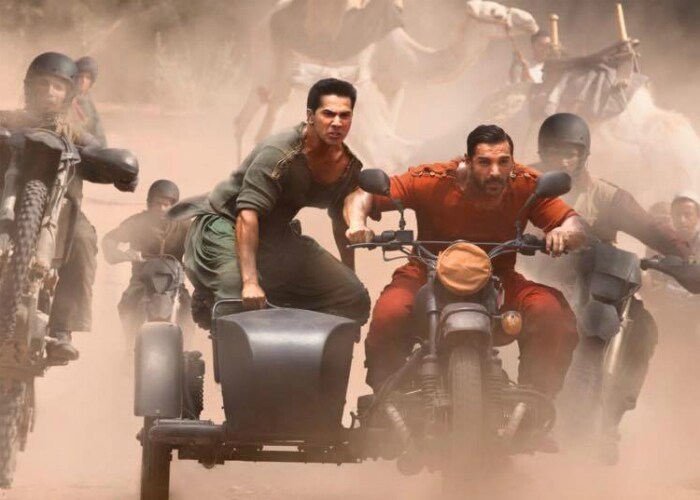 The case that the duo is called upon to crack isn't the most challenging in the world but the screenplay contrives labored ways to whip up excitement.
It throws in a few chases, one of which unfolds in a fictional desert country called Abudeen after a song-and-dance set piece staged in an underground hideout beneath a trap door in the sand.
The story of the abducted batsman is revealed piecemeal. He earns the bookie's ire when he refuses to throw a game.
The leads and clues are emblazoned across every act of a crooked bookie (Akshaye Khanna, back in action after a five-year hiatus). But the cops need the help of a British bulldog to sniff out the truth.
The mutt is named Bradman. The great Don must be turning in his grave.
The twosome find another ally in Meera Behl alias Ishika (Jacqueline Fernandez), a drug addict on the mend, who shows them around the Middle East locations where the action is set.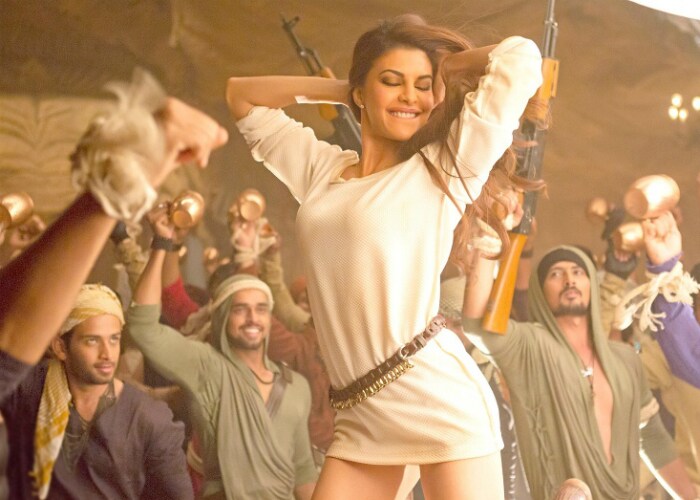 The cliches roll thick and fast as the two law enforcers chase the bad guys across the Abu Dhabi locations.
The principal baddie calls himself Wagah because he belongs to neither India nor Pakistan.
Played with aplomb by Akshaye Khanna, Wagah is about the only interesting character in this implausible concoction in which the world of cricket match fixing clashes headlong with the rather predictable exploits of a police officer who needs a bit of policing himself.
A chain smoker and habitual rule-breaker, Kabir lights up inside an elevator. A man protests. The cop responds by kicking him out of the lift.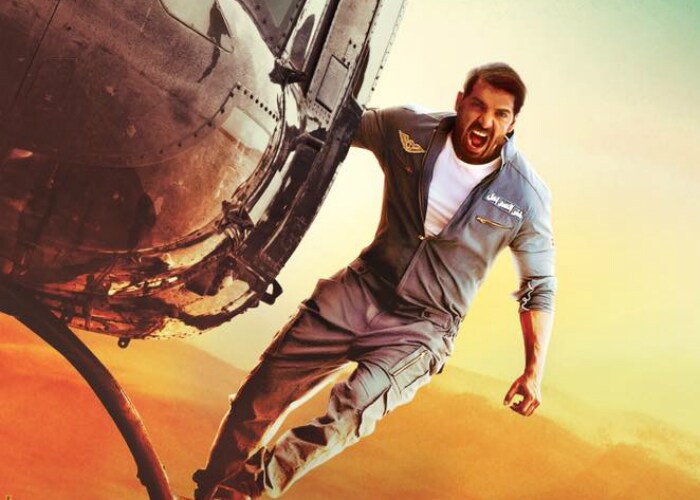 Lying on the ground, the assaulted man says: "I only asked you not to smoke in the lift."
"I asked you to take the stairs," Kabir responds and walks away with such a swagger that one might wonder if he has just conquered the Everest.
Kabir's boorishness rubs off on Junaid. Later in the film, the younger cop jokes about his senior suffering from testicular cancer. We are supposed to find that funny.
Why must Hindi films always confuse machismo with insensitivity and loutish, hardscrabble behaviour?
Akshay Kumar puts in a special appearance as an effeminate don who forces Kabir and Junaid to strip down to their trunks, which turn out to be identical in both colour and design.
The sequence ends with the crime lord cracking what he thinks is a witticism: "Their father must be a baker because they have perfect buns."
Original, no. Silly, yes. We know for a fact that Rohit Dhawan's father is a successful filmmaker with a string of huge hits behind him.
But that would be difficult to tell if one went by what
Dishoom
delivers. It is only a whole lot of noise and bluster, if one discounts the stylish mounting and sparkling cinematography.
The audience sits through the cacophony hoping for a genuine knockout blow to be delivered somewhere down the line. It never materialises.
Dishoom
doesn't land a single half-decent punch.
Watch Trailer: