SPOILERS AHEAD
Like its central premise - three desperate drifters out to marry a trio of wealthy sisters weave their way in and out of trouble - Housefull 3 is painfully hackneyed and sickeningly silly.
But for a slapstick comedy that makes no bones about its lowbrow intentions, being trite and stupid is part of the game. It makes mass consumption easy but does nothing to serve the long-term cause of the genre.
Social intelligence and gender sensitivity are the last things one expects from a film like
Housefull 3
.
Even that allowance cannot explain the sheer imbecility that is sought to be passed off here in the name of comedy.
Directed by Farhad-Sajid, the writing duo known principally for their collaborations with Rohit Shetty,
Housefull 3
is loaded with gags that militate against good taste.

Women, the physically challenged and black housemaids are sitting ducks for the writers of this film. They are constant butts of ridicule.
Needless to say, large portions of
Housefull 3
are repugnant because they brazenly mock mental and physical disabilities.
It does not take much for inspired lunacy to tip over into outright bunkum. Housefull 3 spares no effort to scrape the bottom of the barrel in search of comic energy. The result is a disaster.
Farhad-Sajid, writers of slapstick comedies and cop dramas, gave us a film titled Entertainment a couple of years ago. Out there, Entertainment was the name of a handsome golden retriever.
In
Housefull 3
, we are treated to a concoction gone to the dogs from the word go.
The film opens with an attempted diamond heist in central London by three men.
When the masks of the raiders come off, you expect to see the faces of the three lead actors behind them - Akshay Kumar, Riteish Deshmukh and Abhishek Bachchan.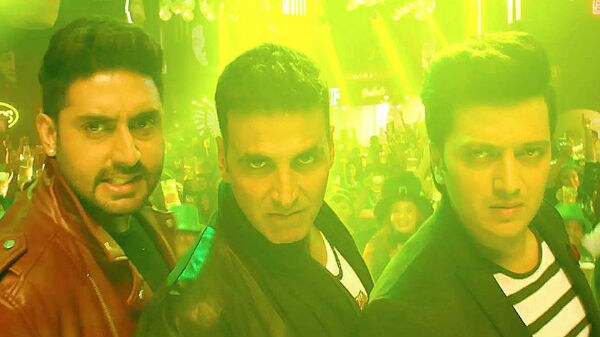 You don't. The burglars turn out to be Nikitin Dheer, Samir Kochar and Arav Choudhary, three villains who do not get another look-in until rather late in the film.
That's about the only real surprise that the two-and-a-quarter-hour-long
Housefull 3
has in store for the audience.
Barring moments in the goofy climax staged in a wax museum warehouse strewn with models of Jackie Chan, Rajinikanth, Barack Obama, Cristiano Ronaldo et al, this film has little that could be described as genuinely amusing.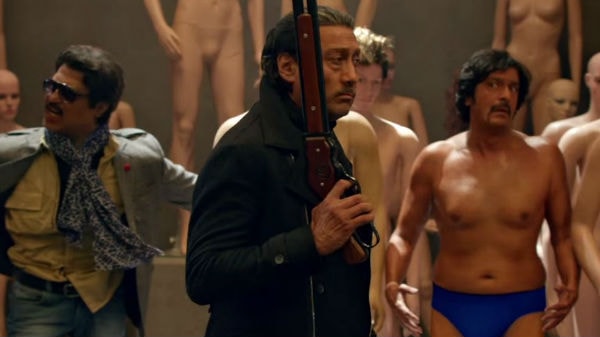 The antics and the utterances of the principal characters - and there are a whole lot of them - are meant to be funny, but they rarely are.
Housefull 3
is the kind of film that does not believe in pauses. It hurtles down a manic course that culminates in a bizarre free-for-all.
The rigmarole begins with three sisters - Ganga (Jacqueline Fernandez), Jamuna alias Jenny (Lisa Haydon) and Saraswati alias Sarah (Nargis Fakhri) - whose shipping magnate-dad Batook Patel (Boman Irani) believes that marriage would bring ill luck to the family.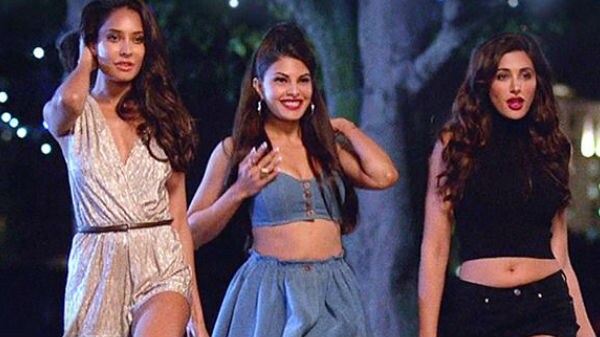 Away from the oppressive paternal glare, the girls have boyfriends who they think are in love with them. In reality, they are only interested in their father's wealth.
These three guys - football freak Sandy (Akshay Kumar), car racer Teddy (Riteish Deshmukh) and rapper Bunty (Abhishek Bachchan) - worm their way into the Patel household by pretending to be paraplegic, sightless and mute respectively.
It is difficult not to be offended by
Housefull 3
. While the constant mocking of physical disability is revolting, the manner in which the three heroines are presented - as brainless bimbos who are all too willing to be pushed around - is no better.
They seek to raise laughs by doing rough and literal translations of English expressions.
So, 'take a chill pill' becomes
thandi waali dawa khaa lo
, 'let's hang out' turns into
bahar latakte hain
, 'son of a gun' takes the form of
bandook ke bachche
, and so on. Impressed? Depends entirely on what tickles your funny bone.
One of these three girls is a psychiatrist and her boyfriend is a schizophrenic who goes into a tizzy every time India is mentioned within earshot. That again is supposed to be a joke.
Depression - caused solely by penury - and dissociated identity disorder are what this character suffers from. The resultant capers are anything but sidesplitting.
Much of the problem stems from the quality of the writing. The heroines are saddled with characters that have no development arc of any sort.
Stuck in a rut, the three sisters run around in circles, with the film in tow. The actresses can do little to breathe life into their sketchy roles. Not that Jacqueline, Lisa and Nargis try hard enough for their efforts to be visible.
What of the many men in their lives? Buffoons is what they are all reduced to, with Boman Irani leading the way as the eccentric Gujarati businessmen with a shady past.
Lending him support are Jackie Shroff as Mumbai don Urja Nagre and Chunky Pandey as a skittish chef who runs a roadside eatery called Aakhri Pasta on London Raasta. And that isn't great advertisement for either pasta or for London.
The onus is eventually on Akshay, Riteish and Abhishek to give the film some direction. But all that they do is flow along with the mindless tale, often hitting dead-ends from where there can be no return to sanity.
Housefull 3
is strictly for fans of the franchise. Are there any left?
Watch trailer: