Ageing and mortality lie at the heart of the achingly tender
Mukti Bhawan
. But, more than anything else, this subtly comic and profoundly wise film celebrates life and its complex truths and revelations. As it glides seamlessly between intimations of death and the pleasures - and inevitable pressures - of living, it juxtaposes its underlying humour with a deep sense of humanity. It at once breaks your heart and lifts your spirits. In the process, it casts a near-hypnotic spell, transporting the audience to a zone of consciousness of the kind that Hindi cinema rarely penetrates.
In the past couple of years or so, independent cinema in India has seen the emergence of several exciting, remarkably individualistic voices in Chaitanya Tamhane (
Court
), Aditya Vikram Sengupta (
Labour of Love
), Kanu Behl (
Titli
), Neeraj Ghaywan (
Masaan
) and Raam Reddy (
Thithi
). Add Shubhashish Bhutiani to that list - at the very top of it at that.
So impressively accomplished and sure-handed is his debut film that it is hard to believe that he is only a 25-year-old. Craftsmanship of the highest order is on view in
Mukti Bhawan
. But craft is probably not the right word for this film - it smacks of the mundane. Mundane it certainly isn't despite its austere, authentic, grimy setting. What Shubhashish Bhutiani has conjured up with this richly evocative film is something akin to a miracle, a cinematic work of sublime beauty that finds poetry in everyday situations.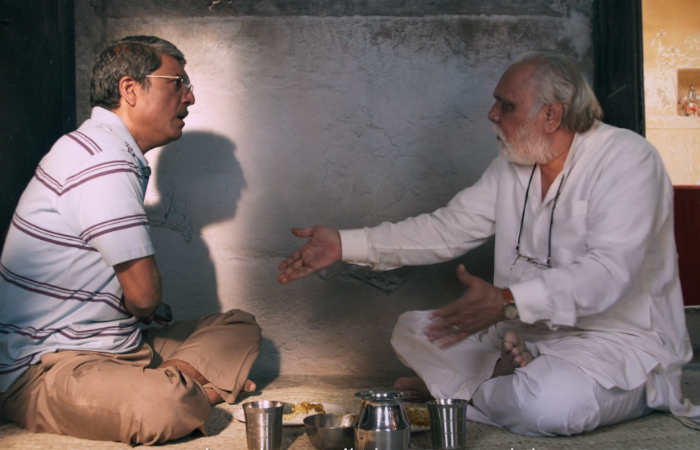 Bhutiani leavens the film's essentially funereal air with a sustained lightness of treatment.
Mukti Bhawan
is guaranteed to bring a smile to your lips, tears to your eyes and unalloyed joy to your heart as you watch four members of a far-from-perfect Kannauj-based family coming to grips with the ebb and flow of life even as they seek to reverse their increasing aloofness from each other. When you are done with the film, its afterglow isn't snuffed out along with the light on the screen. It lingers on, hovers over you for a along time, and imbues you with life-affirming warmth.
Like any other narrative feature,
Mukti Bhawan
tells a story. But it transmits more than just a tale. It delivers life lessons. With striking precision, it carves transformative experiences out of the time, space, human voices and emotions that it works with.
Mukti Bhawan
is the story of Dayanand Kumar (Lalit Behl), a 77-year-old poet and writer who, one fine day at the dinner table, announces to his family that his life is on its last legs. This he does as matter-of-factly as asking for another helping of rice. He then expresses the desire - again, without batting an eyelid - to be taken to Varanasi to die by the river Ganga.
The central premise of
Mukti Bhawan
is neither facetious nor morbid although the old man's baffled son, Rajeev (Adil Hussain), who is himself in the throes of a mid-life crisis, not the least because of his mounting workload, has reason to feel that the random demand is unreasonable.
Torn between his filial obligations and his professional commitments, Rajeev, despite the not entirely misplaced misgivings of wife Lata (Geetanjali Kulkarni) and the upcoming marriage of his daughter Sunita (Palomi Ghosh), agrees to accompany his father to the holy city where time is meant to lose all worldly meaning. But his mobile phone never stops buzzing. Rajeev's dogged boss gives him no breathing space much to the chagrin of his father.
Watch the trailer of Mukti Bhavan:
The hospice they check into - a rundown
Mukti Bhawan
with seedy, ill-appointed rooms - has a clear 15-day time-frame for guests who check into the halfway house between this world and the next. You either breathe your last within the stipulated period or make way for someone else. But Daya and his son run into Vimla Verma (Navnindra Behl), who has been in
Mukti Bhawan
for all of 18 years since the death of her husband on the premises. Her philosophy contradicts Daya's belief that '
maut
' (death) is a '
prakriya
' (process) and it has already begun for him. "
Koshish karne se koun marta hai
(whoever dies of his own will)," she says.
The primary focus of
Mukti Bhawan
is obviously on a father-son relationship floundering in choppy waters and seeking some tranquility. But the film also explores, with equal acuity, other familial equations, notably the bonding between Daya and his doting granddaughter and the lack of it between the latter and her busy-as-a-beaver father.
That this tale plays out in a city of ancient provenance is certainly not without significance. The timelessness reflected in Varanasi's buildings and landing
ghat
s provides an apt backdrop to the eternal questions of life, death and love that the film addresses.
The acting is absolutely top-drawer. Adil Hussain delivers a masterclass in which he dives deep into the intricacies of the character and comes up with an astounding range of emotions without appearing to be pushing himself. Lalit Behl is marvellously measured as the curmudgeonly but unabashedly communicative father. And Geetanjali Kulkarni matches the two consummate actors with her very own set of inspired moments. Watching this magnificent trio is an absolute treat - they elevate the power of the subdued drama with their onscreen presence.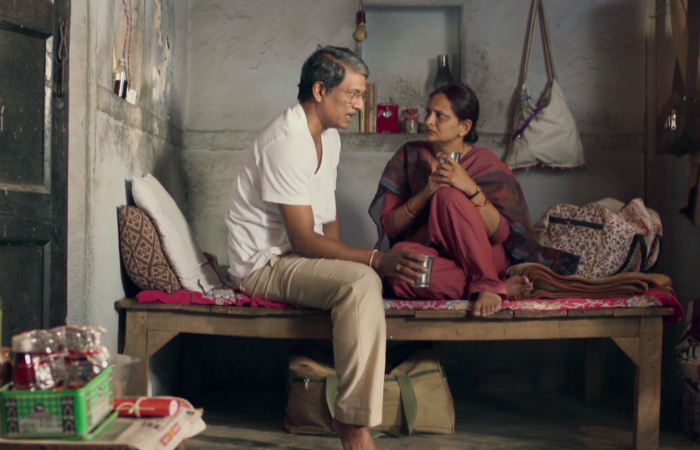 The three other principal members of the cast - Palomi Ghosh, Navnindra Behl and Anil K. Rastogi (as the wizened innkeeper Mishraji) - are no less impressive in a film in which every character, no matter how minor he or she is, acquires a life of his/her own.
The steady, unflashy cinematography (Michael McSweeney and David Huwiler) is consistently haunting thanks to the sustained interplay it achieves of light and shadow, and heightened silhouettes and stylized close-ups and mid shots. The camera frames the characters against doorways, windows and time-ravaged walls with their paint and plaster peeling off or separates them by the means of physical partitions that divide up the compositions into cramped spaces resembling dimly lit catacombs.
The minimalist background music score by instrumentalist Tajdar Junaid is just as effective an ally for Bhutiani's restrained but evocative directorial style.
Mukti Bhawan
is a small, spry, sublimely beguiling essay that bears the weight of its solemn theme without the faintest hint of a stumble. If there is only one film that you want to see this week, this month, this year - or this lifetime - let it be this one.