At the end of the comedic masterpiece
This Is Spinal Tap
, David St Hubbins, the flamboyant rockstar named after the patron saint of quality footwear, is asked what he'd like on his gravestone. His answer has a pause built into it. "Here lies David St Hubbins... and why not?"
It is a line I'm tempted to steal. Many a wordsmith has written their own epitaph in pithy, poignant prose, perfectly suited to their bodies of work - and, indeed, their bodies - but this line from this silly blonde man, has always struck me as possessing an astonishing mix of calmness and defiance.
It is this calmness that Subhashish Bhutiani explores in his wondrous debut,
Mukti Bhawan
. Titled
Hotel Salvation
in English, the film tells of a place where, like in that overplayed song about hotels, people check in any time they want but it's awfully hard to leave. This real-life boarding house offers lodgers a brief stay and a chance at salvation - at attaining
moksha
itself - by passing away at the holy banks of the Ganga, the place where Benares is called Kashi. People who start feeling that they are about to die come here and hope to depart soon. Or, at the very least, soon enough.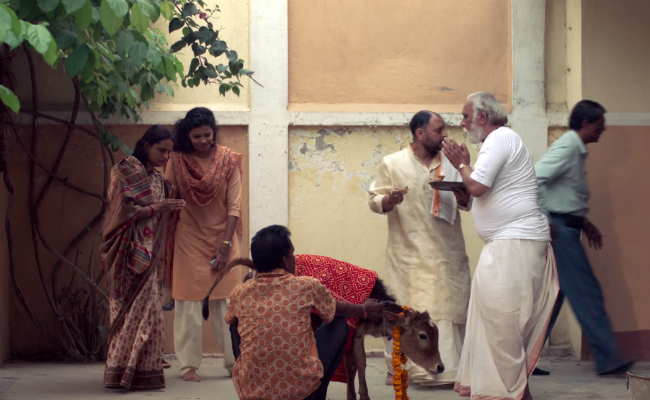 "How does someone know they're going to die?", asks Lata of her husband, slathering moisturiser on herself before bed as she wonders what her father-in-law's latest idea holds. Aged 77, Dayanand has told his son Rajeev that his time has come, and, like his father before him, wants to head to Mukti Bhawan and lay himself down to rest. Rajeev is irritated by how illogical this demand is, but can't bring himself to turn down such a sensitive request, and realises his wife is taking the thing even more absurdly. He lets go of his cynicism for a moment and allows himself to ponder her question. "Perhaps they just get to know", he says out loud to nobody in particular, suddenly existential.
'Suddenly existential,' in fact, is a good way to describe Bhutiani's film, a film about making peace with one's life - enough to want to bid it adieu. It is a journey of awareness, of realising when you may have drunk your fill of life and how that may not be such a bad thing. It is a film about loss, and how sometimes we need more of it to put our own finality in perspective. It is a film about being able to see death approach and embracing it instead of lapsing into desperate hysterics. It is a film about fathers, a film about faith and a film about farewells.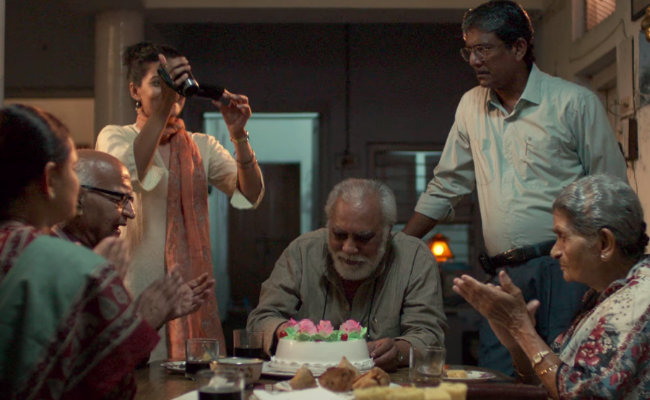 If that sounds intimidatingly solemn, let me assure you that
Mukti Bhawan
goes about its work nimbly and warmly. The patriarch Dayanand, played by Lalit Behl, is a twinkly-eyed hoot, childish in his petulance and a warmly loveable old man, while the excellent Adil Hussain plays his beleaguered son with a weariness that makes even sensitivity appear inevitable. These two go to Mukti Bhawan not quite knowing what to expect - even though the father had come here before, with his own father, and is stunned to see how little things have changed - and the film drinks it in beautifully.
Like the yoga-loving seniors who sit atop the Bhawan roof, this film knows how to breathe. It is a minimal film with long silent stretches that encourage the audience to drift off and to think, to muse on the very ideas of life and death. What, indeed, would we do if we knew exactly when the sand would run out?
This film doesn't exoticise the place, the concept or Benares itself. Refreshingly, there is no exaggeratedly local patois, no over-abundance of flavour, no hyperreal detailing. There is, instead, amid the peeling paint, the texture of time and tiredness: walls seem to be cracking open, dried up after years of being patted by dying hands, generations of paan stains adding a bloodiness to each corner. Even reasonable and rational Rajeev finds himself spooked at night, wondering how many ghosts walk around in a hotel for the dying.
None, assures Mishraji, the apparently all-knowing hotel manager, played winkingly by Anil K Rastogi. The entire cast aces it, including Behl's wife, Navnindra Behl, in a tenderly written role. The bright-eyed Palomi Ghosh is great as the sparky granddaughter to the 'dying' Dayanand, while the extraordinary Geetanjali Kulkarni plays Rajeev's wife in a way both antsy and resigned. She complains about what she believes - or, at any rate, wants to believe - is a joyride for the men of the house, but a moment where she plaintively requests Dayanand to return home is heartbreaking. As is the part where she smiles for a phone camera, but does so with awkward sincerity, like someone who isn't sure she knows how to smile.
Visually, the film is highly assured, if a trifle dependent on the tight close-up. Cinematographers Michael McSweeney and David Huwiler give the narrative a wavy, lyrical flow, and whenever the camera does pull out, the bigger picture is frequently superb. My favourite frame involves Rajeev walking down a Varanasi lane with his father in a rickshaw, and so narrow does the road get that Rajeev is squeezed out, forced to tackle a flight of stairs sideways just to keep pace with his father. Dayanand, much more than Rajeev, knows where he's headed.
Ah, but Mukti Bhawan holds surprises. In the way companionship and clarity can be found without looking. In the way an accountant works at learning to cook. In the way soap operas provide succour. Somewhere in the middle of this beautiful, meditative film comes the greatest lesson of all: that a perfect, poetic goodbye doesn't have to wait for the end.