SPOILERS AHEAD
The glow that
Noor radiates springs more from artifice than artistry
. This patchy screen adaptation of Pakistani writer Saba Imtiaz's
Karachi, You're Killin Me
is shorn of depth and momentum. It ambles aimlessly around an effete narrative construct powered by stale notions of how the world of journalism works and how single girls negotiate the struggle to achieve work-life balance. Thanks to the visual vistas that cinematographer Keiko Nakahara's lighting opens up and the moody ambience that it occasionally creates in diverse city spaces, the film has a pretty texture. The sheen, however, stays strictly on the surface.
Director and co-screenwriter Sunhil Sippy transports the tale to Mumbai and homes in on a disenchanted journo looking for a purpose in life, fretting over her waistline and wondering if she will ever find the man her heart truly desires. Despite all the dark rum that she guzzles and the snubs that she receives from her editor, she eventually gets going but not before she has run into seriously choppy waters and learnt to navigate the cross-currents of an unforgiving metropolis that is out to subdue her.
Her struggles deserved an infinitely better film.
Noor
gropes in the dark for a firm footing.
It fails miserably
. The mundane but essential pursuits of an ambitious but confused middle-class girl are entertaining enough in parts, but the news agency dynamics that Noor creates is way off the mark. The film also wades into matters that are far weightier than the ones that the protagonist is accustomed to addressing but has no clue how to make them work in its favour. The illegal organ trade and the plight of the slum-dwelling urban poor, among other things, are brought into the equation. But they make no impact whatever.
The screenplay (written by Althea Delmas-Kaushal, Shikhaa Sharma and the director himself) strives hard to make all these hot buttons seem relevant to the story but it achieves little success. Through the means of a long monologue delivered by lead actress Sonakshi Sinha, the film takes a swipe at Mumbai's capacity for complacency in the face of terror strikes, civic chaos, indiscriminate constructions, displacement of the poor and general urban mayhem.
"
Gut aur gussa mar gaya hai kya
,"
Noor asks Mumbai in a social media video-post that goes viral
. The question sets the nation thinking and turns the girl into an overnight sensation. "Your air is foul and your water is piss," she thunders. But this aspect of Noor is lost in the froth that it whips up in order to water down the serious undertones of the exercise.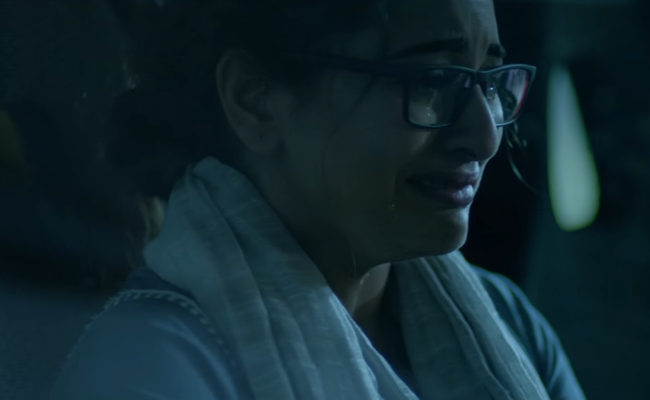 Noor Ray Chaudhary (Sonakshi Sinha) wants to be an "issue-based broadcast journalist" but is stuck in the rut of peddling dispiritingly fluffy stuff to the news agency she works for. When she isn't interviewing Sunny Leone about the latter's career breakthroughs (on her own 28th birthday at that), her camera seeks out a woman who never takes off her helmet or a man who has vowed to walk on his hands for a whole year. In short, her life and career suck big time.
When Noor does stumble upon a career-altering story - an organ harvesting scam involving a well-known surgeon working for a powerful charitable trust - her boss, one-time war correspondent Shekhar Das (Manish Chaudhari), stonewalls the idea. Matters are aggravated when her lover Ayananka Banerjee (Purab Kohli), an ambitious news photographer, shortchanges her and she is left out to dry.
Watch the trailer of Noor:
Noor's housemaid Malti (Smita Tambe) is dragged into the messy affair that exposes everyone at the receiving end of the racket to grave risk. Tragedy strikes and Noor sinks into a state of deep despair - my career is over, she moans. Her dad (M.K. Raina) turns to her old friend and London restaurateur Saad Sehgal (Kanan Gill) for assistance. Noor is whisked away to London so that she can rec0ver from the setbacks she has suffered.
Amid the swirling professional problems, she is weighed down by the constant fear putting on extra kilos. Had the film been just as mindful of its own flab, Noor would have been far less of a strain to watch. Not that it is a long film - its running time is under two hours - but it seems to drag on endlessly.
Sonakshi, in a zone far removed from the action star mode of Akira, does not put a foot wrong, fleshing out the inner conflicts of a girl on the move rather effectively and without having to overstrain herself. If only this was more than the film it has turned out to be, her lively star turn might have been worth the effort. Noor is as appetizing as a flat beer. Whatever little effervescence it has is only window dressing.