First we must clear the air. Based on its trailers, there has been deafening buzz about how much Anshai Lal's
Phillauri
has borrowed from Tim Burton's
Corpse Bride
. Burton's delightful stop-motion film celebrated love and death in grand style, and while
Phillauri does indeed steal its premise
- where a nervous groom accidentally weds a ghost - this time, there are no resultant hi-jinks. A film one might imagine as a comedy comes without any laughs whatsoever. More than stolen similarities to the cartoon, much graver is the way the Hindi film differs from the original: it simply isn't animated enough.
On paper, much natural humour can be found in the idea of a
manglik boy
, forced to marry a tree before marrying his bride (right after, of course, the inevitable Aishwarya Rai joke is made). What does this warding-of-evil process do? Does it eternally alter the groom's relationship with a certain species of tree? Will a symbolic marriage to, say, a maple tree, mean that pancakes will forever make the heart grow heavy?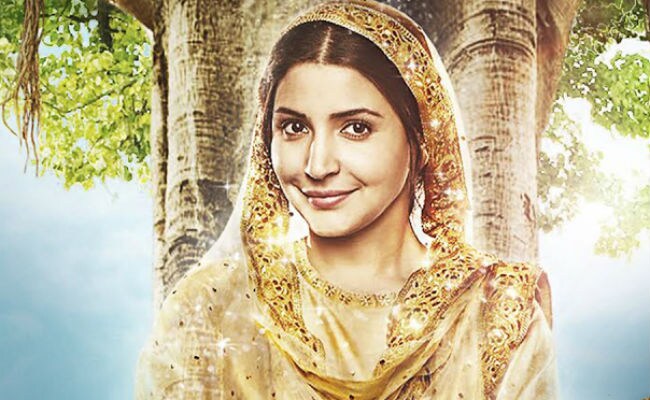 No such exploration, in directions either metaphysical or wisecracking, is carried out by the makers of
Phillauri
. They appear, instead, to be content with the fact that there is a ghost, and that she happens to be from Punjab. Thus we are given an insipid groom, a simpering bride and their apparent romance with absolutely no stakes, while a visiting ghost drones on and on about her own melodramatic romance, haunting us all with her boring storytelling.
Suraj Sharma - the boy from
Life Of Pi
and
Umrika
- is one of the blandest, least likeable leading men I've seen in a while. A beatboxer who can't even pretend to beatbox, his character Kanan allows wedding jitters to turn him into a slackjawed and insensitive moron, well before his ghostly bride shows up. His betrothed, Anu, played by Mehreen Pirzada, is a sweet enough girl who deserves significantly better, but is willing to settle for this ungracious idiot.
Anushka Sharma rounds out the trio by showing up as Shashi
, a flashback-loving ghost, a
bhoot
with a backstory, and while her character should lead to some kind of chaos, things are resolved pretty smoothly and conveniently once she (finally) finishes talking.
Her conversations involve her youth and her romance with a local Punjabi singer, played by local Punjabi singer Diljit Dosanjh. Dosanjh, striking and sincere in
Udta Punjab
last year, is here an absolute misfit, as he stumbles through the part kohl-eyed and clueless. With this flashback set close to a hundred years ago, some basic attempts are made to imbue the atmosphere with flavour, but this can be credited to the fine actor Manav Vij, trying his best to give the narrative some heft. Meanwhile, the present day sections of the film feature many
shaadi
preparations scenes in a sprawling mansion, alongside the already overused trope of the drunken grandmother. Because hey, Punjabi. (Hic.)
Watching the film I wondered what it was trying to preach, since - like a bad street-play - it is too self-serious and portentous to not have a moral. Is it an anti-deforestation public service film, telling us not to chop down trees because resident ghosts need a place to stay? Is it trying to inform us that places we consider monuments to tragedy are nice places to hug by moonlight? Is it a warning to engaged women who conduct their pre-wedding courtship largely on Skype, that most men are disappointing offline? I have no earthly clue. I can simply declare that its too spoofy to feel like a drama and too mournful to be funny.
This is a shame, because Anushka Sharma, who has also produced this film, is one of our most intriguing actresses. She's fine in her part, and often beguilingly pretty, yet the film wastes her. The fundamental problem with
Phillauri
, I believe, may be one of miscasting. Raza Murad, the man with the greatest voice of all, is around but doesn't get to speak much. Sharma, similarly, is perfectly suitable as a ghost when gliding around or trying to blow out a chandelier bulb, but, despite sparkly translucence, she has no aura. It is in flashback that she sparks brightest, when she listens to a record for the first time, or when she allows herself to grin at the idea of shamelessness. Life becomes her.