SPOILERS AHEAD
A sweeping tale of love, jealousy and valour located ambitiously, and largely effectively, at a fictional intersection of war, history and generic movie conventions,
Rangoon
employs a lush and evocative colour palette to
recreate an era of strife and rebellion
. It is buoyed by superbly modulated performances from the three leads as well as the members of the supporting cast.
Rangoon
suffers a fair bit on account of its marathon, energy-sapping length and its disappointingly facile climax. But nothing can undermine its power as a risky but worthwhile cinematic idea that has been executed with flair and gumption. As one would expect in any push in an uncharted direction, not all of it comes off equally well. But why carp when the rest of the film is so magnificently manic?
The craftsmanship in
Rangoon
is from the topmost drawer and its retelling of a crucial chapter of India's freedom struggle is radically revisionist and delightfully angular. Vishal Bhardwaj's stylized film is
unlike anything that we have seen in a while
. The fact that such a film dares to exist in this day and time is itself not a small marvel. A war film with a woman at its centre? No mean departure from norm.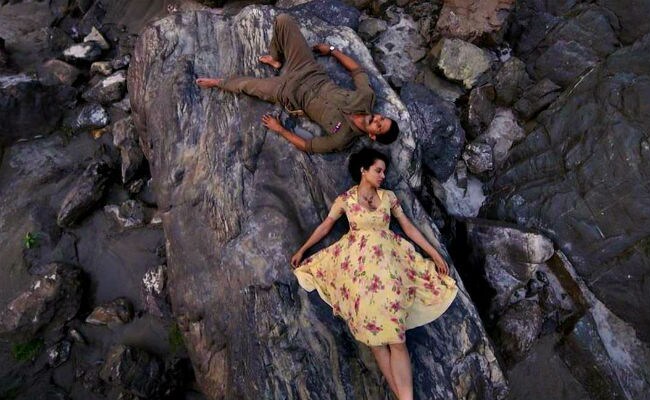 That apart, it is difficult not to spot the daringly subversive soul of
Rangoon
. It is best revealed by the three lead characters - none is a Hindu. Neither is any of them a single-toned, flag-waving, chest-thumping patriot striving to enhance his/her value in the eyes of the 'nation'. Does anybody recall a Hindi mainstream film without a single principal character who isn't from the majority community?
One character in the film asks another: could anything be more valuable than one's life? The reply is: Yes, the one that you can die for. What is left unexplained is that the 'one' could be your nation, your people, the person you love and the cause you hold dear, but certainly not something that is constricted by a restraining ideology.
The film's principal villain, Major General David Harding (Richard McCabe), an Englishman who deep down has no love lost for Indians, is a Ghalib-spouting, Urdu-speaking bon vivant. He isn't your usual grim, grouchy brute hurling endless abuse at the natives: he does not lose any opportunity to crack a joke and also speaks Hindustani with great love and passion. What's more, he also has a go at Sindh Bhairavi with the thumri Ka karoon sajni aaye na baalam and does a fine job of it.
Rangoon
also reclaims Tagore's
Jana gana mana
from its current narrow confines and, in Vishal Bhardwaj's own voice, renders it in the form of the pre-Independence national anthem of the INA's Provisional Government of Free India. The latter was, of course, adapted from Gurudev's original composition that has now been reduced, in the hands of hyper-nationalists, to a stick to beat those that don't fall in line with their thought processes.
Rangoon
is set in 1943. Mahatma Gandhi's peaceful Quit India movement is at its peak. Netaji Subhash Chandra Bose's Azad Hind Fauj, too, has advanced to the subcontinent's easternmost frontier and the British Indian Army is under fire from the air as well as on the ground. The two strands of the freedom struggle are at odds but together serve as pincer attack on the colonial government in the last years of the British Raj.
Watch the trailer of Rangoon:
The screenplay (jointly authored by Matthew Robbins, Sabrina Dhawan and Bhardwaj based on a story by the first-named) centres on three individuals - a film actor-turned-producer Rusi Bilimoria (Saif Ali Khan), a popular stunt actress Miss Julia (Kangana Ranaut), and a lowly soldier of the British Indian Army Nawab Malik (Shahid Kapoor).
At the heart of the drama is a love triangle that involves a Parsi, a Christian and a Muslim although, with the exception of one brief sequence in Rusi's bungalow, the religious identities of the characters aren't explicitly established.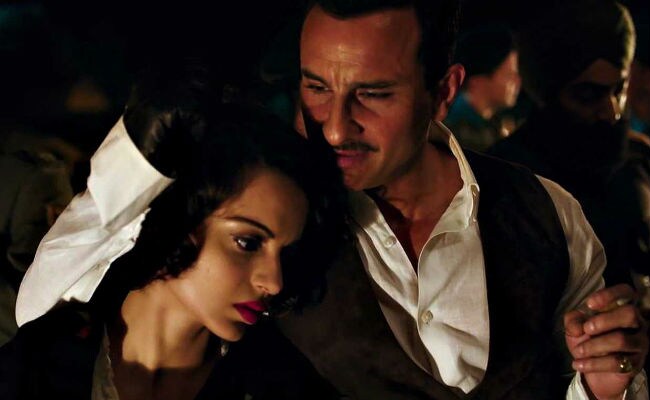 It heightens the impact of the message that Rangoon is out to convey (if you care to respond to it). The film yanks the Indian independence movement away from its religious undertones and places it in a space that was defined by the composition and goals of the Indian National Army.
In a diversity-deficient Bollywood, which predominantly subscribes to set, immutable notions of heroism and nationalistic fervour,
Rangoon
represents a full-fledged revolt. But it isn't necessarily a political film. It is actually a deliciously well mounted musical that despite its occasionally overwrought nature is entertaining and intriguing in equal measure.
The female protagonist is all the rage and her action films and live performances (staged for soldiers and civilians alike) are runaway successes. But the strings of her life are firmly in the control of her mentor and lover Rusi, a cross between a rakish Humphrey Bogart and a suave Clark Gable. This man was a leading action hero until an on-the-set accident cut short his acting career. He now lives out his fantasies through his barely disguised exploitation of Julia. He ironically insists that his own life is trapped is his love for the pretty star of his studio.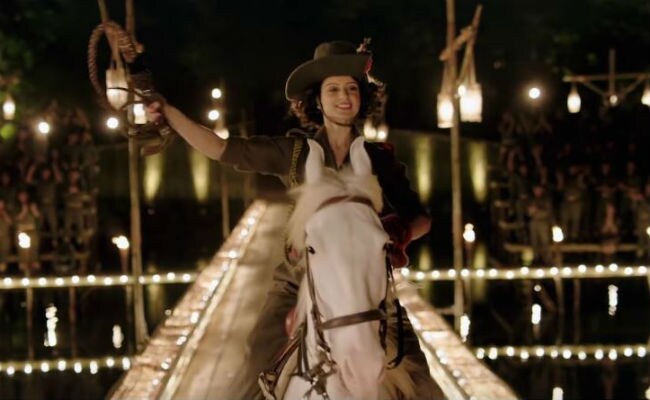 Rangoon
is essentially the story of an ingenue learning to break free from emotional entrapment. She is aided in this process by Jamadar Nawab Malik, a young soldier who has seen real combat from close quarters and does not see life only in terms of individuals. He has his sights set on a larger picture.
The Gulzar-Vishal lyricist-composer combo, which among other things reworks an old 1990s made for a Hindi animated version of Lewis Carroll's Alice in Wonderland to wonderful effect, is on of top of their game - the result is often magical.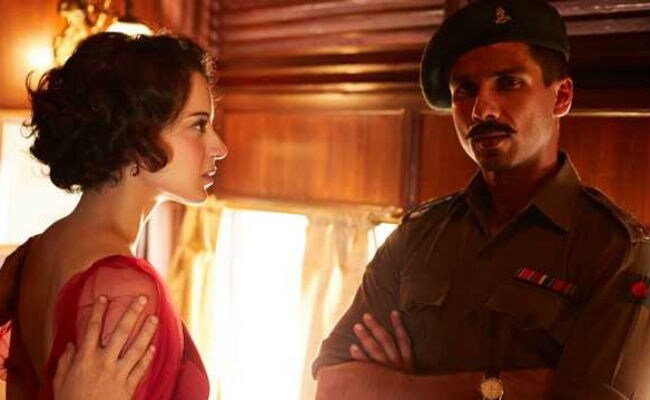 The performances are first-rate, with
Kangana pulling off an act that demands daunting versatility
. So good is she that it is difficult to imagine any other actress in her place diving into the role with such fierce physical energy. Both Saif and Shahid add to the weight of this project by letting its organic demands lead them rather than the other way around.
Among the supporting actors, McCabe and Saharsh Shukla (as Miss Julia's effeminate spot boy and confidant Zulfi) stand out.
Rangoon
is wholeheartedly recommended but with a rider: it isn't a stroll in the park because it demands patience and concentration. It definitely helps that the cinematography (by Pankaj Kumar) is so lustrous that you simply cannot take your eyes off the screen.