Running Shaadi
, cinematographer Amit Roy's first directorial outing, is a film that never finds its feet. So let alone break into a steady trot, it can barely get out of its cramped crouch. That's a shame because this romantic comedy could have been a laugh riot had it been half aware of where it was headed. Co-produced by Shoojit Sircar's Rising Sun Films,
Running Shaadi
has an off-kilter plot - two friends, one a nerdy dreamer, the other a barely educated salesman, come up with the crazy idea of rolling out a website for couples compelled to elope. The film's lead pair, too, brings a burst of freshness to the could-have-been-quirky rigmarole. But trapped in a grossly undercooked tale, the game efforts of Amit Sadh and Taapsee Pannu to inject some life into a comatose caper can only go waste.
Running Shaadi
, let down by blotchy writing, is a pointless crawl. It meanders around in search of momentum and direction. It finds neither. Many of the early scenes have been filmed with Amritsar's Golden Temple complex in the backdrop perhaps in the fond hope of divine intervention.
But even that might not have sufficed to drag this film out of its steadfastly somnolent ways.
Come to think of it,
Running Shaadi has actually seen more action off
the screen than its scriptwriters (Navjot Gulati and Amit Roy) have been able to put on it.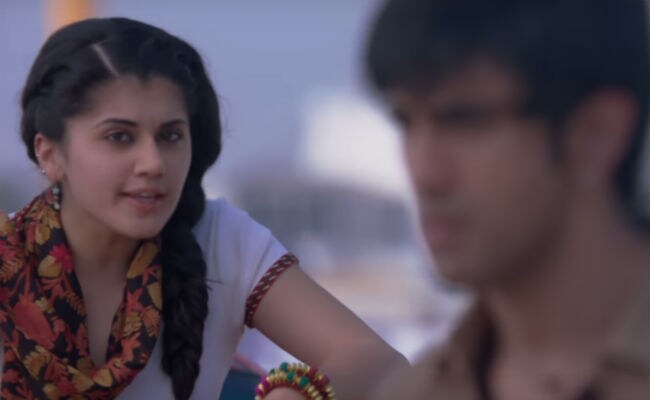 It carries the ugly scars of a last-minute court verdict. Not only has the film had a part of its title (.com) shaved off as a result of a brand infringement complaint from a real world matrimonial site with a similar name, the makers have also mandatorily had to bleep out every mention of the word 'dotcom'. The visible excisions, needless to say, aren't a pretty sight.
The leaden-footed love story that unfolds on the screen is about a slow and sedate Patna boy Bharose (Amit Sadh) and a feisty and footloose Amritsar girl Nimmi (Taapsee Pannu).
The former is a worker in the bridal wear store owned by the latter's family. We can see that the two get along like a house on fire and are exceedingly fond of each other, but they pretend to be just good friends.
That is a defence mechanism against their inability to put their feelings into explicit words and actions. It sparks a great deal of confusion.
But Bharose and Nimmi aren't the only ones that are in a constant state of perplexity here. The audience, too, is left waiting for clarity to descend upon
Running Shaadi
. It never does.
There are many degrees of separation between the lead characters. The cultural and class divides are the most prominent among them. But this line of the narrative is left unexplored to the overall detriment of the film.
Bharose, from what
Running Shaadi
lets us gather, is a school dropout and a drifter. Nimmi is an English literature student in a local college and her family is well off.
The girl repeatedly jests that the boy is a
ganwaar
(country yokel). The latter does nothing to prove her wrong.
Back in Patna, the boy's maternal uncle, Ujaala (Brijendra Kala), a maker of Z-grade ad films who is looking for a big break, finds him a match - the only daughter of a senior Doordarshan official.
The uncle has an ulterior motive. He has submitted the pilot episode of a proposed television serial to DD for approval. He hopes that the matrimonial liaison will bring change his fortunes.
Soon enough, the lovebirds' troubles come to a head and they become the 50th assignment for the website launched by Bharose and his geeky friend Cyberjeet (Arsh Bajwa) to help in-live couples, including a same-sex pair, surmount societal opposition and get hitched.
Watch the trailer of Running Shaadi:
With Nimmi's family in hot pursuit, they flee Amritsar. After a brief stopover in Dalhousie, the threesome ends up in Patna, where Bharose has the small business of getting the DD official's daughter off his back.
On paper, all this points to the possibility of a full-on screwball caper. But what it translates into on the screen is a two-hour trudge. Running Shaadi does not hit the ground, running or otherwise.
When Bharose announces his plans for a '
running shaadi
' website, Nimmi asks: Why? The former's response is:
Hum kabhi 'why' nahin sochte, 'why not' sochte hai
. When
Running Shaadi
was on the drawing board, why should have taken precedence over why not. It might have helped the film's cause.
Even if we were to make allowances for its generally inoffensive nature, there would still be no running away from the fact that this is a shoddy
shaadi
, not the kind that will have you dancing in the aisles with joy.